When the FPT Hope Fund under FPT Corporation inaugurated a new facility of Hoa Mai Elementary School in Binh Phuoc Province's Bu Dop District in late March 2023, the information technology giant said it wanted to nurture hopes for underprivileged children so that they could become good citizens in the community.
Strong support for education
The facility, comprising a classroom, a teachers' room, and two restrooms and costing over VND1 billion, is a branch of Hoa Mai Elementary School with the attendance of over 370 students of ethnic minority groups.
The donation is part of FPT Corporation's community program "Light up the school" initiated in 2018 with an aim to create a better learning environment for students in remote areas. This year, the "Light up the school" program targets to build ten school facilities and 50 school restrooms in remote, hinterland regions across many provinces, besides other donations like libraries and playgrounds for students.
Speaking at the opening of the new school facility, Nguyen Van Khoa, CEO of FPT Group, said that "since day one, FPT has committed to contribute to sustainable development and improvement of society, and we hope that students at Hoa Mai School will benefit from better education for a brighter future."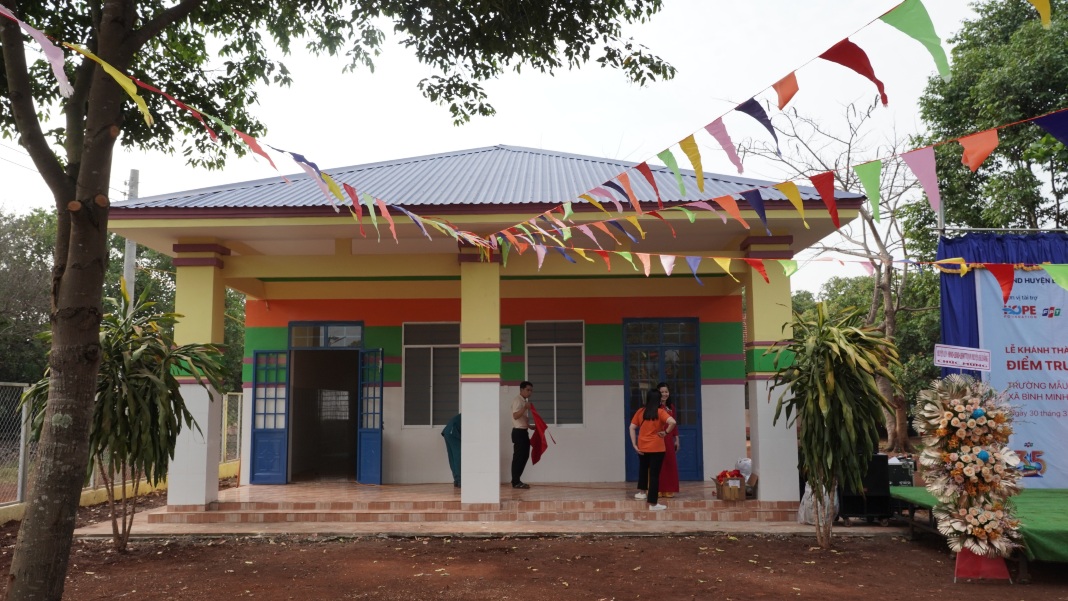 Since its inception, the "Light up the school" program has helped build or renovate 93 schools, 464 classrooms, public service rooms, and school toilets, benefiting more than 16,000 teachers and students.
FPT Corporation is also the single company in Vietnam developing a school for children orphaned by Covid-19. The FPT Hope School project, conceived by FPT Chairman Truong Gia Binh in September 2021, includes an elementary school, a junior high school and a senior high school in Danang City, and is expected to admit thousands of students from across the country.
Last August, the project was commissioned and began operation, with 200 students from 41 provinces and cities enrolled in the first school year. The students will be offered free education and living costs until their graduation, with the final expenditure estimated to amount to trillions of Vietnam dong, contributed by the FPT chairman and some other business partners.
Charity houses
In January, FPT Corporation and its Hope Fund inaugurated 50 houses and donated them to poor families in HCMC's Cu Chi District. These houses were developed under the Happy House project, which has built 100 houses to benefit Vietnamese Heroic Mothers and poor families at a cost of VND6 billion.
First launched last September, the Happy House project has now wrapped up, with the other 50 houses being built in the city's Hoc Mon District.
Apart from charity houses, FPT and the Hope Fund has launched a project worth VND93 billion to build 250 bridges in the Mekong Delta as donations to poor communities, and to date, 200 bridges have been completed. All these bridges are named Hope, with the expectation that they will improve the people's livelihoods and upgrading rural areas by facilitating traffic and ensuring safety.
As a private business group, FPT Corporation throughout its 35-year history has always sought to accompany the community where it operates. In 2022 alone, FPT has spent over VND170 billion on its corporate social responsibility programs benefiting some 48,000 people nationwide.
Community programs by FPT, as pronounced by the corporation's management, are not solely aimed at providing relief support for the poor or the underprivileged, but it seeks to sow the seed of hope in the community.