Residents and visitors are invited to enjoy coffee for free at all coffee shops across Daklak Province on March 10 as part of the 8th Buon Ma Thuot Coffee Festival.
Thai Hong Ha, director of the provincial Department of Culture, Sports and Tourism, shared this information at a press conference held early this month in HCMC to introduce the festival.
The coffee festival is scheduled to take place from March 10 to 14 in Buon Ma Thuot City and some other localities in the Central Highlands province.
The 8th edition will feature 18 key activities to promote coffee planted in Buon Ma Thuot, honor and introduce coffee farming, and the coffee culture in local daily life. Visitors to the festival can experience multiple cultural and trade exchange activities, including a street festival, a light festival, a barista competition, a photography exhibition showcasing the coffee culture, and trade promotion events, among others.
Young people develop green tourism in Can Gio
Tran Nguyen Nam, 29, director of Trai Nghiem Xanh Can Gio Co., has been developing eco-tourism in HCMC's Can Gio District, his hometown, since the end of 2021. Nam told tienphong.vn that Can Gio is endowed with the sea and vast mangrove forests and has long been considered the "green lung" of HCMC.
Its mangrove forests have also been recognized by UNESCO as one of the world's biosphere reserves. Can Gio is thus ideal for sustainable tourism development, he said. Nam's company has been supported by the local authorities for offering eco-tours of the biosphere reserve.
Meanwhile, Nguyen Thi Cam Duyen, 27, is running Can Gio By The Sea, a campsite in Can Gio District. Situated by the seaside with many shade trees and fresh air, her campsite attracts quite a few tourists, especially the youth. Duyen and her staff usually collected trash on the beach around the campsite with local young people to protect the environment.
Kha Thien Loc, a 33-year-old resident of HCMC, has contributed to Can Gio tourism development by posting his reviews on a website he established in early 2021. He told tienphong.vn that through his online reviews, he would like to introduce Can Gio's sceneries, restaurants and eateries, and hospitable locals to more and more visitors to this coastal district.
Student joins medical projects for disadvantaged
Nguyen Hai Dang, a 21-year-old native of HCMC, has established a non-profit organization called CardiacLife Foundation to call on donations to cover operation costs for poor kids with heart diseases in Vietnam.
When he was an elementary student, Dang started accompanying his father, who is head of Cardiovascular Surgery at the University Medical Center HCMC, on charity trips to rural areas to provide free medical checkups and treatment for poor children.
Dang also worked as a part-time newspaper vendor during summer breaks to save money to support sick and poor children.
After graduating from high school in the U.S., Dang followed a medical major at the University of South Florida to realize his goal of helping change the life of the disadvantaged.
He seized all opportunities to broaden his experience in the field, including attending contests and scientific conferences, having his 13 articles published in international scientific journals, working with eminent professors from the world's top universities, and participating in many medical projects, vietnamnet.vn reported.
One of the key projects that Dang participated in at the Partnership for Health Advancement in Vietnam is about measures to improve medical services for hepatitis patients in Vietnam.
Dang then worked with the non-profit organization ABC's for Global Health on a project to build an online medical checkup and treatment system in 13 regions in the Philippines.
During his one month in Africa last summer, Dang joined U.S. university professors to develop a mobile medical app in Tanzania to help local people access advanced medical knowledge.
Starting up business from bamboo
After two years working as a guest worker in Taiwan, Thai Dang Tien returned to his birthplace in the former region of Tra Lan (now Con Cuong District, Nghe An Province) to start up business – making handicrafts from bamboo, which is abundant in his hometown.
Thinking of how to make higher value products from bamboo to increase income for himself and for local residents, Tien went out to learn making bamboo products. In 2018, he opened a workshop in the yard of his parents' house, bought machinery and recruited workers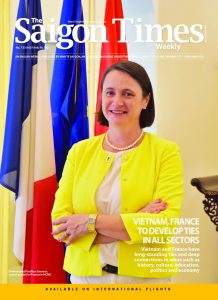 Bamboo products such as teapots, cups, bowls, pencil cases, toothpick holders, and so on have been made and marketed ever since. He has also made handicrafts from bamboo stumps, which are sold for VND500,000-VND1.5 million apiece. His bamboo products and handicrafts have been sold to many localities countrywide.
Tien's workshop creates stable jobs for six workers, three of whom are disabled people. He also grows four hectares of a kind of bamboo, which is used to make trellises for vines, in his commune. The bamboo stems are exported to European countries and Israel, according to thanhnien.vn.