A project to provide nutritious free lunches for students in Muong Lat, a mountainous border district in Thanh Hoa Province, has been jointly launched by the Ho Chi Minh Communist Youth Unions of HCMC and Muong Lat, and a local charity club, with 334 students at six schools in the district being beneficiaries.
Under the project, each student will receive VND150,000 monthly aside from the sum funded by the State budget. Local teachers prepare lunches for the kids whose homes are far away from school, and many of them cannot afford daily nutritious meals.
The project and teachers also called on generous donors to make donations from small kitchen utensils to commercial ovens, wells, and folding chair beds. Besides, the students are given winter jackets and stationery.
Lang Van Long, who teaches at the Tam Chung Primary School in Muong Lat, told tuoitre.vn that most students are from ethnic minority groups. They could not go home for lunch because their houses were far away from school. Therefore, many brought only rice to school, while some had nothing for lunch and had to stay hungry for the rest of the school day.
Shelves serving free cakes in hospital
The first two shelves serving cakes free of charge for patients have been available at Danang General Hospital in the central coast city of Danang.
Apart from cakes of various kinds, the shelves also have books for patients to read during their spare time.
Nguyen Dinh Quoc, vice head of the hospital's social activity department, told tuoitre.vn that the establishment of the shelves serving free cakes was the idea of the hospital staff that aims to lend a hand to poor patients, especially outpatients who undergo dialysis at the hospital and are very tired after 4-5 hours undergoing the process.
He added that this idea has attracted the participation of quite a few philanthropists, who have contributed cash and kind to make these shelves always full.
Nguyen Thi My Lien, 57, who has undergone chemotherapy to treat her breast cancer at the hospital for two years, said gratis cakes are helpful to patients like her after a therapy.
Meanwhile, Phan Van Nhan, 52, who has undergone cirrhosis treatment for three years at the hospital from his hometown in the neighboring province of Quang Nam, said he is moved at the love of others for patients through the free cakes for needy patients.
A lady behind a flower-lined street in suburban HCMC
Seeing the road in front of her house full of garbage and weeds, Nguyen Thi Ngoc Mai, a local woman in the outlying district of Binh Chanh in HCMC, has cleaned up and beautified the road by planting a wide selection of colorful flowers along it.
The 63-year-old woman has kept doing this unpaid work for two years, ignoring bad things some people said behind her back about her volunteering work, according to vietnamnet.vn.
In 2020, the road was widened and covered with asphalt, making life easier for residents as they no longer had to travel on a muddy road in the rainy season or a dusty road in the dry season. But, this happiness of the local people was so short-lived. A while later, trash and weeds began littering the street.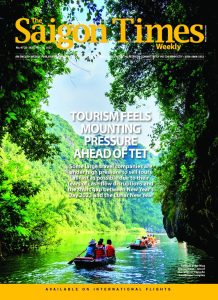 Hence, Mai decided to collect trash and hire some people to pull weeds along the roadside to make room for planting new flowers. Initially, she used a wheelbarrow to carry water for watering flowers along the over-one-kilometer road from 5 a.m. daily. When the plants grew up, and there was no need to water frequently, she still spent time fertilizing the plants and pulling weeds around them.
It took a while for her to get others inspired to join her to make the road look spruced up.