HCMC – German Chancellor Olaf Scholz today, November 13, met General Secretary of the Communist Party of Vietnam Nguyen Phu Trong and held talks with his Vietnamese counterpart Pham Minh Chinh, reported the local media.
Party General Secretary Trong said he appreciated the outcomes of talks between Chancellor Scholz and Prime Minister Chinh, and the cooperation agreements signed by the two nations during the two-day Vietnam visit which began today.
He said the visit marked an important milestone in bilateral relations, and that Vietnam attached importance to its Strategic Partnership with Germany.
The two countries should continue boosting cooperation for the benefit of their people, and for peace, cooperation and development in the region and in the world, he said.
He thanked Germany for its cooperation with and support for Vietnam over the years, including its donations of Covid-19 vaccines, which helped Vietnam put the pandemic under control, and reopen its economy.
Chancellor Scholz said the two sides should strengthen cooperation in traditional fields and expand to new areas such as energy transition, supply chain diversification, and defense and security cooperation.
During their talks in Hanoi, PM Chinh and Chancellor Scholz defined major directions and measures to comprehensively advance bilateral ties.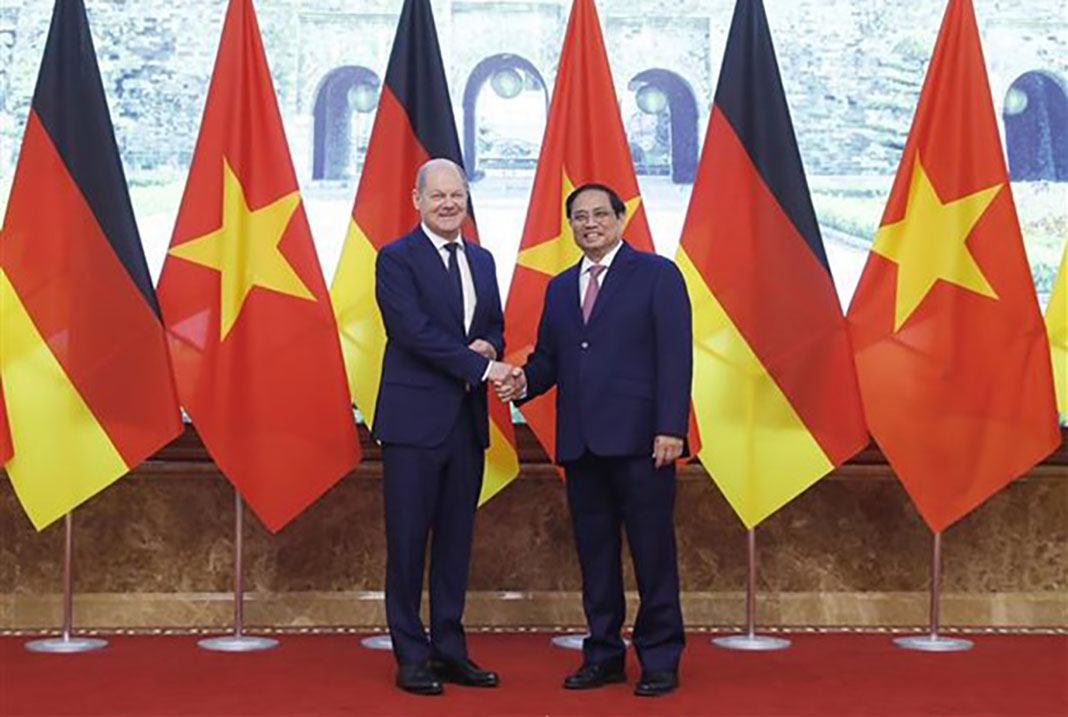 The Chancellor's official visit to Vietnam is important as it would take bilateral relations to a new height, enhance political trust, intensify the strategic partnership, and strengthen cooperation in bilateral and multilateral aspects towards sustainable development and joint settlement of global issues, said PM Chinh.
Chancellor Scholz affirmed that Germany attaches importance to Vietnam's position and role in its Indo-Pacific strategy and supports the strong promotion of the traditional relations and cooperation.
Regarding major directions and measures to foster bilateral ties, the Government leaders agreed to increase exchanges of visits at all levels and through all channels such as the Parties, States, Governments, and parliaments.
PM Chinh proposed Germany soon ratify the EU-Vietnam Investment Protection Agreement (EVIPA), and encourage German businesses to invest more in Vietnam, especially in fields such as digital transformation, renewable energy, and strategic infrastructure.
Chancellor Scholz described the EU-Vietnam Free Trade Agreement (EVFTA) as an important catalyst for stronger bilateral economic and trade ties.
The two leaders also discussed regional and international issues of common concern. They affirmed that Vietnam and Germany will continue close coordination and mutual support at international forums and organisations, especially in promoting the Association of Southeast Asian Nations (ASEAN)'s relations with Germany and the EU, and strengthening bilateral cooperation within the framework of the Asia – Europe Meeting (ASEM) and the United Nations.
They reaffirmed the importance of ensuring peace, stability, security, safety, and freedom of navigation and overflight in the East Sea, and peacefully resolving disputes in accordance with international law and the 1982 UN Convention on the Law of the Sea (UNCLOS).