With gold seen as a way to protect savings, smart investors will buy 9999 gold rings instead of SJC gold bars as their quality is the same, while the price of SJC gold bars is over VND10 million per tael higher than that of 9999 gold rings. A trader with dozens of years of experience in the gold sector said 9999 gold is also gold.
In 1994, five years after the production of the first gold bars, Saigon Jewelry Company Limited (SJC) said it had turned out one million taels of gold, equivalent to 37.6 tons. From over 90% of the gold volume in the market, SJC gold bars now account for less than 10%. The liquidity of SJC gold bars is low, with only 100 taels of gold bars bought and sold per day nationwide. A representative of a gold trading bank said that there were only a few customers trading several taels of gold. The bank has stopped the service of keeping gold for customers. Some banks have provided safe box rental service and residents can keep their gold at these safe boxes. A joint stock bank which used to have a large warehouse to keep gold for customers more than a decade ago has announced a monthly fee of VND10,000 per mace of gold for keeping gold. Thus, it will annually cost VND1.2 million for each tael of gold kept at this bank.
The sharp decline in gold demand has made it a less attractive investment channel as compared to the Vietnamese dong, securities and, especially, real estate. In the first five months of the year, less than 400,000 taels of gold bars were traded in HCMC. The gold buying volume fell 15%, while sales of gold declined 12% over the same period last year, according to the State Bank of Vietnam's HCMC Branch.
When Decree 24 on gold management and trading was launched in mid-2012, the connection between the international and domestic gold prices was cut. The Government holds the exclusive right to produce SJC gold bars, and the demand for gold has plunged since then. The policy has led to a lack of interest in gold for years. In the 2014-2019 period, the SJC gold price hovered around VND35-36 million per tael. Gold price volatility became attractive to speculators and investors. Regardless of the increase or decrease in gold prices, the investment in gold continued. However, the local SJC gold price remained unchanged for many years regardless of fluctuations in world gold prices. As a result, investors were satiated with gold.
They reduced the purchase and promoted the sale of gold during the 2016-2019 period, leading to a supply-demand imbalance, specifically leaning to supply and smuggling gold out of the country. In many months, foreign currencies bought by banks soared to US$500 million per month.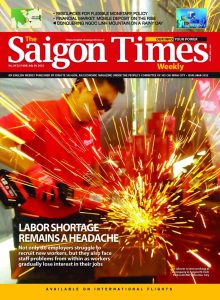 After calculating foreign currencies from tourism, remittances and walk-in customers, banks affirmed that such an incremental amount of U.S. dollars at that time was from the unlicensed export of gold, mainly SJC gold bars. This is one of the reasons for the fall in the SJC gold volume in the market.
The second reason is the Government's stoppage of the allocation of the gold production quota to SJC. SJC now focuses on manufacturing gold jewelry and exchanging defect gold bars at a fee of VND140,000 per tael. SJC's revenue used to reach VND110 trillion in 2011 but plummeted to nearly VND18 trillion last year.
The stability of macroeconomic indicators and economic growth over the past few years have reinforced the position and value of the Vietnamese dong but only partially affected the position of gold. The Vietnamese dong has a dominant position in Vietnam as all transactions must be done in the dong. Transactions conducted in foreign currencies are illegal if they are not permitted. Gold is no longer a payment tool but just a precious metal, so the policy on stabilizing the gold market, not gold prices, is completely appropriate to the international and local circumstances.
No countries in the world include the goal of stabilizing gold prices in their monetary policies. Gold price fluctuations do not affect the value of the domestic currency. There was a proposal to mobilize gold from the population, estimated at 500 tons. However, the figure is just a surmise as there are no official statistics of the gold volume held by local residents.
Banks used to mobilize and offer loans in gold and the consequences thereof for the economy and the effects of gold market upheavals on society were serious.
The World Gold Council (WGC) sometimes discloses figures on the gold demand in Vietnam. The country's gold demand in 2019 was 56.4 tons. The figure in the first quarter of this year was 19.6 tons, up 6% over the 18.6 tons in the previous quarter. The State Bank of Vietnam and gold trading companies did not know how such figures were collected. A gold trader guessed that WGC might use data of Cambodia's gold imports which were believed to be smuggled into Vietnam.
If so, WGC's conclusion is dogmatic. Has WGC conducted surveys on the gold demand at private gold stores? If yes, which personnel have done the job and if private gold stores are voluntary to provide accurate figures on their gold purchases and sales.
The issue of managing the gold market is not the control of gold prices but gold materials for jewelry manufacturing. Over the past few years, local residents' demand for golden jewelry products has followed the world's fashion trends. Therefore, more attention is paid to the development of the jewelry manufacturing industry than gold prices.
In the three years before and after the Covid-19 pandemic, a big problem of jewelry manufacturing has been input materials. There is a company making VND50-56 billion in daily revenue or VND1.5-1.8 trillion in monthly revenue from gold jewelry, and it needs an average of 25-30 kilograms of gold materials per day. Such companies buy materials from other gold companies, private gold stores and residents who cannot issue invoices thereof, at market prices. SJC gold bars were earlier used to produce jewelry products but this has been ceased due to the high prices of SJC gold bars.
It is advisable for the SBV to carefully survey the demand for gold materials for jewelry manufacturing, barely import gold and provide it for jewelry manufacturers.
It will be practical to rely on the price of 9999 gold rings instead of SJC gold bars which no longer represent the market. On July 18, gold was priced at US$1,707 per ounce on the international market, equivalent to VND51.2 million per tael (including taxes and fees), while the 9999 gold ring price hovered around VND52.5-52.8 million per tael. The gap of VND1.3-1.6 million per tael is acceptable.
However, there is still debate worldwide over whether gold is a shelter for investors during inflation. Gold prices worldwide have been at the bottom over the past year, falling 16.5% over record highs. Gold is affected by risks as well.