For farmers, higher productivity or bumper crops may not necessarily be good news. Paradoxically, outcries have been frequently heard over high yields of farm produce, and in reality, rescue programs are often initiated when farmers cannot find buyers for their crops, be it rambutan, lichi, dragon fruit, jack-fruit, watermelon, or types of veggies you name it. Growers want a simple thing: good connection with consumers.
The ride-hailing firm Grab has done the right job: the job of connection.
Connecting stakeholders
It all began in mid-2021 against the background of the prevalent Covid-19 pandemic when farmers could not sell their products while millions of consumers across the country were in dire need of vegetables and fruits as essential items.
In June 2021, Grab Vietnam cut a deal with other State agencies, including the Agency of Enterprise Development under the Ministry of Planning and Investment, the Agro Processing and Market Development Authority under the Ministry of Agriculture and Rural Development, and the Investment and Trade Promotion Center under Vietnam Cooperatives Alliance. Under the agreement, a project named GrabConnect was launched, with an aim to promote consumption of farm produce, and speed up digital transformation for enterprises, cooperatives and households in the farming sector.
That project, which Grab Vietnam considered a strong boost for numerous stakeholders in the community, has soon borne fruit, as it turned out to be an effective vehicle to match suppliers with consumers right on the home market, which has remained a sticky issue for long years. As often seen, while local consumers may find it hard to purchase quality farm produce, growers in many instances have to dump their unsold crops.
According to the Ministry of Industry and Trade, the domestic market remains the most important one to consume home-grown produce. On one hand, efficient distribution will help asuage pressure on export channels in times of supply chain disruption, and on the other hand, it helps local consumers have access to quality products at reasonable prices. Diversifying distribution channels, especially via e-commerce platforms, will bring about consumption stability, according to the ministry.
Apart from above-mentioned State agencies engaged in the GrabConnect project, Grab Vietnam has also worked with other trade partners to cut corners in approaching farming cooperatives and farming households, eliminating other intermediary ladders from the system. Fruits and vegetables have then been introduced to all other stakeholders in Grab's ecosystem, including restaurants, grocery stores, shop owners, minimarts, and wet markets.
Benefits for community
According to Grab Vietnam, the project has brought about huge benefits for all walks of life.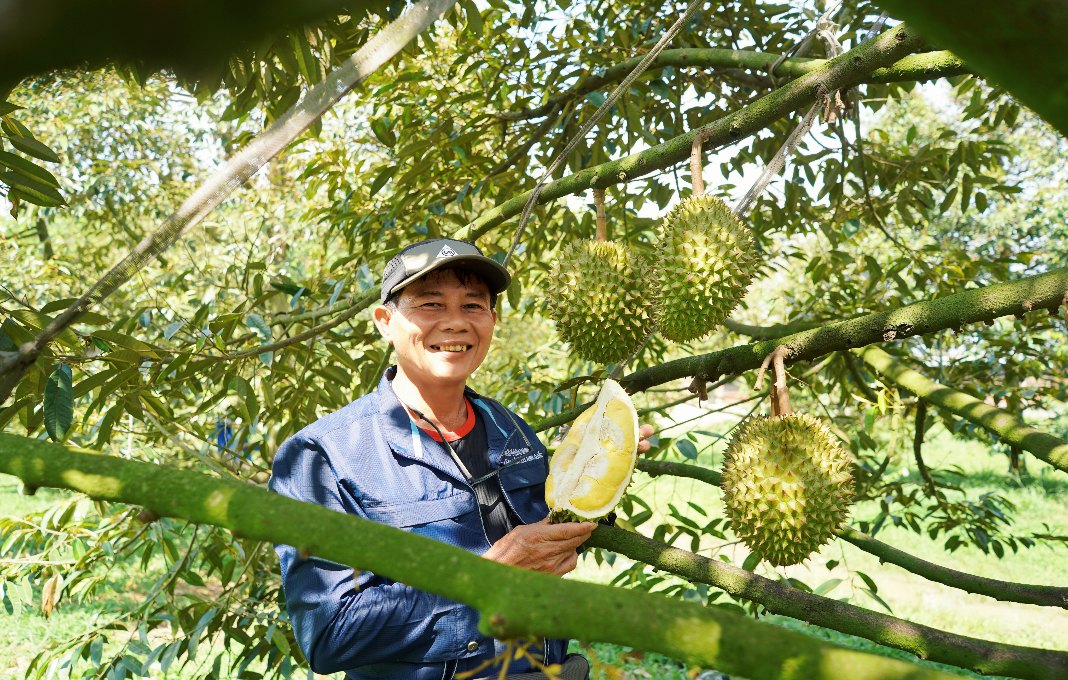 Farming cooperatives and farmers now find GrabConnect as a reliable channel to sell their products to individual and wholesale consumers, and can have them transported conveniently to end-users via Grab's delivery and logistics partners. Meanwhile, partners of GrabFood, GrabMart, and GrabExpress can have easy access to abundant supplies of products at reasonable prices.
Driver-partners of Grab also have more delivery opportunities, thus raising their daily incomes, while final consumers can buy farm produce at a good price.
In addition, Grab Vietnam has also managed to run publicity campaigns for local fruits, benefiting the country's agriculture in general and farmers in particular.
Last year, the company organized the Fruits Festival via GrabMart and partners of this platform, helping farmers to sell more than 100 tons of fruits, especially durian, avocado, litchi and mango.
In May this year alone, up to 146 tons of quality fruits were also sold via the digital market GrabMart, according to Alejandro Osorio, managing director of Grab Vietnam.
Farmers have heaped praise on the GrabConnect project.
Nguyen Thi Minh Thuy, manager of a litchi cooperative named Luc Ngan Xanh in Bac Giang Province, said the project assisted farmers to solve the publicity problem, helping them spread the reputation of their products. "Farmers do not have time, and do not know how to tell stories about their products. Grab has helped them do that," she said in Tuoi Tre.
GrabConnect is also an effort by Grab Vietnam to benefit the community via digital transformation, according to the company's management.
Managing Director Alejandro Osorio of Grab Vietnam stated at a June 14 conference on digitalization that Grab has launched various training programs since 2022, benefiting over 800 agricultural cooperatives. These programs aim to enhance digital skills and knowledge among participants.
Time will tell whether farmers will still face uncertainties when having bumper crops, but digitalization has helped many farmers have more confidence in their production and consumption.
Nguyen Thanh Du, a grower of mangosteen in the Mekong Delta city of Can Tho who has recently joined GrabConnect, said participation in the platform has helped improve sales. "I no longer rely on a single consumption channel like before, as my mangosteen can reach consumers quickly via Grab, while prices are also better," he said.