Vietnam's seafood industry is going through bright days as exports have hit an all-time high, posing concern over a sharp fall in prices. As such, it is vital to proactively adopt effective and suitable solutions to maintain the growth of the fishery industry.
Increasing post-Covid demand for frozen seafood in the global market has contributed to expanding Vietnam's fishery export markets. In the first five months of the year, the country's seafood industry posted impressive export achievements, but many insiders have voiced concerns that the industry is carrying the weight of potential risks.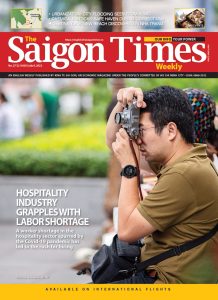 Positive results pose risks
Speaking at the CEO Forum titled, "Removing difficulties for seafood companies—Insiders' outlook", held in Can Tho City in late June by the Saigon Times Group in cooperation with the Vietnam Association of Seafood Exporters and Producers (VASEP) and NS BlueScope Vietnam, Nguyen Hoai Nam, deputy general secretary of VASEP, said that between January and May, fishery exports fetched US$4.7 billion, up US$1.4 billion year-on-year.
"This figure is the highest in 10 years. With the great growth pace, seafood exports are expected to reach US$10 billion this year," said Nam.
Tra fish export jumped by nearly 90% year-on-year, while the export of shrimp and other fishery products soared by 40% and 20%, respectively.
The surge was attributed to the growing post-pandemic global demand, mainly in the United States, the European Union and Japan, according to Tran Nguyen Hoang Phu, deputy general director of Soc Trang Seafood JSC (STAPIMEX). What concerns Phu is how the fishery industry will perform after advantages resulting from unexpected incidents such as Covid are over.
Vo Hung Dung, general secretary of the Vietnam Pangasius Association (VINAPA), said that in the past 15 years, the export of tra fish, which is one of the country's two main seafood exports in the Mekong Delta region, increased from some US$200 million in 2002 and 2003 to US$2.2 billion in 2018.
Tra fish, which has been developed into a major export from domestically-farmed food, helps create a primary export and processing industry, offering thousands of jobs to residents. However, over the past 15 years, the tra fish industry has undergone challenges due to price fluctuations. Price volatility often lasts for 18 months on average. After each wave of soaring prices of tra fish, prices decreased sharply.
The latest plunge in tra fish price was in March 2019, when tra fish sold for a mere VND15,000 per kilogram, while the current price is VND33,000-34,000 per kilogram.
"The range between the increase and decrease in prices is extremely large," the representative of VINAPA said, worrying that a plunge in price might happen again.
Achieving sustainable seafood industry growth
The capacity and endurance of the industry's supply chains play an important role. The more effective the Government's support policies, the more firms that survive difficulties, such as price fluctuations, said Dung from VINAPA.
The useful incentives are aimed at helping firms overcome resistance to taxes, fees and debt. The seafood industry needs support for cold storage and refrigeration technology. Cold storage facilities helped seafood firms store their products to ride out the hardship induced by the Covid pandemic last year. However, large cold storage facilities equipped with modern refrigeration technology require huge investment, so this has become a weakness of the seafood industry's supply chains, he added.
Speaking of supply chains, Phu from STAPIMEX said that the whole supply chain of shrimp needs a long time, at up to 18 months, from farm to table. As such, firms and farmers must bear the full consequences of the changeable consumption market.
The two-year Covid pandemic is seen as an example of difficulties plaguing firms. When customers stopped importing goods due to the pandemic, firms were forced to freeze seafood, leading to a shortage of goods for post-pandemic export amid increasing demand. It is necessary to deal with the tough question about the harmony between supply and demand.
According to Phu, the supply and demand balance heavily depends on special-use warehouse systems. Therefore, support from the Government for warehouses and cold storage facilities is needed to help seafood exports develop sustainably and endure export market uncertainty.