HCMC – Häfele, a leading manufacturer of home accessories, electronic access control, and lighting systems, has celebrated its 100th anniversary at the InterContinental Saigon Hotel in District 1, HCMC.
Häfele's "100 Years Of Pride" anniversary ceremony, which was held yesterday evening, June 16, aimed to mark the company's century-long journey of ceaselessly delivering superior products to consumers.
The ceremony was attended by Dominik Fruth, regional director of Häfele South and Southeast Asia; Mai Kim Hoang, general manager of Häfele Vietnam; Stanislas H., general manager of Häfele Singapore; Marko Walde, chief representative of German Industry and Commerce in Vietnam; as well as representatives of the company's partners, and over 200 VIP guests.
Gregor Riekena, CEO of Häfele, said: "On the occasion of our 100th anniversary, we take pride in the past achievements and continue scripting this success story with optimism and boldness."
Dominik Fruth emphasized at the event that Vietnam is one of Häfele's important markets. Many large cities in Asia, especially Vietnam, have lots of potential and high demand for maximizing residential and commercial spaces.
Mai Kim Hoang, general manager of Hafele Vietnam, added: "The goal of Häfele is always to offer our customers a complete housing solution and take German quality as one of the core values. Häfele Vietnam will continue to invest in product quality, infrastructure, and after-sale services to bring customers convenience, comfort, and peace of mind."
The year 2023 also marked the 25th year that Häfele entered the Vietnamese market.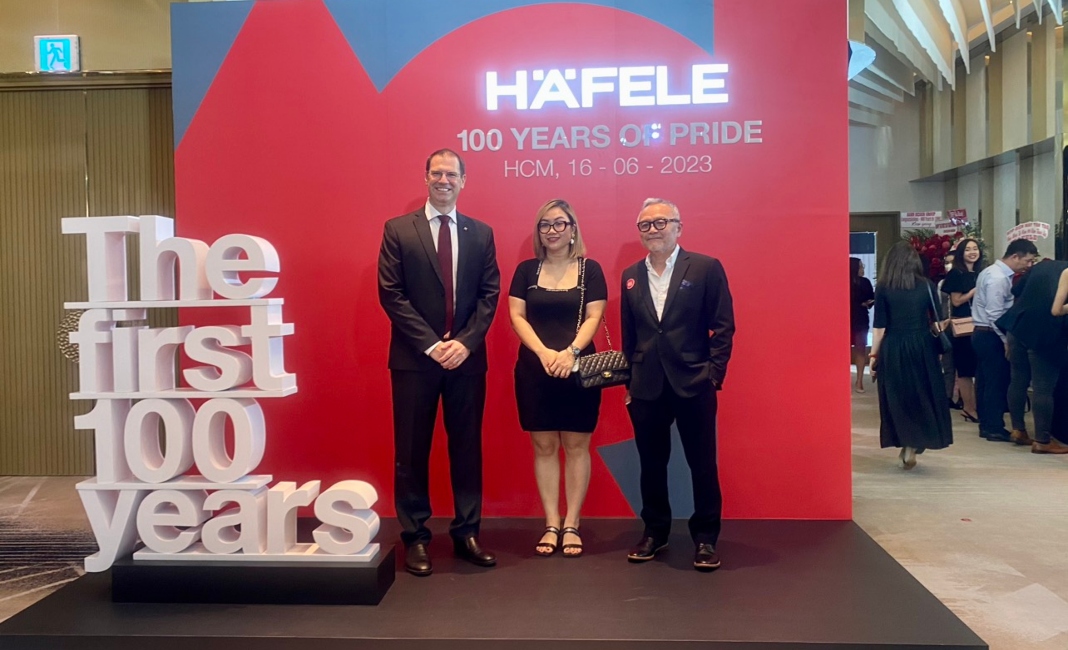 Currently, Häfele provides customers with kitchen appliances, sanitary ware, electronic locks, furniture fittings, LEDs, door hardware, and automation systems for home and commercial spaces.
Häfele's products have received quality certifications from QUATEST 3 (Quality Assurance and Testing Center 3), SGS (Société Générale de Surveillance), TÜV Rheinland, and LGA (Landesgewerbeanstalt Bayern).