The first Hanoi Autumn Festival 2023 themed "Hanoi in Autumn – Come to love it" will be held from September 29 to October 1 at the pedestrian quarter around the Sword Lake in the heart of the capital city.
According to the Hanoi Promotion Agency, the Hanoi Autumn Festival 2023 will feature 150 booths along Dinh Tien Hoang and Le Thach streets, and in the area around the Octagon House by the Sword Lake. These booths will introduce tourism products and destinations in Hanoi, including Long Bien Bridge, the Ancient Quarter, One Pillar Pagoda, the flower growing villages in Me Linh District, the ancient village of Duong Lam, to name but a few.
Ten districts of Hanoi and 14 other cities and provinces will participate in the event to introduce their tourism products, heritages and potentials for tourism development. There will be a conference on MICE (Meetings, Incentives, Conferences and Exhibitions) tourism and golf; wedding ao dai then and now, and ao dai fashion shows; and the Hanoi Autumn Carnival with 1,500 performers.
At the same time, Hanoi City will hold a food court at the Hanoi Children's Palace with 51 stalls run by famous chefs and restaurateurs countrywide, serving exclusive dishes of the three regions, laodong.vn reported.
Vietnam's biggest paper mask displayed in Hoi An
A tuong (traditional Vietnamese opera) mask, which is 3.5 meters tall and 2.7 meters wide, is displayed at VinWonders Nam Hoi An Theme Park in Hoi An City, Quang Nam Province.
On September 17, the Vietnam Record Association granted a certificate to recognize the record set by the "Vietnam's biggest tuong mask made of do paper," which was made by artisan Bui Quy Phong, his aids and some staff members of VinWonders Nam Hoi An in 20 days.
The mask is special not only because of its size but also thanks to its material, do paper, a traditional paper made in some craft villages in northern Vietnam.
Meanwhile, artisan Bui Quy Phong has 40 years of experience in making tuong masks using different kinds of paper. He told vnexpress.net that he made this special, giant mask to pay homage to the predecessors who were the founders of hat boi, a genre of traditional Vietnamese opera.
One decade of bridge construction in rural areas
Nam Phuong Foundation celebrated its 10th anniversary on September 19. Over the past 10 years, it has built 36 bridges costing up to VND35.9 billion for residents in rural areas in Can Tho City, Tien Giang, Ben Tre, Long An, Dong Thap, Vinh Long, Hau Giang, An Giang, Kien Giang and Ca Mau provinces in the Mekong Delta, and the Central Highlands province of Lam Dong.
In early 2013, Dinh Thi Nam Phuong began to seek ways to build bridges in rural areas to help prevent local children from drowning and accelerate economic growth. She then established Nam Phuong Foundation connecting with students around the world to raise funds to build new bridges to replace old ones for rural residents.
Nam Phuong Foundation contributed 71% of the total costs of the bridges, whereas local governments paid the remaining 21% in cash or labor or other means. Over the past decade, the foundation has received huge contributions from quite a few generous individuals and organizations in Vietnam and from all over the world.
Nam Phuong told vnexpress.net that the foundation would continue its mission of building new bridges to replace old ones for local residents and students in rural areas around the country.
Dalat sets record for showcasing 100 artichoke dishes
The Professional Chefs Association of Lam Dong Province has organized a culinary contest setting a record of cooking 100 dishes from artichokes to promote the essence of Vietnamese cuisine.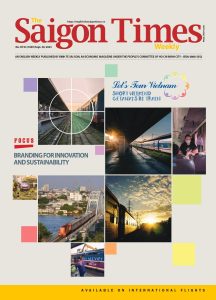 The event was held on September 19 in the Valley of Love, celebrating the 130th anniversary of the establishment of Dalat City, according to the Phap Luat news site.
During the contest, 20 teams with over 60 chefs from localities across Vietnam prepared around 150 dishes from different parts of the artichoke plant. Culinary experts selected the top 100 dishes based on specific criteria, such as creative ideas, versatility, and flavors.
An organizing committee representative said that the record would help introduce the versatility of artichokes in cuisine, thereby boosting tourism and culinary activities in Dalat.