Just imagine multiple difficulties endured by a sight-impaired person who cannot afford an eye operation. Their ultimate desire is to have their sight restored so that they can do daily chores on their own, continue to pursue their dreams, integrate themselves into society, and, finally, lead a happy life.
There are tens of thousands of such poor people in the country who are living in agony due to being unable to pay for medical services. Luckily, there are also many philanthropists, be it organizations or individuals, who have come to poor people's rescue.
Acecook Vietnam is one of such generous donors. The instant noodle producer has regularly launched corporate social responsibility (CSR) programs across the country to bring happy smiles to the underprivileged.
Cataract operations for poor patients
Since 2019, Acecook Vietnam has collaborated with the Asia Prevention of Blindness Association (APBA) to cover the operation costs for numerous eye patients in Vietnam.
Specifically, Acecook Vietnam in 2019 donated VND543 million to finance caratact operations for poor, elderly people, but the program was later suspended due to the Covid-19 pandemic. This year, Acecook Vietnam resumed the program, donating VND500 million to APBA to acquire materials and medical devices to conduct cataract operations for poor people.
Under the program, free cataract operations are being organized in several provinces like Ha Nam, Dak Lak, Binh Phuoc, Quang Ninh, and Hue, with Dr. Tadashi Hattori of APBA as the main surgeon for these operations.
The collaboration between Acecook Vietnam and Dr. Tadashi Hattori in the two years of 2019 and 2023 has helped over 1,500 elderly patients to have free cataract operations. Notably, Dr. Tadashi Hattori was conferred the Ramon Magsaysay 2022 award for his great efforts to provide treatment for up to 20,000 people facing the risk of blindness, and is one among only four people worldwide to have been awarded such honor.
Commenting on Acecook Vietnam's CSR activities, the company's board chairman, Kajiwara Junichi, noted: "We are always grateful to the country and the people of Vietnam for our journey of development, and therefore we have the responsibility towards the community and society."
Besides support for poor patients, Acecook Vietnam this year has also continued its project titled Happy Instant Noodle (Gói mì hạnh phúc) to help improve nutritional conditions for poor children in mountainous areas, in collaboration with the Vietnam Fund for Children.
This project was initiated in 2019, and Acecook Vietnam has ever since donated VND12 billion in kind and in cash, including over 58,000 cartons of instant noodle, over 2,000 scholarships worth VND1 million each, and 2,400 sets of school utensils.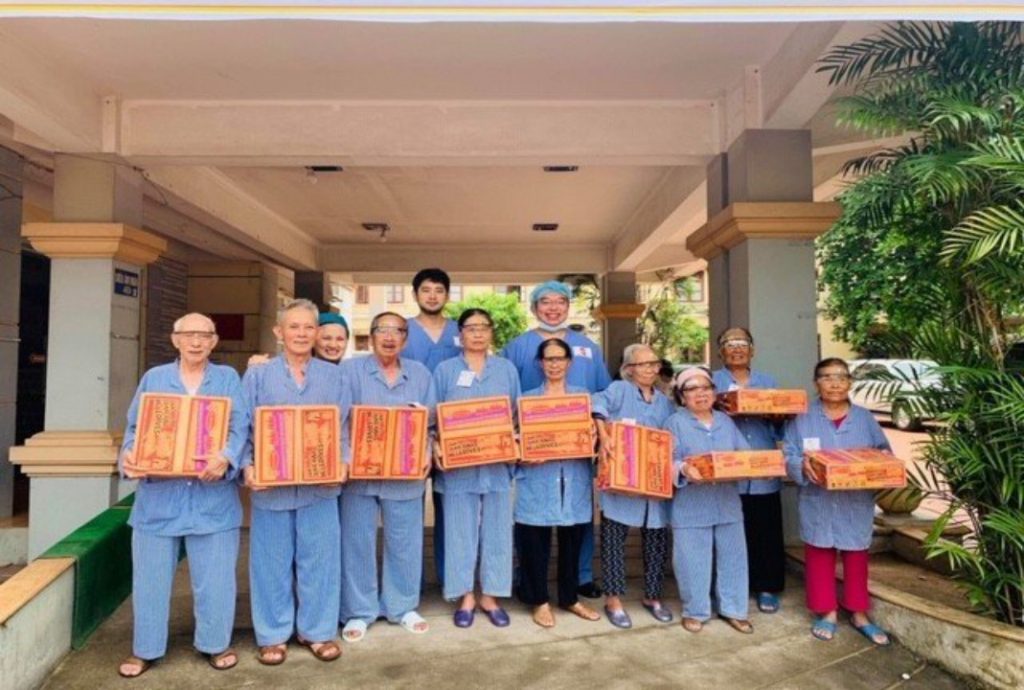 Art shows for poor people's cultural enjoyment
Beside making donations in cash and in kind to the underprivileged, Acecook Vietnam this year has sought to enrich poor people's cultural values, coordinating with the Vietnam National Drama Theater to launch the "Happy Smile" project with an aim to organize mobile art shows to remote areas, especially in mountainous regions.
Under the project launched in March this year, Acecook Vietnam arranges a large bus and related logistics services to transport art groups of the Theater to various regions. The project, spanning three years of 2023 to 2025, is expected to organize between 30 and 50 art tours each year to bring a happy smile to the people who do not have conditions to attend a live show.
An executive of the company said the budget borne by Acecook Vietnam for this project is VND4 billion. Apart from art shows, the company also dispatches a Happy Truck to carry thousands of gifts as donations for poor people.
According to the company's management, CSR programs have for long been regular activities at Acecook Vietnam, which integrates into its mission a goal to bring welfare and happiness to the community. Such activities include a donation of VND15 billion to the Vietnam Fatherland Front HCMC during the peak of the pandemic, 4,000 cartons of instant noodle as relief aid for people affected by floods in central Vietnam, and VND5 billion to supply clean water to the Mekong Delta people during the 2020 drought, and many other social programs.
Board Chairman Kajiwara Junichi of Acecook Vietnam said, "There is a question that serves as the guiding compass for the company, which is whether the existence of Acecook Vietnam brings happiness to other people or not."