The HCMC Central Post Office has secured the second place on the list of the 11 most beautiful post offices worldwide, as ranked by the U.S. magazine Architectural Digest, according to vietnamplus.vn.
Situated at 125 Hai Ba Trung Street in Ben Nghe Ward, District 1, this iconic post office was designed by Marie-Alfred Foulhoux and constructed in the late 1880s. It exhibits a unique architectural fusion of Gothic, Renaissance, and French styles.
The magazine emphasized that the post office's yellow façade and green shutters have transformed it into more than just a facility for sending and receiving mail—it has become a must-see tourist attraction.
The other post offices featured on the list include Algiers Central Post Office in Algeria, Palacio de Correos de México in Mexico, Palacio de Comunicaciones in Madrid, Spain, Palazzo delle Poste in Ragusa, Italy, the Old Post Office Building in Bonn, Germany, the General Post Office, Kolkata, India, and four U.S. buildings—Colombus, James A. Farley, Los Angeles, and Winslow.
More national intangible cultural heritages approved
The Ministry of Culture, Sports and Tourism announced its decision on June 3 to add 12 more heritages into the list of national intangible cultural heritages.
According to nld.com.vn, in the folk performance arts category, Hat ru (Lullabies) of the Tay ethnic people in Giao Hieu Commune (Pac Nam District, Bac Kan Province); Khen (wind instruments) art of the Mong ethnic people in Mu Cang Chai, Tram Tau and Van Chan districts (Yen Bai Province); and the dance art of the Lao ethnic group in Dien Bien and Dien Bien Dong districts (Dien Bien Province) are listed as national intangible cultural heritages.
The newly recognized intangible cultural heritages in the traditional craft category are the brocade weaving of the Tay people in Ngoc Dao Commune (Ha Quang District, Cao Bang Province); and the blacksmithing of the Mong people in Dien Bien Province.
In the social customs and religions category are the family offering ceremony of the White Mong people in Tuan Giao, Dien Bien and Dien Bien Dong districts (Dien Bien Province); knowledge of the water of the Tay people in Chiem Hoa, Na Hang and Lam Binh districts (Tuyen Quang Province); the fire dance ceremony of the Pa Then people in Hong Quang Commune (Lam Binh District, Tuyen Quang Province); and knowledge and practice of wet rice cultivation of the Tay people in Lam Binh District (Tuyen Quang Province).
In the folk knowledge category is the costume making art of the Ha Nhi people in Muong Nhe District (Dien Bien Province). And in the festival category are the traditional festival at Hong Thai Temple in Tan Trao Commune, Son Duong District, Tuyen Quang Province; and the oath ceremony at Dong Co Temple in Hanoi.
Taking care of a friend's mother
Nguyen Van Mai Tam sells lottery tickets in HCMC to make a living and to look after Nguyen Thi Nam, the 86-year-old mother of his friend. He has done so over the past six years.
Tam was born into a poor family and had to work as a hawker, waiter or builder to earn his living when he was 13 years old. He made friends with Nam's son 20 years ago. Later, Nam had to sell her house due to business losses and lived with her son. Six years ago, the man asked Tam to take care of his mother for him to go to work in Thailand.
Nam was then attacked by a stroke and her legs were paralyzed. Remittance from her son became smaller and smaller, and was finally none. Tam moved to live with the friend's mother to be able to look after her.
At first, Tam walked the wheelchair with Nam in it to sell lottery tickets around HCMC's Thu Duc City. Later, he was given a three-wheeled electric vehicle, which enabled him to ride the old woman around while selling lottery tickets, vnexpress.net reported.
VND1,000 buffets offered to needy people in HCMC
A small eatery on Nguyen Xi Street in Binh Thanh District, HCMC, has gained popularity on the internet and captured the hearts of many citizens by offering buffets to disadvantaged individuals for a mere VND1,000 (US$0.04).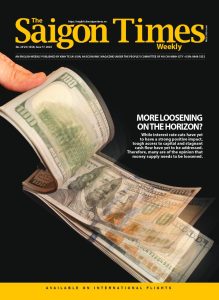 The 28-year-old owner, Dang Duc Vinh, told thanhnien.vn that his eatery operates from 4 p.m. until late at night every day, serving buffet meals to regular guests at VND125,000 per person. At the end of each month, he sets aside a portion of the business's profits and parking fees to provide buffets for underprivileged individuals at a cost of VND1,000 per meal.
"I want everyone who dines here to be treated as valued customers because the customer is king," Vinh explained why he chose not to offer free meals to the needy.
The eatery attracts many disabled people, waste collectors, lottery ticket peddlers, and underprivileged students. Many of them express deep gratitude to Vinh, as they had never experienced a buffet meal before.