HCMC – The Ministry of Health on December 21 officially announced Vietnam's Covid-19 vaccine passport, which will be granted to people that have been fully vaccinated with one of the eight Covid-19 vaccines approved for use in Vietnam by the ministry.
The vaccines include AstraZeneca, Sputnik V, Vero Cell, Pfizer, Moderna, Janssen, Hayat-Vax and Abdala.
According to the Official Dispatch No. 5772 of the ministry, the vaccine passport includes the holder's name, date of birth, nationality, targeted disease, number of vaccine shots, date of vaccination, lot number of the vaccine batch, vaccine type, vaccine manufacturers and a serial number.
The holder's name and date of birth will be integrated with other personal identification documents such as passports and citizen identification cards.
Information about the targeted disease, type of vaccine and vaccine manufacturers will be compatible with the World Health Organization's "Covid-19 vaccine tracker and landscape" and "Value sets for EU Digital Covid Certificates" issued by the European Union.
The data will be presented through a QR code which will be valid for 12 months from the date of issuance.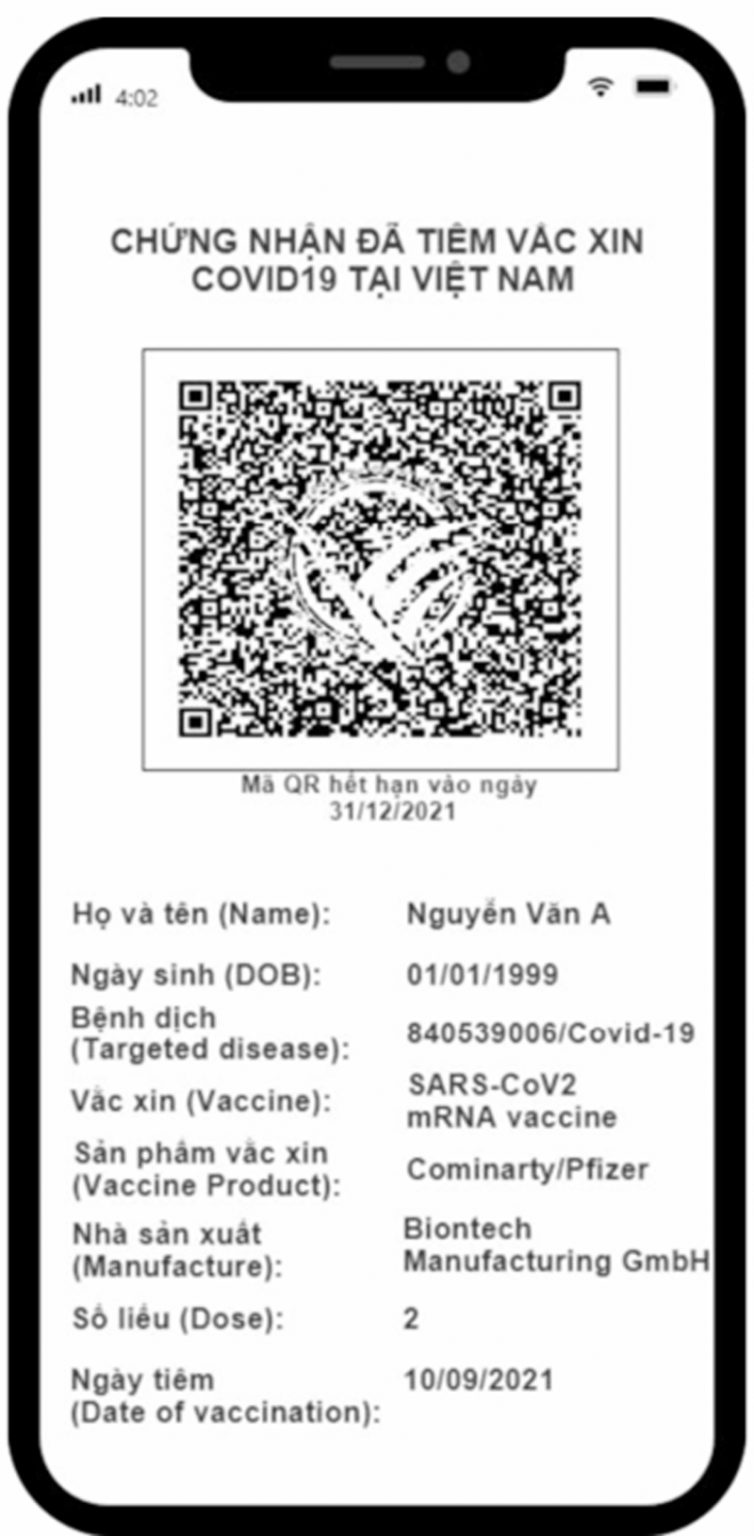 The ministry also announced procedures for the issuance of the Covid-19 vaccine passport, which comprise three steps applied uniformly across vaccination facilities in the country. 
In the first step, vaccination facilities will review and verify the information of vaccinated people in accordance with the Ministry of Health's Official Dispatches No. 8938 and 9438.
In the second step, vaccination facilities will digitally sign vaccination records on the national platform for Covid-19 vaccination management. This platform connects and shares its vaccination data with the management system for the vaccination certification against Covid-19, meeting the Ministry of Health's prevailing regulations on the medical data connection.
Finally, the Department of Preventive Medicine under the Ministry of Health will digitally sign the Covid-19 vaccine certificates. The certificates will then be issued through QR codes in accordance with the EU's regulatory standards.
Vietnam has recognized the vaccine passports of 78 countries and territories, according to the Ministry of Foreign Affairs. 
On the other hand, five countries—Australia, Belarus, Japan, the UK and the U.S.—have accepted Vietnam's vaccine passport. 
As of December 21, Vietnam had administered over 140 million doses of Covid-19 vaccines nationwide. Some 63 million people have received two vaccine shots, representing 83.6% of the population aged 18 or older.