The cold weather has arrived and Christmas songs have started to resound on the streets. At EQUATORIAL, Christmas feeling is everywhere with sparkling Christmas trees, a warm banquet hall with bustling Christmas music, and full of year-end party packages with extensive menus.
 Christmas is coming around the town and people are up to their ears with decoration and cooking. Just pass by our ETC and wrap your festive feast, there won't be stress and pressure of food preparation! Place your order via website https://equatorialhcmc.vn/ and we will handle the rest.
Celebrate Christmas with family and friends by the most luxurious and scrumptious seafood buffet at Equatorial. Expect the carving station to be laden with all time favorites including U.S. turkey, maple-glazed ham, char-grilled lobsters, oysters, crabs, and wonderful Christmas desserts. Other highlights include a live music performance and an excited lucky draw.
Only VND1,770,000nett per person (including free-flow beers & soft drinks).
Christmas Eve Buffet Dinner
24 December 2022
6:30PM – 10:30PM
Christmas Day Buffet Brunch
25 December 2022
12:00 – 03:00PM
Book now: https://hochiminhcity.equatorial.com/offer/festive-buffet-promotion/
When it comes to your last meal of the year, tradition demands an opulent meal to bid farewell to the past and welcome the new year! Our suggestion? Treat yourself to a decadent yet budget-friendly, utterly delicious New Year's Eve buffet dinner which includes Roast U.S. beef; Hong Kong BBQ: Peking duck, suckling pig, char siu pork, char-grilled lobster, scampi, crab, sirloin steak, prawn me, New Orleans-style baked oysters.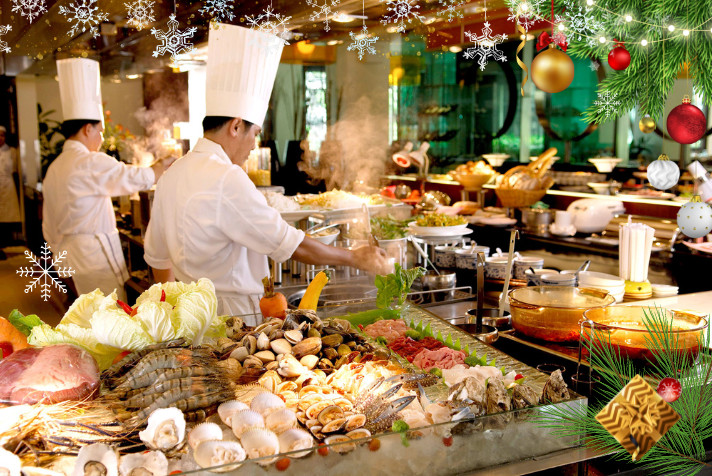 Welcome the New Year with our New Year's Eve Buffet Dinner
31 December 2022
6:30PM – 10:30PM
Venue: Chit Chat Restaurant, Lobby Level
Contact hotline 38397777 ext 8000 or email to: dine@hcm.equatorial.com for booking and more information.
Merry Christmas and we wish you all abundance, peace, good health and happiness in the coming year!