Giving back to the community is part of Home Credit Vietnam's corporate culture. The company has over the years focused on developing projects that create a lasting impact by fostering social inclusion, building resilience, and helping people from disadvantaged backgrounds access new opportunities.
In 2023, Home Credit continues to make significant investments in corporate social responsibility (CSR) projects that prioritize education, direct aid, and support for disadvantaged people and children.
Empowering women to grab opportunities
For nearly 10 years now, Home Credit has collaborated with the Women's Union of various localities to implement 0% interest loan packages as a way of livelihood assistance targeting disadvantaged women across the nation. The provider of consumer loans has in as many years provided total support capital of nearly VND3 billion, and the results have been remarkable, as 90% of beneficiaries have gained financial management skills, 100% have developed clear business plans, and 51% have generated profits and savings from their business activities. Consequently, hundreds of disadvantaged women and their families have experienced improved income, an enhanced quality of life, and reduced financial inequality.
In December 2022, Home Credit provided VND150 million in startup capital to two cooperatives in Ca Mau Province. The two cooperatives, consisting of over 30 women facing difficult life circumstances in the local area, engage in traditional handicrafts using sustainable sources of raw materials. With Home Credit's support capital, these cooperatives can now invest in machinery and materials to further increase efficiency and mutually motivate each other for growth.
Home Love Bus
Home Love is an annual charitable activity by Home Credit to support underprivileged members of society and contribute to the development of sustainable communities in Vietnam. In 2022, the Home Love Bus reached various regions across the country, distributing hundreds of gifts, including stationery and necessities, to disadvantaged children.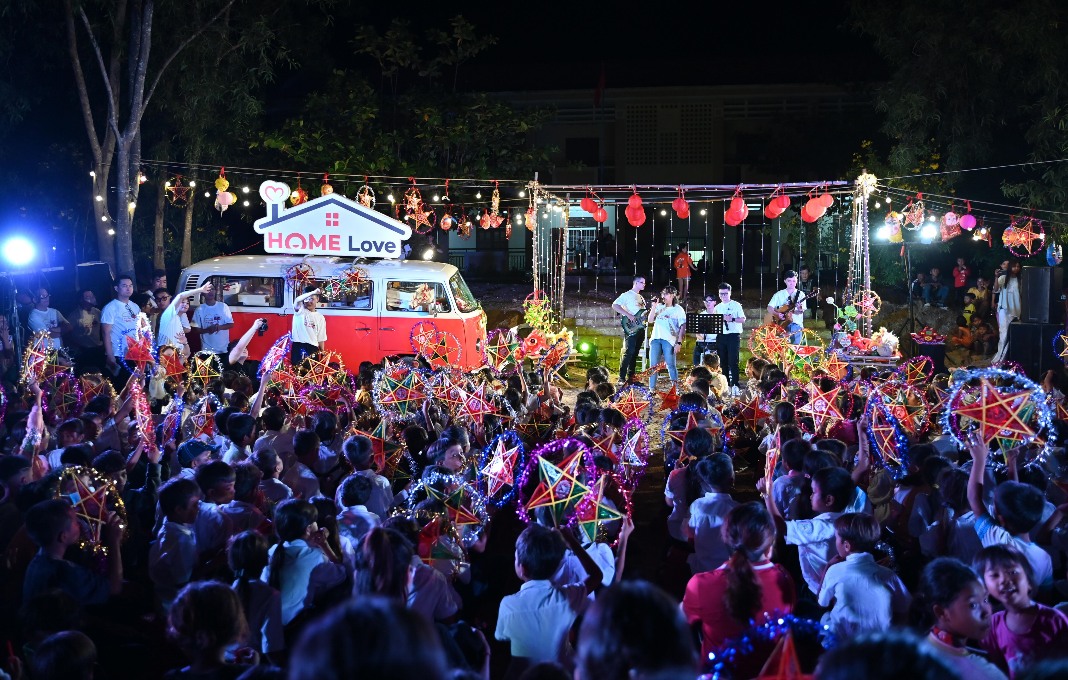 In December, more than 20 staff members joined a volunteering trip to Hang Blaha commune, one of the poorest communes in the mountainous district of Mu Cang Chai in Yen Bai Province. During the event, Home Credit provided lunch for over 300 people, including children. On the occasion, Home Credit also joined local residents in decorating the school for Tet celebration and participated in cultural activities such as folk dancing and making traditional sticky rice cakes, and distributed more than 120 gift sets to children and their families, which included warm clothing, rice, necessities, and numerous gifts for the school, such as warm blankets, kitchen equipment, and a computer.
Notably, the trip received support not only from within the company but also from its customers who participated through the Home App that allowed users to send their New Year wishes. For each message received, Home Credit Vietnam contributed VND10,000 to the Home Love project to support disadvantaged people across the country. Over the course of one month, more than 2,000 wishes were sent to support the program.
In the Mid-Autumn Festival 2023, Home Credit made a visit to the underprivileged Raglai people. At the same time, the volunteer team organized a memorable Mid-Autumn Festival with gifts for over 300 students at Cam Phuoc Dong 1 Elementary School in Cam Phuoc Dong Commune, Cam Ranh City, Khanh Hoa Province.
Furthermore, the company also organized a journey to Quang Ninh Province and delivered 95 gifts to disabled children receiving care at the Quang Ninh Children's Welfare Center.
The Home Love project will continue to be implemented nationwide, bringing joy and laughter to those facing difficult circumstances.
Way to the Future
In addition to its Home Love program, Home Credit Vietnam's "Way to the Future" program is helping brighten the dreams of many students and young people in difficult circumstances in various regions by enabling them to go to school.
The Way to the Future program was initiated in 2018 with a mission to foster education and create pathways for children hailing from disadvantaged backgrounds to thrive in the years ahead. The program grants annual scholarships to disadvantaged students with exceptional academic records, coupled with donations of vital school supplies, computers, and books.
In 2023, a noteworthy achievement of the program is its expansion to Buon Ho Town, Dak Lak Province. The program has provided scholarships and gifts with a total value of VND150 million from Home Credit staff. Nearly half of this amount was allocated to sponsor eight scholarships for students in Buon Ho Town, Dak Lak Province, while the remaining portion was allocated to sponsor 80 health insurance cards for students at Y Ngong Primary School, as well as 150 gifts for them, including study materials, candies, and over 100 books for the school's library.
For students facing challenging circumstances, these gifts not only improve their learning conditions but also serve as a significant source of motivation, offering the support they require to complete their education from elementary to high school.
According to the company, 2023 was a year filled with challenges, uncertainties, and unprecedented hardships. However, amidst these challenges, Home Credit Vietnam has demonstrated the resilience that underpins its 15-year journey in Vietnam. And in this journey, it has always integrated community programs into its business strategy to benefit the underprivileged.