Since the fourth wave of Covid infections, while other tourist spots have been busy, hotels in HCMC are still seeing a lackluster response, almost six months after the city reopened.
Thanh Han—a five-star hotel security staff on Dong Khoi Street in District 1, claimed, "I used to be very busy, now I wait endlessly for guests but there are none."
In over two hours, Thanh Han only opened the door for two or three guests. Dong Khoi used to be one of the most popular and busy streets in HCMC, where people competed to open shops for tourists, but now, only a few shops have reopened even though Vietnam reopened international tourism over a month ago.
Han said, in the past two years, most hotel staff earned only a few million dong per month. After paying the rent, they would run out of money, so there were only a few young people who had free time or family support for accommodation could afford to stay. As for the rest, some people returned to their hometowns, while others changed jobs or worked several jobs to make a living. A turnaround for the hotel industry, especially the city hotel market, looks gloomy.
Only 20% of accommodation businesses operational
The director of another five-star hotel in HCMC agreed with the above scenario, saying this is just what is happening to many hotels in the city. Accommodation businesses in HCMC are facing increasing difficulties, though economic and social activities have resumed for half a year as domestic and international tourism has been restarted.
Currently, only a few small hotels with dozens of rooms are surviving on guests from other provinces arriving in the city for work, medical treatment, etc., while other hotels aren't as lucky. Three-star hotels with 50 rooms or more are in a tough spot. Although four- and five-star hotels have customers, the occupancy is still too low for all employees to return to work. In the past, an occupancy rate of 30% was unprofitable for a high-end hotel on Hai Ba Trung Street but now it is an impressive number.
"Our lives depend on the international market; it is only when this sector recovers completely that we will be able to continue with business as usual," the director said.
According to the director, since the 2022 Lunar New Year, excluding unskilled labors, the key staff that hotels tried to hold on to after the pandemic have quit. Most of them have turned to the growing real estate market. The room rate at most hotels in HCMC has currently returned to the same level as it was pre-pandemic, but few places are at a discount because of a lack of guests. "Many hotels in the central region have reduced prices considerably to attract guests during the Hung Kings' anniversary. They can do that because they are located in tourist hubs, and good prices will attract more guests. However, for us it's different because we have no market," he said.
Vu Thanh Vuong, sales and marketing director of Rex Hotel Saigon, echoed his views. At the hotel, currently, only the food and beverage department, including coffee restaurant operations and convention events, has recovered significantly, while the accommodation segment which contributes most of the hotel's revenue is still quiet.
Average room occupancy is only 15%
The guests staying at hotels in HCMC are currently from big cities, such as Hanoi, while only a few businessmen and foreigners are staying for a short period. Foreign tourists, including those who plan their own trips and go on tours, are practically nonexistent.
HCMC used to welcome more than half the international visitors to Vietnam. The Vietnam Tourism Annual Report before the Covid-19 pandemic showed that HCMC ranked third in the top 10 provinces with the most four- to five-star hotels, behind Khanh Hoa and Danang. By the end of 2018, the city had 22 five-star hotels with 6,566 rooms and 26 four-star hotels with 3,501 rooms. To this day, this number has not changed much.
In general, the number of accommodation businesses as of 2019, according to the Department of Tourism of HCMC, was 1,533, classified and ranked with 44,232 rooms but only more than a fifth of these tourist accommodation businesses have reopened.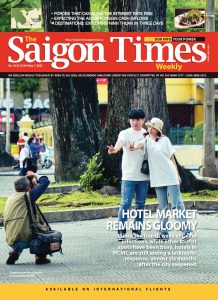 Market: Waiting for the sunrise
April 8 was meant to be a special date for HCMC to welcome a group of 130 tourists from the U.S. for a big event at the five-star Le Meridien Saigon Hotel and officially launch the program, "Welcome to HCMC", inviting visitors to return to the city. At this ceremony, leaders of the People's Committee of HCMC and the Department of Tourism promised to organize a series of marketing activities, product development, simplified procedures, etc. to attract international tourists after a hiatus of more than two years.
"We look forward to it every day, but we don't know when tourists will return," Vuong said. Like other businessmen, he said it is currently difficult to forecast when the situation will improve as the market has no information.
Domestic travel companies have asked for the prices of rooms, but have made no promises to bring guests. Foreign partners have also asked for the updated room rates the pandemic, but there has been no response from business customers from abroad, a valuable segment before the pandemic.
"There is still the high season at the end of the year. Normally, based on the number of bookings at this time, we can estimate the year-end business results and come up with future strategies, but at present, there is no basis for evaluation," Vuong said.
Accordingly, the average room occupancy is expected to be about 30% during the winter season by the end of this year, lower than 85% before the pandemic. For hoteliers, a 30% room occupancy is unprofitable.
During the recent tourism launch day, Nguyen Thi Anh Hoa, director of the HCMC Department of Tourism, said there were many optimistic signs for the city's tourism after officially welcoming international tourists back. In particular, HCMC will continue to welcome large MICE groups, including 4,000-5,000 guests from many other countries.
Some businessmen such as Leo Liu, Chairman of Citslinc Company from North America, which cooperated with Asia Charm Travel Co., Ltd. to organize the tour for 130 American guests to HCMC on April 8, promised to welcome international guests. However, the actual results will depend on when hotel businesses find answers to the market situation to calculate costs, determine the right way to work and start over.