Hung Thinh Incons Joint Stock Company (Hung Thinh Incons, HOSE: HTN) has just announced its consolidated financial statement for the 4th quarter of 2021, which shows revenue and profits far outpacing the figures of the same period of 2020, contributing to the whole year's higher-than-targeted results. In 2022, Hung Thinh Incons continues to set growth targets.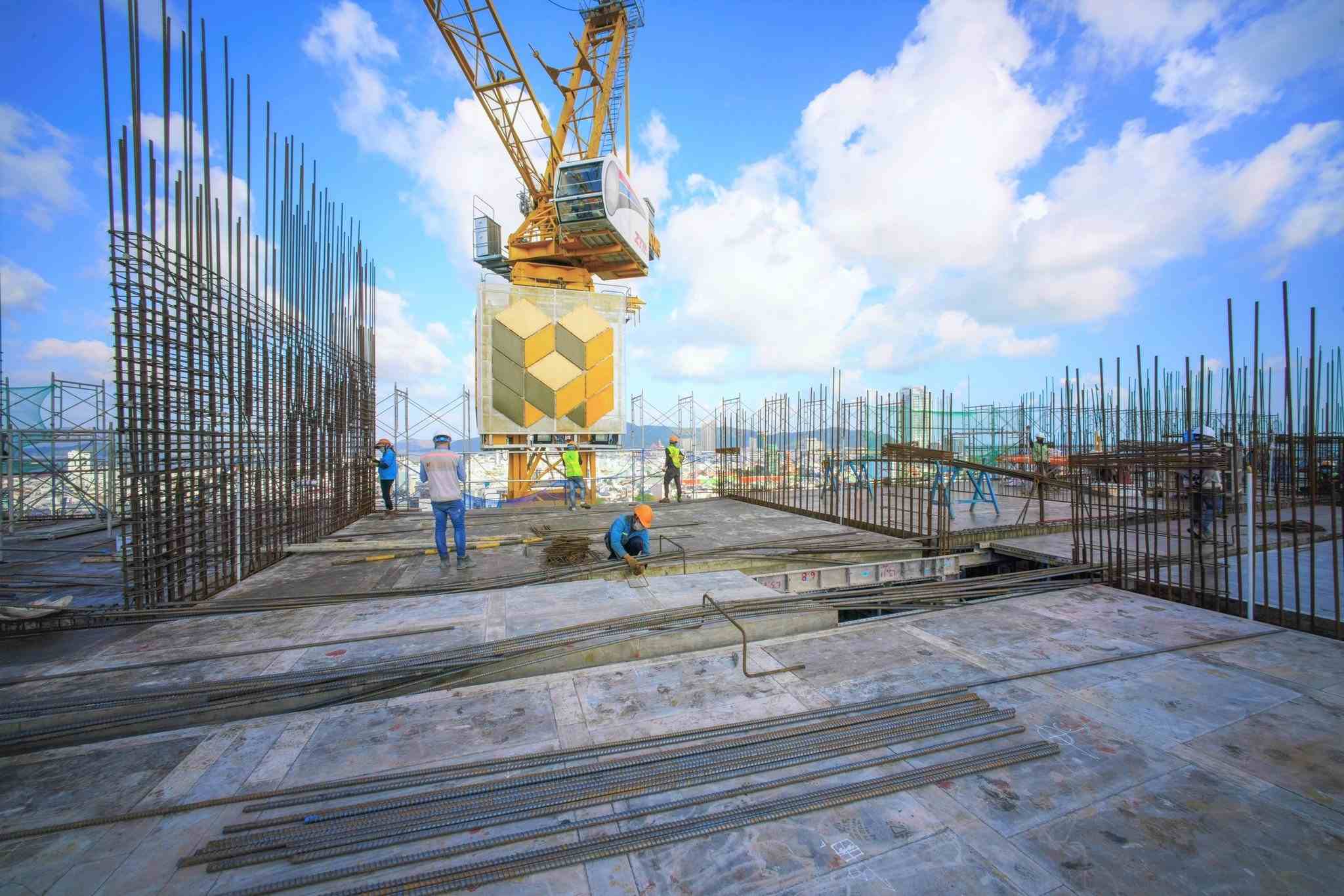 In the 4th quarter of 2021, HTN's consolidated revenue surpassed VND2,655 billion, an after-tax profit of VND98.3 billion, rising by 2.6 times and 1.7 times respectively over the same period, due primarily to a sharp increase of the construction work acceptance value compared to the previous quarters. Specifically, the main revenue stream comes from the projects of Merry Land Quy Nhon tourism, trade and entertainment complex, Q7 Saigon Riverside Complex, Lavita Charm, and other projects. The gross profit margin was 7% lower than the same period last year primarily due to no real estate revenue generated in the period and the fluctuation of the capital cost.
In 2021, although the Covid-10 pandemic caused businesses to stagnate for nearly 6 months, Hung Thinh Incons still managed to complete the construction progress of the projects as planned and had a successful year. Consolidated revenue for the whole year reached VND6,164 billion and after-tax profit VND241 billion, hitting 107% and 103% of the revenue and profit targets for 2021, respectively.
By the end of 2021, HTN's total assets reached VND7,584 billion, an increase of VND2,042 billion compared to the beginning of the year.
HTN's financial structure is safely and effectively maintained and always ensures good liquidity. Cash and cash equivalents as of December 31, 2021 increased 3.5 times over the beginning of the year, while the current ratio and quick ratio were at 1.16 and 0.99 respectively. In order to increase construction capacity and improve financial capacity, HTN has increased its chartered capital to VND891 billion through successful issuance including two issuances of shares to existing shareholders and 80% of shares for 2020's dividend payment.
This is the highest dividend paid since HTN was listed on HOSE at the end of 2018. According to HTN's representative, the rise in chartered capital not only shows solid business performance in recent years but also is to improve capital capacity to promptly implement the company's business plans such as executing cooperation plans with real estate investors and preparing potential expansion into the field of infrastructure construction.
Hung Thinh Incons is known for its competitive advantage for being a major link in the ecosystem of Hung Thinh Corporation. Possessing strong financial resources, rich experience, and state-of-the-art technology, Hung Thinh Incons is qualified to be the EPC contractor for large-scale projects in the market. Its other significant strengths include adopting modern technology in construction for optimal construction management and cooperating with several R&D centers for the more cutting edge, greener, and more economical construction materials, altogether contributing to the outstanding growth of the company. In addition, Hung Thinh Incons also actively expands the construction market by forming partnerships with partners beyond the Hung Thinh Corp ecosystem, step by step entering the field of infrastructure construction to diversify products and ready to welcome the wave of public investment.
For the full year 2021, Hung Thinh Incons continuously completed and handed over many projects, namely Lavita Charm Apartments (Thu Duc City, Ho Chi Minh City), Q7 Boulevard (District 7, Ho Chi Minh City), and Cam Ranh Mystery Villas beach resort (Khanh Hoa Province).
Furthermore, Hung Thinh Incons has signed new construction contracts for Bien Hoa Universe Complex (Bien Hoa City, Dong Nai Province), Moonlight Center Point (Binh Tan District, Ho Chi Minh City), New Galaxy Nha Trang (Nha Trang City, Khanh Hoa Province) projects and the key projects in Binh Dinh Province such as Richmond Quy Nhon, which ensures its revenue in the medium term.
It can be said that Hung Thinh Incons has been affirming its position and becoming a leading brand in the construction industry of Vietnam thanks to its existing potential in finance, human resources, management, construction technology, etc., and experience in implementing a series of major projects.
It is also known that Hung Thinh Incons's winning the bid for Moonlight Centre Point in Binh Tan Dist, HCMC  with a total estimated value of nearly VND1,700 billion has increased its total accumulated bid winning value for the whole year 2021 to more than VND14,000 billion.
HTN has also come up with 2022's business plan with revenue and after-tax profit targets at VND8,068 billion and VND286 billion, increasing 31% and 19% respectively over 2021's results. The revenue and profit values in 2022 are carefully estimated by HTN based on the expected backlog of the contracts that the company has signed as the general contractor and the expected bidding for projects outside Hung Thinh Corp's ecosystem in the upcoming time.
Closing the trading session on January 26, 2022, HTN's shares reached VND43,700 per share, which is 2.36 times higher than at the beginning of 2021; market capitalization reached VND3,894 billion, which proves the trust and companionship of its investors.
Thanks to its excellent business results over the year and profitability maintenance, Hung Thinh deserves to be ranked number 5 in the top 50 best performing listed companies in Vietnam in 2021 – an annual event in HCMC hosted by Nhip Cau Dau Tu Magazine, in collaboration with Thien Viet Securities Company and with the consulting of Harvard business experts and references from the global Bloomberg Businessweek, Fortune, Forbes ranking lists. The ranking is based on the company's business results measured for 3 consecutive years, based on 3 growth indicators: revenue, return on equity (ROE), and return on the stock.