When Yen Phu Lake made it to an important scene in a Hollywood movie, "Kong: Skull Island", the destination left a lasting impression with its wild scenery, vast cave systems and majestic limestone mountains.
Director Jordan Vogt-Roberts traveled from North to South Vietnam for more than a month to survey scenes for the movie, "Kong: Skull Island". Yen Phu Lake received the most attention among the three main filming locations.
Yen Phu Lake is located in Trung Hoa Commune, Minh Hoa District, Quang Binh Province. Only some 100 kilometers from Dong Hoi City, it takes tourists about three hours to get there by car.
The road to Yen Phu Lake is a small path along grasslands at the forest's edge. Therefore, tourists are advised to get to the lake by motorbike, an unforgettable experience punctuated with stops admiring the majestic and pristine scenery, which is more realistic than it is in the movie.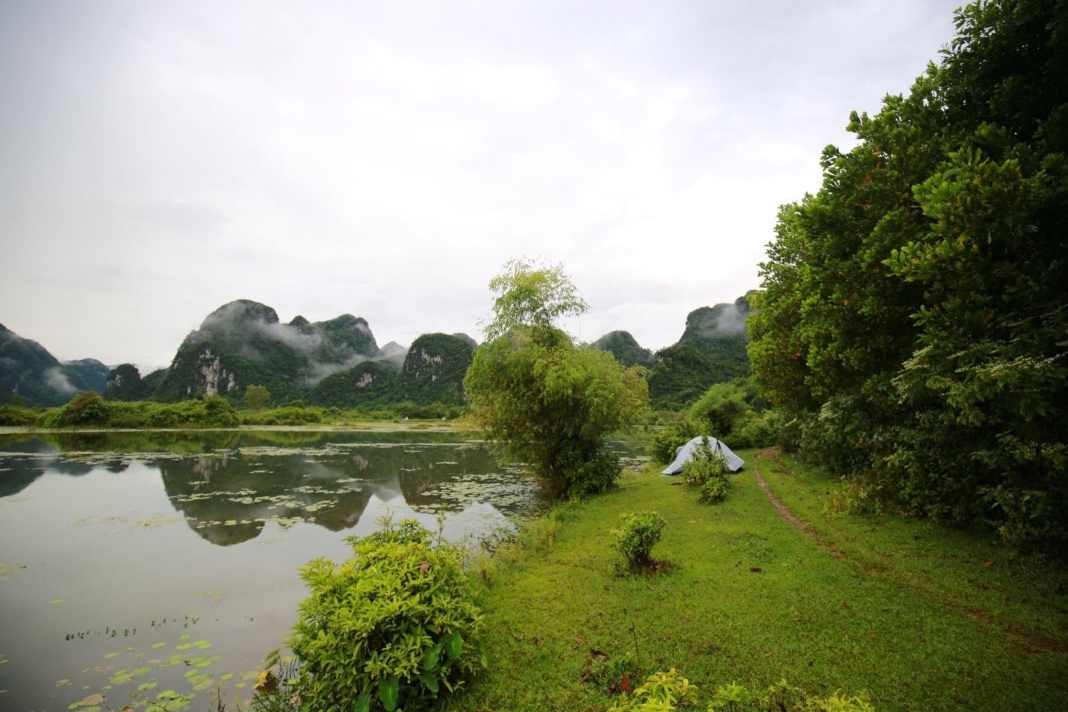 The scenery at the lake remains wild. The lake water is calm and clear all year round. The lake is surrounded by imposing mountain ranges with endless green fields forming a surreal landscape.
According to the local people, in the past, Yen Phu Lake was an irrigation lake providing water for agricultural production and to water the green fields.
There are undulating limestone mountain ranges stretching on the water's surface. Early morning, these limestones are more fanciful amid the morning mist. At sunset, when the sky turns to a mysterious light pink, the water's surface reflects the limestone, creating a magnificent scene.
Not many tourists knew about Yen Phu Lake until it appeared in the blockbuster movie. Nowadays, the destination is gradually becoming famous among young travelers who enjoy a peaceful atmosphere and poetic scenery.
Since the lake is a camping and sightseeing spot, no tourism services exist. After camping, tourists can visit Yen Phu village, a rustic and peaceful village with a unique beauty and stalactites growing from the ground, interspersed with houses in the village.