Agriculture has been the key economic pillar of the Mekong Delta, and as such, development policies for the region over the years have been designed to bolster agriculture. However, this foundation is becoming weak.
A sinking foundation
Agricultural growth has slowed down since 2005. Between 2001 and 2010, agricultural growth averaged out at over 7% a year, but this growth rate fell by half in the following 10 years, at only 3.5%. The proportion of agriculture in gross regional domestic product has shrunk, and the Mekong Delta's contribution to the national economy has also tumbled.
The industrial sector was just a scratch in the 1991-2000 period, accounting for only 16% of GRDP, with the annual growth rate lagging behind that of agriculture. However, the sector has since then seen leaps and bounds, with the average annual growth rate hitting 19% in 2000-2010. From 2011 to 2020, industrial development in the Mekong Delta slowed down a bit, but the annual growth rate was still three-fold higher than that of agriculture. The processing industry has become the driving force of the Mekong Delta's economic growth despite little support in terms of development policies.
Industrial development on infertile soil
The uneven development among the Mekong Delta's provinces in the past 10 years is due to their respective industrial development. Long An, and later Tien Giang, have attracted much private capital, including foreign direct investment (FDI), into the industrial sector. These two provinces have therefore obtained high economic growth in recent years, resulting in diverse industrial structures, big numbers of new businesses, low unemployment, low rates of migration, and higher income per capita.
FDI is a vital factor of economic growth in the Mekong Delta, with large funds flowing into the processing industry in Long An and Tien Giang, and into fields like thermal and renewable energy elsewhere in the delta. However, the processing industry plays a more important role in creating jobs and a ripple effect for the economy.
Not all provinces can attract investment like Long An and Tien Giang, which enjoy better traffic infrastructure and close proximity to HCMC. But interestingly, industrial facilities have sprung up on infertile soil, which is not suitable for crops. Therefore, several districts with non-arable land have become wealthier due to industrial development. Long An became the early bird, followed by Tien Giang three or four years later, and gradually, processing clusters have taken shape along National Highway 1 in these provinces.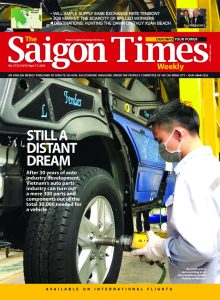 Nucleus city and processing chains
Provinces that have managed to develop major processing sub-industries like shrimp or tra fish chains have also seen robust economic growth, even with limited FDI.
The correlation between HCMC and some southeastern provinces shows the need to develop a metropolitan and satellite cities in the Mekong Delta. As long as Can Tho still struggles to bring its central role into play and to serve as the nucleus for other adjacent localities, the regional connectivity will remain weak, and the regional economy will remain a porous collection of a dozen small-scale economies.
Lessons from rice and fishery processing sectors years ago show the importance of attracting investment capital from local residents. The 2000-2010 period witnessed the rapid development of processing facilities that have clustered themselves into value chains for rice, fishery (shrimp and tra fish) and fruit. These value chains have generated billions of U.S. dollars in export revenue and created millions of jobs, and stimulated the development of the service sector.
However, the focus on these major value chains has skirted the limit when these sub-sectors increasingly switched to intensive development. Requirements on standardization and quality as well as environment protection norms will lead to higher input costs, a thinner labor force, and lower growth rates than in previous years.
Prices of major farm produce have turned more volatile as China becomes the predominant buyer. With such unpredictable price changes, it is difficult to stabilize economic growth and pursue environmental protection, which eventually leads to the depletion of economic and natural resources and exhaustion of reinvestment.
As such, it is necessary to review market changes and impacts. If a certain product line is heavily reliant on a single consumption market, its output should not be scaled up. The local market should become the springboard for any new product and help restructure export processing chains.
Smaller-scale value chains needed
There are still many types of farm produce and handicrafts in rural areas that are marketable. These items, in spite of small scale, are associated with local resources and endemic to specific localities. Lessons from the development of rice and fishery value chains can apply to small-scale value chains for these items.
The One Commune One Product (OCOP) program can be a good model for developing a dynamic and diverse economy in each rural locality.
The expansion of the local market for products peculiar of localities in recent years will bring about new opportunities for small-scale value chains.
Greater support for industrial development
Experiences from Long An and Tien Giang indicate that to step up industrial development, it is necessary to attract investment including FDI. But the result will be better if policies are designed to attract local capital right in each locality.
The Mekong Delta in its strategy needs to attend more to processing and manufacturing industries as well as handicraft villages in rural areas. Policies should focus on access to land, manpower training, access to credit and the market. Access to land is the hardest issue. Spaces for urbanization and industrial development are limited in an agricultural region like the Mekong Delta. The difficult access to land is due to institutional restrictions that hinder urbanization and industrial and service development of the region, as priorities go to agriculture. If this bottleneck is not removed, the regional economy cannot see a breakthrough, even if traffic infrastructure is further improved.
The proposal for the Mekong Delta from the writer of this article, therefore, is to spare more time and resources for industrial development.