It was worrying to see the unexpected rain in HCMC this month. But unlike a farmer who would be worried about his rice germination due to the rain while it is being dried outdoors, I was worried about something else: paintings at a recent exhibition not being moved inside in time, wasting the hard work and efforts of the young hearing- and speech-impaired artists.
The young hearing- and speech-impaired artists held an outdoor exhibition featuring over 100 paintings as part of their "Sound of the Drawing Art" class in the cultural space of HCMC's book street.
The paintings were diligently made on canvas across one year in a gallery located in an alley on Nguyen Kiem Street, Phu Nhuan District, reflecting their innocent feelings, full of compassion and sincerity. A part of the sale proceeds would go to those orphaned by Covid-19.
Late in the evening, I passed by the exhibition to encourage the kids and see their smiling faces when several paintings were sold.  A Singaporean identified as Karthik, visited the book street, expressing his admiration for the efforts and creativity of the little artists and their teacher, artist Thuy Van Y, who is also the vice president of the Mekong Art Club under the HCMC Fine Arts Association.
Van Y has been a dedicated teacher for the last five years, teaching and inspiring over 20 disabled artists.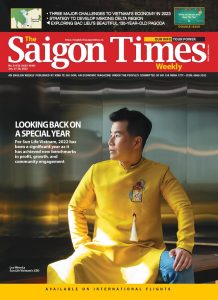 During the one week of the exhibition, it saw several visitors and buyers, including some beauty contestants who bought the paintings to support the cause, businessmen who bought them to decorate their workplaces or random passers-by who bought them as souvenirs or to support the artists. Regardless of who the buyers were, I could feel joy radiate on the faces of these little artists each time a painting was sold though they could not speak.
In the spirit of Christmas and the reason for the season, I also recalled a story about Nguyen Duc Duy, a former K battlefield soldier whom I named Masked Seven (after his family member order) since I first met him in 2014. He called me a few days ago.
After battle, he returned to his hometown in Hoai Nhon – Binh Dinh Province, earning his living through multiple careers. He then moved to Saigon and decided to make a living by drawing classical Tuong masks (Tuong—a traditional Vietnamese musical performance art) and cycling to sell his products across every corner of Saigon for the past 20 years.
His masked drawings of the king, queen, generals and soldiers were inspired by his memories of when he followed his father to many Tuong performance shows.
Masked Seven called me seeking advice for his incoming lesson on drawing masks for an international primary school in Nguyen Huu Canh Street, Binh Thanh District. I saw his creativeness and liberal ideas displayed on polymer-modified plaster via the photos he sent me after teaching. He was as happy as a clam, talking about his income from selling masks to the teacher on that day and his tutor fee.
I knew he was happy because not only could he earn more money for his family, but he could also, for the first time, teach and share his experiences after many ups and downs in his life. He was especially happy he could pass down this traditional Vietnamese musical performance art to the young generation.
These stories of joy and compassion truly reflect the spirit of the Christmas season.