With the goal of long-term development in Vietnam, INSEE recognizes that the development of the locality where the company operates is vital for the sustainable development of INSEE. Therefore, INSEE has long focused its corporate social  responsibility (CSR) activities on the sustainable development of the community.
Mr. Eamon John Ginley, General Director of INSEE Vietnam, said that the company has sought to utilize its strength as a cement maker to promote sustainable development of the community where it operates.
"At INSEE, the CSR strategy supports the sustainable development of society in many aspects, by focusing on three main strategic areas: sustainable development of the community, building infrastructure and supporting education across southern Vietnam," the company's CEO said.
INSEE, which operates one cement factory and four grinding stations in Vietnam, prioritizes using resources efficiently while making maximum efforts to bring the most positive impact to the environment and community. The company focuses on infrastructure development in rural areas where its grinding stations and cement plants operate, as this is considered the best investment for society.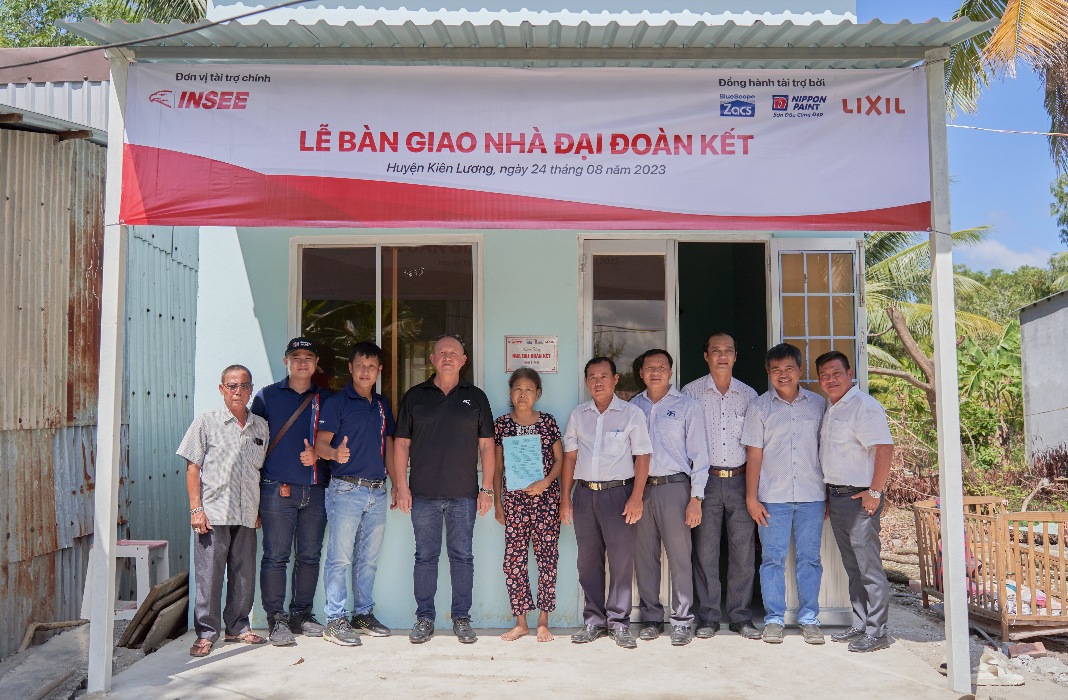 In the third quarter of 2023, INSEE Vietnam organized a handover ceremony for five houses in Binh An, Binh Tri, Duong Hoa, Kien Binh communes and Kien Luong town in Kien Giang Province's Kien Luong District. This is the project kicked-off by INSEE since the beginning of 2023, which aims to provide homes for disadvantaged households and officially handed over to homeowners with the presence of local authorities and supportive partners.
INSEE has been calling on its employees to directly participate in contributing volunteer hours to meaningful social activities. Up to now, INSEE has renovated and built 25 houses for disadvantaged households, built more than 120 kilometers of concrete roads and 14 bridges with the desire to bring a more stable and safer life to local residents.
In rolling out CSR activities, INSEE has regularly consulted with stakeholders to ensure the practicality of community projects that the company implemented. The company works closely with local stakeholders to identify their needs and then aligns its social responsibility activities to such demands. At the same time, the company ensures the projects are followed-up during and after the implementation.
In that spirit, INSEE has conducted many CSR activities tailor-made to local communities, such as giving health insurance cards to students and elderly people in difficult circumstances, providing free health checks and medicine to the elderly, and donating blood among others.
To achieve profound, long-lasting impacts, corporate social responsibility programs need to be implemented consistently over many years. With this purpose in mind, INSEE has implemented many social initiatives that have been sustained for more than 20 years, bringing meaningful changes to beneficiary communities.
Typically, INSEE's Enterprise-based Vocational Education Program (EVE) program has helped develop labor resources and provided local job opportunities in the Hon Chong Plant area, creating opportunities for more than 200 trainees.
The EVE program has helped the company train and find suitable human resources for key technical positions. Each training program lasts three years, and is developed by Kien Giang College with the participation of INSEE experts to develop local human resources. During the past 21 years, the EVE program has trained 239 talents and most of the graduates have chosen to stay with INSEE.
This EVE program was awarded the "Human Resources Excellent Award 2023" in the "Learning & Development" category by Anphabe in collaboration with partners.
Furthermore, the company has organized INSEE Prize as a scientific playground aimed at sustainable construction for students and helps bring winning designs to life. INSEE Prize enables students to implement their knowledge, have the opportunity to experience, construct practical projects and help to solve urgent social problems while creating value for the community.
This year's INSEE Vietnam kick-started the 2023 INSEE Prize on March 29, with the prize money totaling more than VND300 million.
Over the journey of 14 years, according to the company, the INSEE Prize has directly spent billions of Vietnam dong and mobilized approximately VND10 billion from partners to implement nine winning projects to benefit more than 5,000 people across the country.
In addition, the company has recently mapped out programs to resusciate quarrying sites and protect biodiversity. These include financial support for Phu My Wetland Nature Reserve and establishment of a limestone nature reserve in Kien Luong District in Kien Giang Province, in collaboration with the International Union for Conservation of Nature in Vietnam.
INSEE believes that local development is the springboard for the development of businesses operating in the area. In addition, through efforts to simultaneously implement programs to improve the local people's quality of life, INSEE wants to maintain the trust of customers, investors and stakeholders about the company in general and INSEE's products and activities in particular.
In its production, the company has managed to improve product quality to meet high standards on environmental protection.
INSEE Vietnam has had all products in its portfolio awarded with the Green Label issued by Singapore Green Building Council (SGBC). The company is also the first cement maker in South East Asia to have gained the Environmental Product Declaration certificate owing its efforts to minimize impacts on the environment.