Despite strong decreases in mergers and acquisitions (M&A) transaction volume and value in January-October this year, Vietnam's M&A market remains attractive. But at a time when local businesses are having cash flow problems, M&A investors have the edge in negotiations.
Domestic investors grow active
According to a report by the London-based consulting company Global Data, the global M&A market has contracted sharply this year, and the situation will continue into 2023. Similarly, the M&A market in Vietnam has been less active than two years earlier. The auditing firm KPMG Vietnam reported that the total value of M&A transactions in Vietnam between January and October fell 35.3% year-on-year to US$5.7 billion and the number of deals dropped by half to around 350. The average size of each deal was US$16.5 million, down 50% from the same period last year.
Warrick Cleine, chairman and CEO of KPMG in Vietnam and Cambodia, said the decline reflected investor caution partly induced by geopolitical uncertainty and runaway inflation worldwide. This year has seen more strategic investors entering the market, who are more careful than those seeking quick returns.
For years, M&A investors have come mainly from Thailand, Singapore, Japan and South Korea. Nonetheless, in the past few years, companies in Vietnam have become more active on the M&A market.
In 2019, domestic enterprises came third in terms of M&A value, behind Singaporean and South Korean firms but a year later, they gain top spot, with their transactions amounting to US$2.2 billion. Last year they dropped to second place, though. They once again regained top spot in the first 10 months of this year, with their deals reaching some US$1.3 billion, up 10% year-on-year. Local companies such as Masan Group Corporation and Truong Hai Auto Corporation were lauded at the M&A Vietnam Forum 2022 as major M&A investors.
Despite a lower volume, M&A transactions involving international investors marked up in value. This year, investors from Singapore, the U.S., South Korea and Spain accounted for 40% of the value of all the M&A deals.
Buy less, sell more
Rising inflation and geopolitical tensions have cast a shadow over the M&A market. Meanwhile, companies in Vietnam are grappling with liquidity problems, so negotiations are mainly decided by buyers, according to analysts.
Lam Thi Ngoc Hao, partner and head of national corporates and business transformation at KPMG Vietnam, said the cash cycle of listed firms in Vietnam has expanded by two weeks this year, citing research by international companies. Many businesses may need a 20% increase in working capital to maintain normal operations. "Many companies in the country want to increase liquidity, so the M&A market is now dictated by buyers," Hao said.
Bui Ngoc Anh at the Vietnam International Law Firm shared this view, saying that lots of firms are having difficulty with their cash flows. Investors have so many options, so they do not have rush as they prefer quality to quantity. "Investors with deep pockets could acquire businesses or projects at better prices in times of market volatility," added Anh.
Nguyen Cong Ai, office senior partner and deal advisory of KPMG Vietnam, said foreign investors would take a more active role in M&A transactions as the liquidity crunch cannot be solved overnight and interest rates are still prohibitively high.
M&A growth impetus
According to experts, the M&A market is quiet, but that does not mean the market would go into hibernation. This is a good time for investors with available cash to secure good transactions.
According to Yee Chung Seck at the law firm Baker McKenzie, many investment funds are targeting the Vietnamese M&A market. Japanese corporations worth US$2-3 billion are exploring opportunities to invest in Vietnam.
Japanese companies found they had missed multiple investment opportunities in the wake of the Covid-19 pandemic, according to Sam Yoshida, senior managing director and global head of cross-border division at RECOF Corporation. With good access to low-cost funding, Japanese firms are sounding out prospects for investment in Vietnam.
Yoshida noted that Vietnam's young population and fastest-growth rate in Southeast Asia make it an attractive investment destination for Japanese firms. He said Japanese investors, encouraged by the potential of Vietnam's market, would likely jump in if investors from other nations withdraw.
ASL Law managing partner Pham Duy Khuong stated that traditional investors from Japan, South Korea and particularly, Singapore would be a good fit for the demands of Vietnamese enterprises in the M&A market.
According to Deputy Minister of Planning and Investment Tran Quoc Phuong, Vietnam should work to preserve political stability, sustain economic development, manage inflation and improve the business climate to attract foreign investment. The measures are expected to improve the country's economic prospects and expand M&A activity in 2023.
Setting priorities
Some Japanese corporations have shown strong interest in many aspects of the domestic economy, namely trade, information technology, digital and real estate. However, companies in Japan are becoming more engaged in the food and food processing, digital technology and retail industries in Vietnam.
Despite stubborn inflation, M&A activities are forecast to expand in the consumer goods sector, Cleine said, citing customers' rising interest in e-commerce, digital payments and health and educational services. In addition, regarding prospective investment portfolios, renewable energy projects as part of the sustainable growth shift have been in the limelight.
Meanwhile, despite recent market ups and downs, analysts also believed that M&A activity in the financial banking industry would certainly bounce back in the coming years.
Trang Bui, chief executive officer of Cushman & Wakefield Vietnam, said that although the real estate market has faced obstacles, foreign and domestic investors remain optimistic due to various real estate projects, including apartments, condominiums, and industrial and commercial constructions.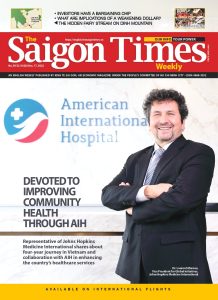 Nevertheless, given the time-consuming legislative proceedings, investors and enterprises must be well-prepared before entering into any M&A transaction, according to Khuong.
In any case, unfavorable conditions in the market will make investors more wary of pricing issues, said Cleine. As Environmental, Social, and Governance, or ESG, initiatives have gained traction, the bar seems to be rising for businesses seeking deals with potential investors.
According to KPMG Vietnam representatives, financial reports for the next five or 10 years, which reflect industry expectations on the firms' profit potential, would be crucial determinants for investors interested in M&A negotiations. However, as Vietnam has yet to comply with International Financial Reporting Standards, investors may have difficulty reaching agreements due to worries about financial transparency.