Factors with a significant influence on both active and potential investors are macroeconomic fundamentals and confidence in the market
Weaker appeal?
The number of securities trading accounts opened in August was 155,456, a drop of 22% from the 199,562 in July and a threefold reduction from the record high of 476,000 in May, showed data of the Vietnam Securities Depository.
The net number of securities accounts opened by individuals at home in the first eight months of 2022 was nearly 2.2 million, 2.6 times higher than in the same period last year and 43% greater than the 1.5 million for the whole year of 2021. But the steady decline in the past two months of July and August suggests people seem to be losing interest in this investment channel.
Considering the sharp downturn of this market since the beginning of the second quarter and how it is still having a hard time recently, even active investors cannot help feeling dispirited, especially when the macroeconomy is under pressure.
Since interest rates have been rising for almost a year, loans are no longer cheap. In the past, securities companies, buoyed by easy access to cheap capital, boosted margin lending at low interest rates. This move prompted many individual investors to make the most of the margins they were granted and rotation of money. With interest rates going up, the margin lending rates must follow suit. Thus, investors are less motivated to turn to this investment loan, especially when the market trend is still ambiguous and the risk of further downside correction is still present.
Rising interest rates have also encouraged people to switch back to the option of bank deposits, which is safe and ensures a certain efficiency level. Whereas there was a shift of money from the savings channel to securities two years ago, the trend may be reversing now. The 13-month deposit rates at several banks have exceeded 7%, plus some incentives and extra interest for significant deposits. On the contrary, stock investment has become risky in recent months. The VN-Index's price-to-earnings (P/E) ratio has dropped from 15 times in 2021 to around 12 times currently, and that of savings with a term of 12 months or longer is still higher, at over 14 times.
Meanwhile, the fact that the exchange rate between the U.S. dollar and the dong has been facing a lot of pressure may lure a significant volume of cash over to seek opportunities for swing trading in this investment channel. The USD Index has increased by 14% compared to the beginning of this year, while the exchange rate between the greenback and the dong has only inched up more than 3%, quickly setting up the expectation that the rise of the U.S. dollar in the domestic market will have to be stronger. Besides, exchange rate risk also makes foreign investors hesitant, especially in emerging stock markets.
Another noteworthy point is that the ongoing recovery of the economy of Vietnam also prompts corporate investors to withdraw their money from the stock market to focus on their core business operations. This further affects the cash flows of the market, which have already suffered a considerable decline in recent months.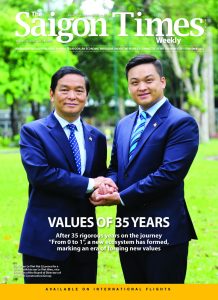 Confidence is important
Factors with a significant influence on both active and potential investors are macroeconomic fundamentals and confidence in the market. Such confidence has once again been undermined. Irregularities such as market manipulation and unsubstantial capital hike to mislead investors keep getting increasingly severe, even at major corporations with many individual investors. As a result, quite a few people are now afraid, reviewing the risks they will probably have to face.
It is not just the risk of falling stock prices when some businesses do not perform well but also the chance of getting deceived by a company's leadership at any time. At present, even with governing bodies in charge of supervision, inspection, and handling of violations, and auditing companies responsible for audit and warning, it is still not enough to protect small, individual investors who have limited ability to evaluate the performance of a company. It seems all they have is a simple belief that once a business is allowed to get listed on the bourse, it must have met all the "stringent" conditions and standards set by the regulator.
Who knows if violations like those committed by FLC Group or its subsidiaries like FLC Faros exist at similar companies listed on the stock exchange? In addition to "empty" warnings, investors need effective monitoring mechanisms and drastic actions to completely eliminate those businesses and corporate leaders that are not honest with their shareholders from the very beginning. It is already too late to detect and handle such violations since many people must have fallen victim.
In the past two years, the stock market has attracted new investors from all sectors, luring considerable cash and contributing to the strongest bull market. However, it seems the transparency of listed companies and the market remains vague, and the mechanism of supervision, inspection, and handling of violations still has too many problems that one cannot help but ponder.
Investors believe that with no "assistance" or neglect of responsibility, severe violations like the deceptive capital hikes at FLC Faros could never take place.
The roadmap and determination to upgrade Vietnam's stock market have been more or less affected by the "stains" left by enterprises such as FLC Group or FLC Faros. Thus the loss of investor confidence is inevitable. Solutions to reform the market to achieve the upgrade goal will eventually lose their meaning if there are still elephants unbelievably put through the eye of a needle.