Construction in general and urban development in particular can hardly go in harmony with sustainable development, but at Keppel, efforts to reconcile urban development with sustainability have been richly rewarded. The company, known for several signature developments in Vietnam, has earned widespread acclaim for its success story in bringing green values to constructions. It is the company's right strategy that has worked.
Keppel Corporation is a global asset manager and operator with strong expertise in sustainability-related solutions spanning the areas of infrastructure, real estate and connectivity.
Its main business scopes strictly follow a sustainability strategy, as "Keppel provides critical infrastructure and services for renewables, clean energy, decarbonization, sustainable urban renewal and digital connectivity," said Mr Joseph Low, President (Vietnam) of Keppel's Real Estate Division.
Sustainability at the core of business strategy
Keppel has over the years persistently pursued sustainability as a central part of its business strategy, attending to all business constituents in detail to achieve the overall target of sustainable development.
"Keppel places sustainability at the core of our strategy. This includes both running our business sustainably and making sustainability our business through investing in and creating solutions for a sustainable future," said Joseph Low.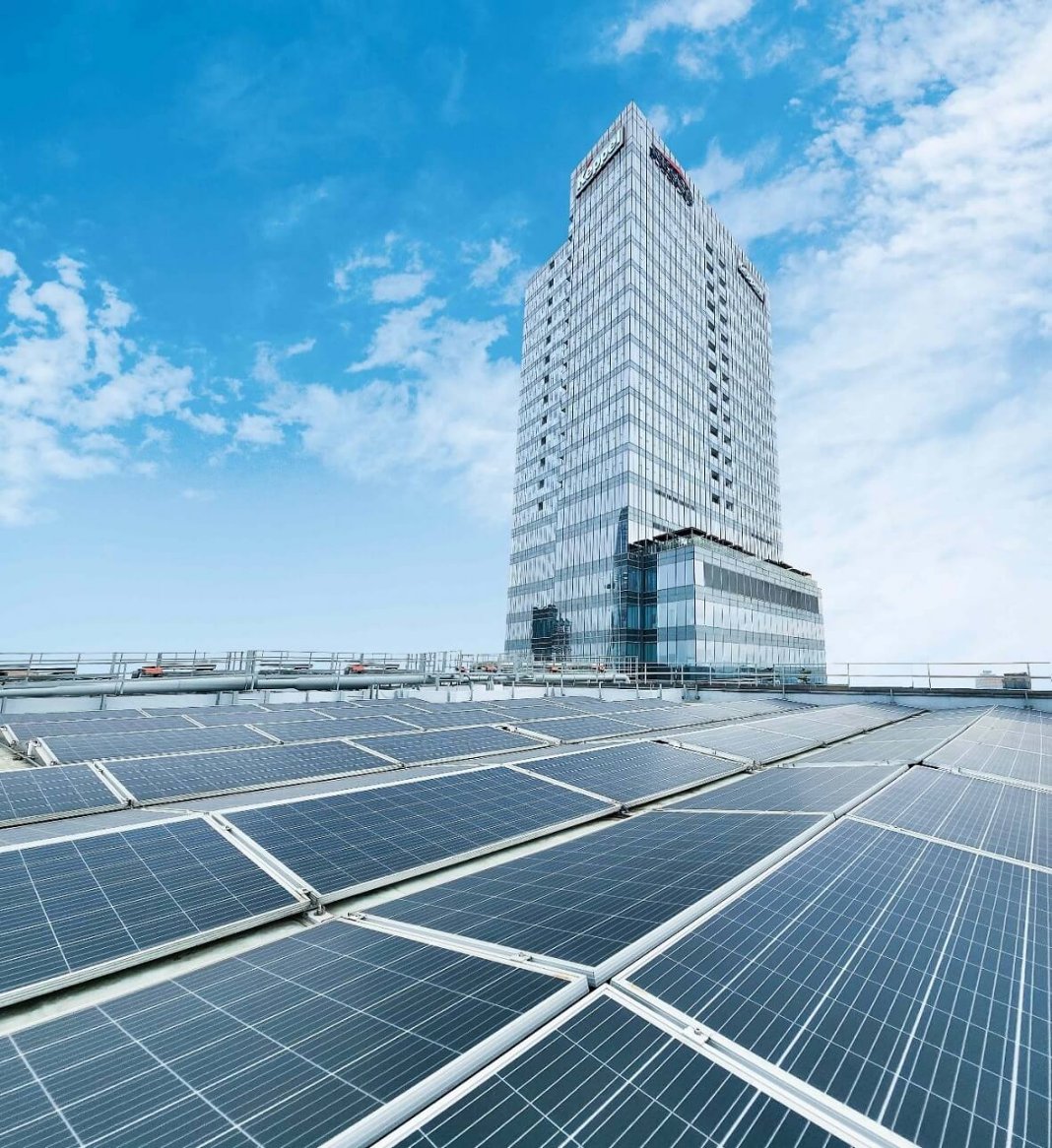 Keppel's Real Estate Division has committed to achieving 100% reduction in non-renewable energy usage by 2030 through deploying energy efficiency efforts as well as on-site and off-site renewables, and reducing water usage by 20% per square metre below 2020's level by 2030.
As part of the company's sustainability strategy, the company has increased use of renewable energy. The photovoltaic panels installed on Keppel's residential and commercial developments in Vietnam have generated an energy yield of nearly 150,000 kWh over the past three years.
In the past three years in Vietnam, Keppel's Real Estate Division achieved a total reduction of 39,000 tons in carbon emissions from its BCA Green Mark-awarded projects such as Estella Heights and Palm Heights. The total energy savings from all these projects from 2020-2022 is over 60 million kWh, which is equivalent to S$15 million, or some VND264 billion.
"We have set the benchmark for all our commercial projects to be certified to the Building and Construction Authority of Singapore (BCA) Green Mark GoldPLUS standard, or its equivalent, and for our residential developments to be certified to the BCA Green Mark Gold standard, or its equivalent. All newly acquired completed commercial buildings are also required to be certified to the BCA Green Mark Gold standard, or its equivalent, within two years.
"As testament to our commitment, Keppel has achieved 12 BCA Green Mark Awards in Vietnam," he said.
As a strong supporter of the net zero efforts by the international community, Keppel's Real Estate Division has made a science-based commitment to reduce its Scope 1 and 2 absolute greenhouse gas (GHG) emissions by 100% from 2020's level by 2030. Scope 1 covers emissions from sources that an organization owns or controls directly, while  Scope 2 are emissions that a company causes indirectly and come from where the energy it uses is produced.
The president said Keppel's Real Estate Division is also committed to reducing its Scope 3 GHG emissions from purchased goods and services by 20% per square meter by 2030 from the 2020 base year.
To meet Scope 1 and 2 emissions reduction goals, Keppel will take various measures such as phasing out the use of non-essential diesel equipment, achieving high green building standards for all new commercial developments, improving the energy efficiency of existing buildings, and maximizing on-site renewable energy among others. Meanwhile, to minimize Scope 3 emissions, the company will also increase the use of green-labelled and low-emission materials and products.
Pursuing innovation
Keppel is driving a Sustainable Urban Renewal (SUR) initiative with a mission to retrofit, future-proof and extend the lifespan of older commercial buildings. "We are looking to implement SUR technologies at our projects and will work with best-in-class local and international partners to incorporate innovative urban solutions such as smart security, smart mobility and environmental infrastructure solutions into our projects to make them more energy-saving," Joseph Low said.
"Our SUR model provides a greener, less costly and faster alternative to new construction, and can contribute to the circular economy. By incorporating smart and sustainable features into retrofitted buildings, we can also help building owners to enhance their assets' performance and value," Joseph Low said at a real estate conference held by the Ministry of Construction on July 13, 2023 in Hanoi.
"We believe that sustainable urban renewal is a compelling solution for Vietnam as the country advances on its journey to net zero. […] Through these efforts, we contribute to combatting climate change and in building a more sustainable future for the country," he said.
He added that Keppel has also embarked on Keppel Sustainable Cities Studios, a living lab of smart and sustainable solutions, such as district cooling systems and water-sensitive urban designs, that help create a dynamic future-ready township. District cooling is a technology that involves using a central chiller plant to cool water, which is then circulated to multiple buildings or various parts of a complex to provide cooling.
Community activities
Keppel's corporate social responsibility (CSR) approach focuses on protecting the environment, supporting education and caring for the underprivileged.
In the past three years, Keppel contributed nearly VND14 billion to Vietnam's society through various initiatives, such as the 3,000-tree planting program in support of Vietnam's national program to plant one billion trees by 2025, and the expansion of 'R.I.S.E. to the Challenge' in Vietnam, a public outreach program that raises awareness about sea level rise and climate change.
Other programs to nurture the community wherever the company operates include the Living Well clean water initiative that has been offering over 40,000 villagers in drought-stricken areas in the Mekong Delta better access to clean water, and the annual Grant-A-Wish initiative for underprivileged children in shelter homes during Christmas.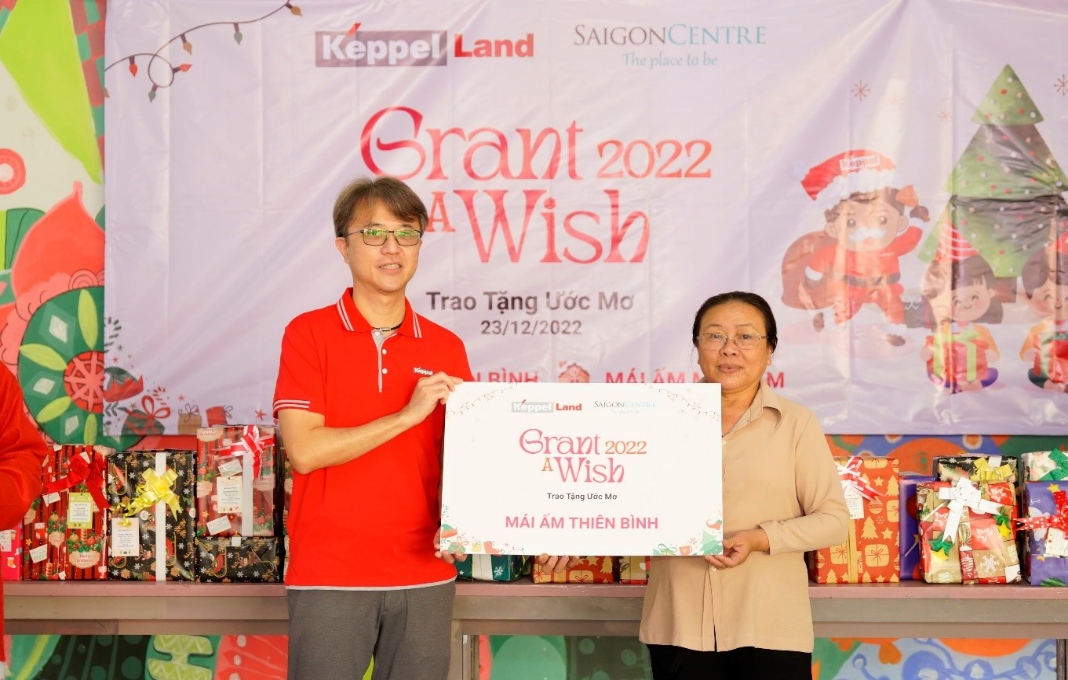 In addition, Keppel has engaged in many other significant community programs, such as organizing an annual blood drive, awarding scholarships to students, and sponsoring the Words on Wheels (WoW) mobile library program to promote reading and learning cultures among rural students.
"By embedding sustainability into our strategy and planning, we are able to create long-term value for our business and the communities wherever we operate," Joseph Low said.
As stated early on, construction and sustainable development can hardly go in harmony with each other, since the built environment is responsible for 40% of global carbon emissions. However, as Keppel is fully committed to Vietnam's journey towards sustainable development, it is therefore imperative for the company to address and reduce the built environment's carbon footprint.
"We view our sustainability and community programs as essential to our business success and believe that they create shared value for our stakeholders and the wider society," said the company's president.