HCMC is gradually returning to normalcy, albeit a "new normal." The peak of Covid-19 may have been over, and, although hardships and uncertainties are still down the line, life has to go on. When the city reopens its economy, one of the most difficult conundrums may relate to human resources.
Hundreds of thousands of workers in HCMC have returned to their home provinces since the latest outbreak of Covid-19. And when the complete lockdown order starting three months ago in HCMC was partly lifted, tens of thousands of others soon made their way to the city's gateways to head home. A survey conducted by the Ministry of Public Security shows that more than 2.1 million—or 60% of migrant workers in HCMC, Long An, Binh Duong and Dong Nai—have expressed their wishes to go home. If all these wishes are fulfilled, it is hard to imagine how HCMC would operate in the "new normal." Currently, the city's employment index is only 37% of that in the same period last year. HCMC may be said now to be a car without its engine.
The media have reported these days that enterprises, both domestic and foreign-invested, have voiced their concern over a possible shortage of labor. Yet none have stated clearly why their workers do not want to stay or come back to work. Look at what has happened over the past four months of lockdown and you'll know why their choice is quite comprehensible. Those workers, who fuel the engine of the "Pearl of the Far East" car ("Pearl of the Far East" was once used to call Saigon), had to stay for months in narrow and sweltering rented houses which lacked basic hygienic conditions. They earned no income while still having to pay for their rents. Nor did they have enough foods; and if foods were available, their prices were prohibitive. Those who lived here with their entire families found life even more miserable. They had to look forward to relief aid from the local government, which, as have been acknowledged by the city's leaders, was not always timely and adequate. Quite a few workers, both in the formal and informal sectors, maintained that they did not receive the relief packages said and had to rely on assistance from friends and neighbors. Above all, they were also among the people who faced the highest health risks.
Under such circumstances, homecoming is naturally desirable. Being back home is also risky, but at least the returnees may share the danger with their loved ones in extended families. If they chose to remain in the city, they would have to go it all alone in the "death game" with the coronavirus. Among the enterprises that have raised their concern over a labor shortage, how many have extended support to their own work force? In my opinion, except for several sizable corporations, the rest is not a large number.
The city which is grappling with the pandemic reminds the author of Titanic, a Hollywood blockbuster film. In Titanic, the mechanics who ensured the operation of the ship's engine lived at the bottom of the ocean liner, and inhaled only the smell of grease and soot in baking and humid compartments which were tiny. These mechanics knew nothing about the luxurious parties on the ship. Nor did they have a chance to watch sunrise or sunset on the deck—the way Jack and Rose did. When the Titanic collided with a floating iceberg, these mechanics were also the last to be rescued. Just like the Titanic's mechanics, the ship's lavish parties never had the face of them, HCMC's prosperity hardly has a place for the face of workers, who contribute their part to make it a sleepless city. And once HCMC had to hibernate because of Covid-19, the workers became the most vulnerable.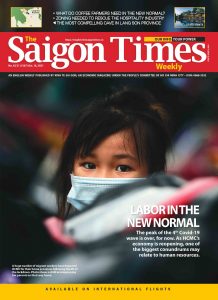 How to "ensure the labor supply" is therefore not simply how to invite them back and solve the problem of mobility. Workers should no longer be treated like an input of capital or commodity which can be paid when in need of and ignored if not in use. For years, HCMC in particular and the whole country in general have benefited from cheap labor. However, profit has not been redistributed in a fairer way, at least to ensure the minimum demand of workers, from housing policies and working conditions to healthcare and education for their children. When the workers are in crisis, their resilience becomes almost zero in no time. Imagine how long you could be able to tolerate the situation if you had to stay put for months in a 10-square-meter room together with 10 others! It would really be a torture, physically and mentally.
The workers will remember that grueling Covid time if they have to make a decision to come to the city again. When the storm is over, they will have to pick a choice for their livelihood. HCMC, the country's largest economic hub, offers more options. However, workers have to weigh pros and cons of risks. If the city's government and business owners do not treat them better than the former did during the recent lockdown, a return is not an easy choice for the workers.
That's why before saying about a "labor shortage," one should mention first how welfare policies will be changed to help workers feel assured so that they can continue to work. Promises to "take the best care of," or "leave nobody behind" should be accompanied by practical measures. If we want workers to "rescue" enterprises, we must show them the social safety fabric that will assist them in troubled times.
Needless to say, everything needs money and a comprehensive welfare policy for all is not cheap. And, for the city, it is not something in line with the proverb "where there's a will there's a way." In early August, when the city's government suggested an aid package worth VND28 trillion to the central Government, the Ministry of Finance answered that HCMC "should mobilize it from the local budget and social sources." Although the city contributes nearly 30% of the national budget, it has the lowest rate of budget allocation, being only 18% of the total collection it shares with the central Government. HCMC's budget issue has been much discussed since the past few years. Yet it has become obviously more urgent during the post-Covid time. To develop sustainably and safely, HCMC has to achieve a better social safety net. To this end, the city ought be allowed to retain a bigger budget ratio to be used for development purposes.
Social welfare for workers doing jobs in HCMC is also that of the whole country because part of the workers' income is sent to their families back home, which indirectly stimulates local economy. When the boiler works smoothly, the steam locomotive will operate properly; and when the engine runs fast, its carriages will also run fast with it on the bumpy post-Covid-19 road to recovery.