Soaring capital input costs have piled pressure on lending rates, especially for home loans, as credit for the real estate sector has the highest risk coefficient and is being brought under control.
Deposit rates have gone up since the start of the year. Many banks are struggling with dwindling liquidity as credit has grown stronger than capital mobilization.
VNDirect Securities Corporation said in its recent report that the hike in interest rates for the U.S. dollar would pile pressure on domestic lending rates, resulting in deposit rates of the Vietnam dong soaring by 20-40 basis points for the rest of the year.
The high cost of capital input will push up lending rates, especially home loans, as credit for real estate is being brought under control in line with the Government's directives and the State Bank's decisions.
Like other nations, Vietnam is seeing home loans repaid in 15- 20-year installments, with changeable interest rates, which are revised up or down by banks, rather than fixed rates. The monthly, quarterly or annually adjustment of lending rates is aimed at helping banks prevent interest rate risks for medium- and long-term loans.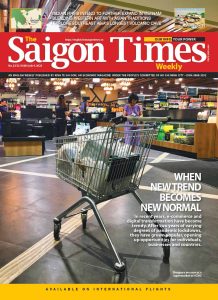 Over the past few years, local banks have been offering a series of products and programs to lend to house buyers, with preferential rates in the first two or three years as home loans are more attractive than those for other purposes. Besides, the risk of home loans is not too high as borrowers are required to put their new houses up as collateral for their bank loans. The risk will stand at the lowest level if banks properly value borrowers' properties.
Low interest rates, plus preferential policies, have contributed to driving up the credit growth in the real estate sector, though the speed has slowed down due to the tight control over loans for housing. Statistics recently released by the State Bank of Vietnam indicate the credit growth in 2018 posted over 26.7%, but fell to 15.4% in 2021, still much higher than the 13.5% economic growth.
Further, outstanding loans for housing always account for the highest proportion, at over 60% of the total outstanding loans for the real estate sector, showing banks' focus on providing loans for residents' demand for homes. As of March 31, 2022, outstanding loans for the property sector had reached over VND2,240 trillion, increasing by 7.87% from late 2021 and making up 20.23% of the total outstanding loans. Outstanding consumer loans grew 7.75%, representing 65% of the total outstanding loans for the real estate sector, while outstanding loans for property business gained 8.1%, accounting for 35%.
Invalid preferential policies of loans, coupled with surging lending rates, will ramp up pressure on interest payments for house buyers. Recently, the local market has seen a stop loss in some segments of housing investment as incomes have dipped sharply over the past two years, making life challenging for many homebuyers to cover principal and interest payments. In addition, the risk of a real estate freeze following a housing bubble has also caused concerns.
Even so, not everything is always for sure. For instance, to rescue its slumping housing market, which took a hit due to the Chinese Government's tight credit policies, China, the world's second-largest economy, has helped major developers and State-run firms easily mobilize capital, easing several requirements and regulations on escrow accounts and allowing some grassroots authorities to slash mortgage rates.