Petrovietnam Fertilizer & Chemicals Corporation (PVFCCo), a trader and producer of fertilizer besides other chemical products for the oil and gas sector, has for long engaged itself in community activities. In the face of the Covid-19 pandemic, the company has singled out farmers and poor people as beneficiaries of its community support policies.
Practical support for farmers
In seeking to help farmers ease the financial burden amid the Covid pandemic, PVFCCo launched the "Phu My Fertilizer – Sharing difficulties with farmers" program in mid September.
Through the program, kick-started at the beginning of the 2021 winter-spring crop, each farmer is given one bag of NPK fertilizer of 15 kilograms for every three bags of Phu My fertilizer bought. Over 3,000 tons of fertilizer worth more than VND30 billion has therefore been delivered to farmers nationwide.
Furthermore, seeing the damages and losses caused by floods and storms in the central region in 2020, the fertilizer producer, in collaboration with its subsidiaries, donated 280 tons of Phu My fertilizer to farmers there to help them restore farming activities and start a new crop. Over 10,000 flood-affected households in Quang Binh, Ha Tinh, Quang Ngai, Quang Nam, Quang Tri and Thua Thien Hue have benefited from the donation.
Besides, PVFCCo and agriculture experts in these provinces instructed farmers how to use fertilizer effectively and how to prevent pests, diseases and weeds from affecting crops to produce high yield.
In the Mekong Delta region, PVFCCo's labor union, in mid May, joined hands with partners to donate a number of water tanks and gift sets to many disadvantaged households in Thanh Phu District in Ben Tre Province as they were suffering serious saltwater intrusion.
"As a local fertilizer trader and producer, PVFCCo always focuses on social welfare and is willing to lend a helping hand to farmers and poor people nationwide to create values for the society," says Chairman of PVFCCo's labor union Tong Xuan Phong.
"Such practical gifts from PVFCCo employees and the firm's members and partners are expected to help residents, who are short of clean water and see their crops and fish and shrimp farms damaged by saline intrusion, in part, stabilize their life," he stressed.
Considering corporate social responsibility as part of its business, PVFCCo has ceaselessly implemented various charity programs to help farmers overcome difficulties induced by climate change, drought and saline intrusion, in nearly 20 years.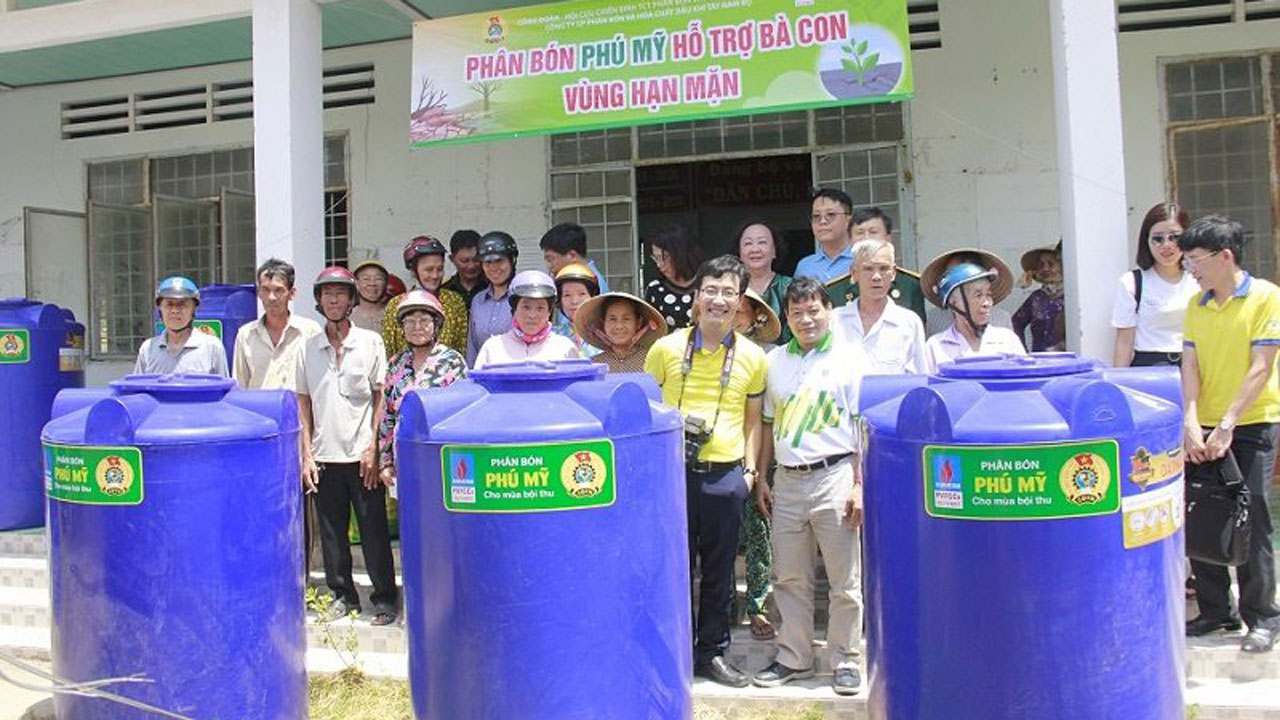 Brightening up the days of students
With a desire to bring a brighter future to children, mainly poor ones in rural and mountainous areas in Vietnam, PVFCCo has financed the construction of some kindergartens in Yen Bai and Daklak provinces.
Inaugurated in December last year by PVFCCo, a kindergarten, located in Dai Dong Commune in Yen Bai Province's Yen Binh District, is seen as a dream comes true for many poor school children and residents in the locality.
"The kindergarten not only provides poor children with a safe and fully-equipped learning place, but also helps improve the commune's education infrastructure," said Nguyen Xuan Truong, chairman of Yen Binh District.
Earlier in July 2020, PVFCCo joined forces with the local authorities to put the Ea Na kindergarten in Ea Na Commune in Daklak Province's Krong Ana District into operation. The upgraded kindergarten sponsored by the fertilizer firm has created a better learning environment for local children, according to a representative of the Krong Ana District government.
Though the Covid pandemic has taken a heavy toll on most major enterprises in Vietnam, PVFCCo, with its goodwill to improve the education sector, has listed education-driven programs as its top community priorities.
Boosting employee wellbeing
Amid the Covid pandemic, to ensure the safety of employees and safeguard their health for work, PVFCCo and the Phu My Fertilizer Factory proactively collaborated with the Ba Ria-Vung Tau Center for Disease Control to quickly vaccinate PVFCCo workers. In late June, all employees at the plant got a first shot of the AstraZeneca Covid-19 vaccine.
Since the Covid outbreak in Vietnam, PVFCCo has flexibly adopted Covid safety measures to prevent the potential spread of Covid and protect the health of workers to maintain its production activities and meet the demand of customers.
Aside from offering support to farmers, poor students and its employees, PVFCCo has joined hands with the Government to combat Covid. The firm has donated over VND5 billion to the national Covid vaccine fund and presented medical supplies, food and necessities to many provinces and cities nationwide.
As a socially responsible enterprise, PVFCCo is relentlessly engaging in a slew of community initiatives to make a positive change for the society and improve the quality of life of people, contributing to the country's sustainable development.