To inspire and motivate employees of the Rex Hotel Saigon to contribute to the social development and to demonstrate its responsibility to the community, the hotel has initiated and conducted multiple activities over the past years.
The Rex Hotel Saigon believes that love is nurtured from small but dedicated acts and together we can conduct more meaningful activities to share the difficulties with the disadvantaged in the society.
Last year, despite the difficulties caused by Covid-19 waves, with the hospitality industry worst hit by the pandemic, the Rex Hotel Saigon under Saigontourist Holding Company still maintained activities supporting the community.
With a viewpoint that people are the foundation for the sustainable development, the hotel has shown great care to laborers, especially those with difficult circumstances.
Amid the Covid-19 pandemic, the hotel has concurrently fought off the pandemic and supported its employees who have been infected with Covid-19 so that they could cover their needs during the treatment. Managers and employees of the Rex Hotel have united and kept the "mutual love, mutual affection" spirit of Saigontourist Holding Company, leaving no one behind in the fight against the pandemic.
Due to the long social distancing period this year, many activities to support the underprivileged have been delayed. However, the hotel has still striven to conduct other activities.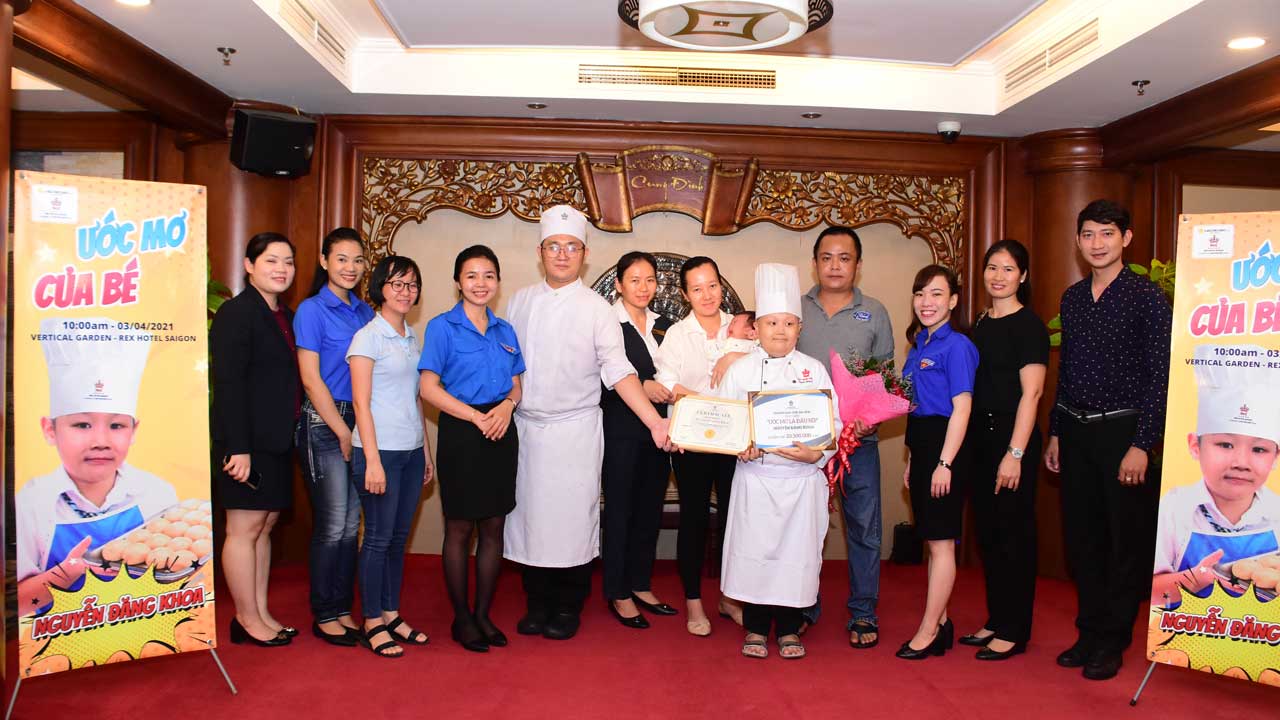 On April 3, for example, the hotel organized the "Children's dreams" program to introduce the circumstance of Nguyen Dang Khoa, a child suffering from blood cancer, and call on benefactors to help him. The hotel has also held many other activities to support children, including commending and rewarding 95 students with outstanding academic records and awarding the Nguyen Duc Canh scholarships to 10 children with difficult circumstances.
The hotel has also given gift sets to 268 children on the International Children's Day 2020 held by Saigontourist in HCMC's Binh Chanh, Hoc Mon and Cu Chi districts, encouraging them in the journey of gaining knowledge and becoming useful citizens.
Furthermore, the hotel has annually set aside a part of its profit to take care of two Vietnamese Heroic Mothers in Thanh Hai Commune, Thanh Binh District, Ben Tre Province and families subject to preferential State policies in HCMC's District 1.
Last year, the hotel supported residents in the central region hit by storms, lending them a helping hand to overcome the difficult period and rebuild their lives.
All managers and employees of the hotel have developed a habit of focusing on their work while spending time and part of incomes to support the disadvantaged. Through community activities, the hotel expects to share the difficulties faced by the underprivileged, thereby contributing to making HCMC and Vietnam a better place.