Corporate social responsibility is becoming increasingly important for businesses in today's world. One company that has taken its commitment to social responsibility seriously is Maersk Vietnam. As an integrated transport and logistics company, Maersk Vietnam has made it a mission to actively contribute to the socioeconomic development of local communities, particularly in the areas of environment, healthcare, and education.
With a strong focus on education in 2023, Maersk Vietnam has repurposed a non-sale shipping container into a well-designed library, providing a much-needed reading space and educational resource center for over 500 students of Nhon Hoa Lap Primary and Secondary School in a rural and remote area of Long An Province. This innovative project aimed to address a critical issue in rural Vietnam – the lack of dedicated reading spaces for underprivileged children.
A vision for change
In many remote and rural areas of Vietnam, children have long struggled with inadequate access to reading materials and educational resources. Poor infrastructure and limited investments in these areas have hindered the development of reading habits, resulting in higher dropout rates and diminished long-term prospects for these children. Recognizing these challenges, Maersk Vietnam initiated the "Container Library – the journey of spreading love" project, with a focus on making a tangible difference in poorly resourced schools. The project sought to promote a culture of reading among Vietnam's early readers, improve their reading skills, and enhance their ability to seek information.
To bring this initiative to life, Maersk Vietnam garnered support from leading companies, including LYS Energy Group, Crocs, CP Group, Avery Dennison, and RMIT University, all committed to actively supporting local communities and making a positive impact on society. More than 50 Maersk volunteers dedicated their time and effort to the project, which underwent a meticulous three-month preparation from June to September 2023.
From container to library: A sustainable transformation
One of the most striking aspects of this project was the transformation of a 40-foot shipping container into a functional and sustainable library. The endeavor required an investment of VND270 million and extensive refurbishment. The library was equipped with solar panels on the roof, sponsored by LYS Energy Group, to ensure a sustainable source of energy. Additionally, waste segregation bins and LED lighting were installed to create an eco-friendly environment, which will help children at early age adopt sustainable habits.
The official launch of the Container Library was a momentous occasion. On Saturday, September 9, 2023, a ribbon-cutting ceremony took place, attended by local authorities, project partners, students, and enthusiastic Maersk volunteers. The library, which had once been a nondescript shipping container, was now a symbol of hope and education for over 500 students of the Nhon Hoa Lap Primary and Secondary School in Long An Province. Thanks to the generosity of Maersk employees and partnering companies, the library now houses over 2,000 donated book titles, and covers a wide range of topics, including colorful picture books, English literature, self-help, science, history, Vietnamese literature, foreign literature, and more, catering to primary and secondary students' diverse interests.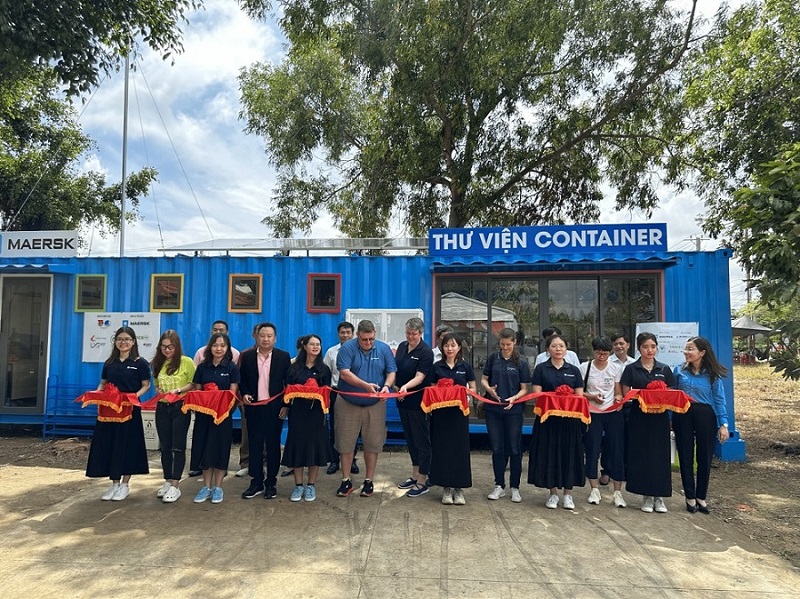 A book drive for a brighter future
In the past three months, Maersk's unsung heroes from various departments have provided incredible and meaningful support to our journey. We strongly believe that involving employees in this project not only benefits the society but also fosters a sense of connection and responsibility within our team. As part of the project, we organized a successful book drive campaign called "Maersk's Book Race" in August, encouraging employees to donate their old and new books. The campaign received enthusiastic participation, creating a more meaningful working environment. We collected, sorted, and packed an amazing total of 1,000 book titles covering a wide range of topics suitable for primary and secondary students, including colorful picture books, English literature, self-help guides, science, history, Vietnamese and foreign literature, and more. This achievement reflects the success of the activity.
In addition to the book donations, Maersk and its partners furthered their commitments to caring for school children by pledging VND125 million worth of in-kind donations. These donations include sausages, milk, notebooks, stationery, and shoes from Maersk, Crocs, CP Group, Avery Dennison, and RMIT University. The donations have been distributed to 50 students with extremely difficult family backgrounds, providing them with essential items to support their education.
To engage students and donors on a deeper level, Maersk Vietnam organized interactive English classes with company leadership, engaging circle games, and captivating library experience tours. Additionally, a creative "Dream Tree" corner activity was prepared, where heartfelt messages, wishes for the students from book donors, and passionate dreams of local students were displayed. This activity not only encouraged empathy but also fostered a sense of community and support among all those involved.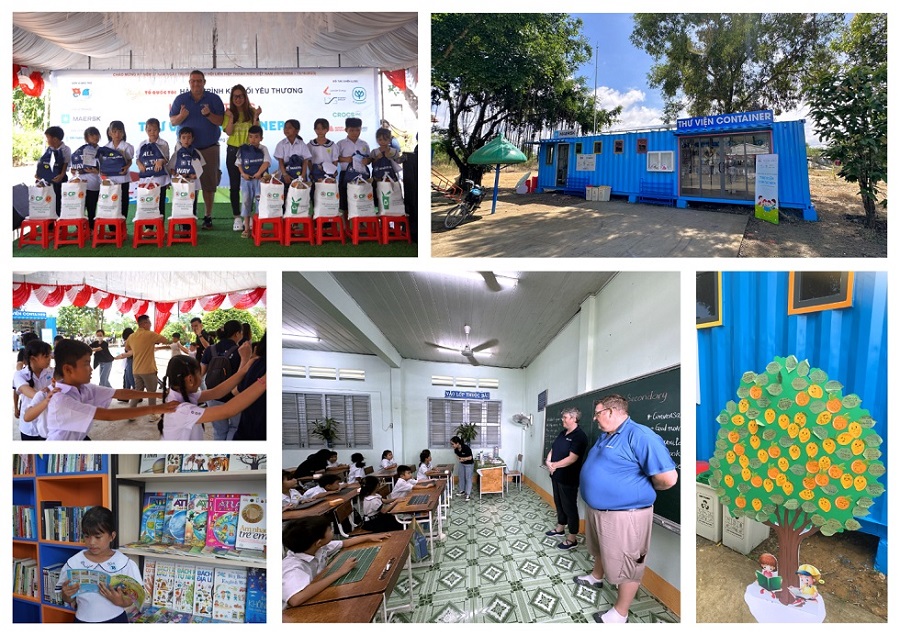 The journey will be continued
Maersk Vietnam's Container Library project exemplifies the company's unwavering commitment to enhancing education and empowering underprivileged students in remote areas. Building upon the success of this pilot initiative, Maersk is determined to expand and scale up the project in communities where library resources are lacking, providing children with vital access to books. This expansion aims to broaden their knowledge, improve reading skills, and empower them to shape their own mindsets and futures.
At Maersk, we go the extra mile by fostering close ties with our partners to cultivate a strong reading culture. Together, we are dedicated to creating a world where knowledge and education are accessible to all children, ensuring that no child is left behind.