On September 16, 2023, Masan Group achieved distinction in two notable categories: "Vietnam's 50 Best Performing Companies" and "Billion Dollar Enterprise 2023," as recognized by Nhip Cau Dau Tu magazine.
The "Vietnam's 50 Best-performing Companies" (TOP50) ranking is a prestigious and highly regarded annual assessment undertaken by Nhip Cau Dau Tu magazine in partnership with Thien Viet Securities Company. It is guided by the insights of leading economic and business experts from Harvard Business School. The aim of this ranking is to identify and commend companies operating on the Vietnamese stock market that exhibit remarkable effectiveness and performance.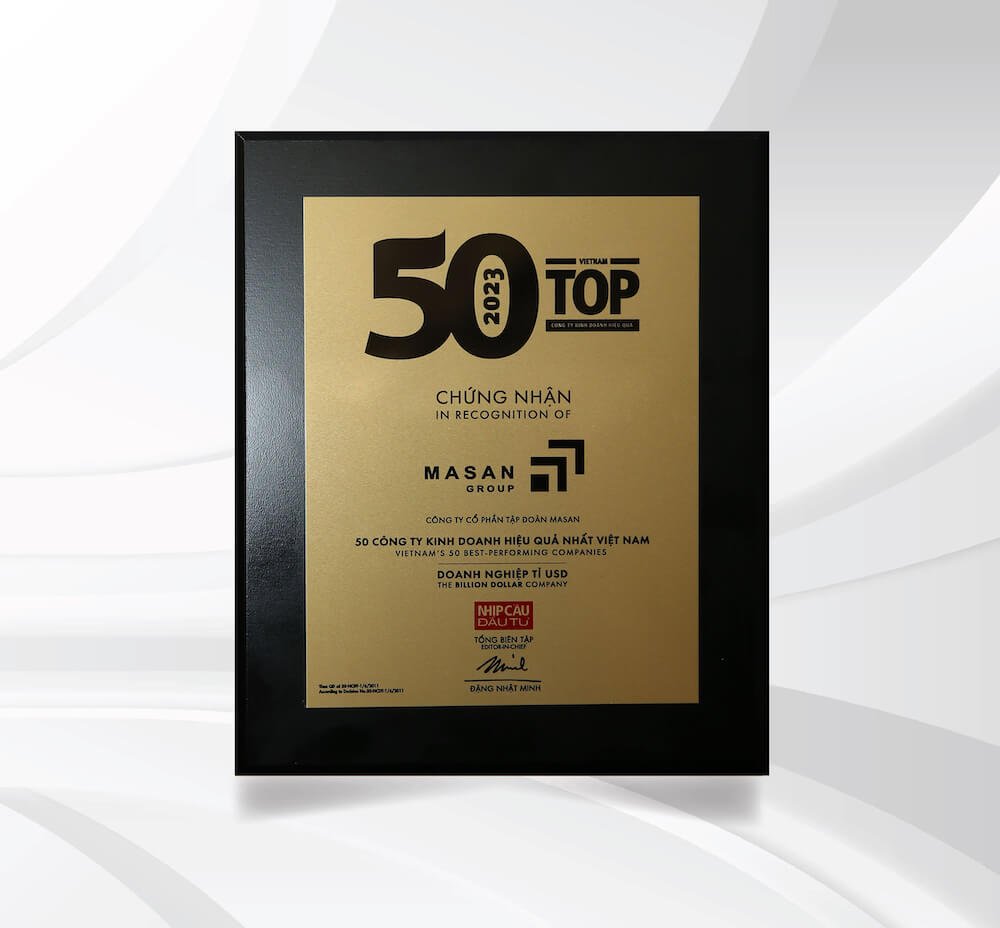 The TOP50 ranking methodology involves a comprehensive assessment of companies' performance over a three-year period, focusing on three key growth indicators: revenue, return on equity (ROE), and earnings per share. These metrics are designed to provide an objective evaluation of the management capabilities of each enterprise.
Over the course of 12 successful years (2010-2023), TOP50 has consistently conducted surveys and rankings. The TOP50 2023 announcement ceremony stands as a distinguished event dedicated to honoring companies with significant scale, substantial capitalization, and impressive growth rates. These companies are emblematic of national pride due to their outstanding contributions to the business landscape.
10 years in "Vietnam's 50 Best Performing Companies"
In this year's compilation of the Top50 list, a noteworthy observation emerges, underscoring the formidable presence of prominent enterprises in Vietnam. These entities have demonstrated their prowess across a spectrum of vital economic domains, including but not limited to retail, consumer goods, banking, manufacturing, and export. As an illustrative case, the Masan Group has garnered accolades in two distinguished categories: "Vietnam's 50 Best Performing Companies" and "Billion Dollar Enterprise 2023." Remarkably, this marks the tenth occasion that Masan Group has earned a coveted spot in this esteemed ranking since its inaugural unveiling in 2011. This milestone serves as a testament to Masan's unwavering ascent, characterized by remarkable breakthroughs and sustainable growth, thereby making a substantial contribution to the nation's economic progress.
With more than 27 years of establishment and development, Masan Group stands as the leading enterprise in Vietnam's consumer and retail sector. Currently, Masan operates a network exceeding 3,500 sales outlets, catering to vital consumer requirements. The group further champions inventive strategies and technological investments, fostering the creation of diverse, top-tier products to meet domestic demands and facilitate exports to key markets including the United States, Japan, Australia, South Korea and Canada.
In the first half of 2023, Masan recorded total assets of around VND140,858 billion, with total equity amounting to VND37,524 billion. Notably, cash and cash equivalents totaled VND13,452 billion. Furthermore, during the second quarter of 2023, the company's free cash flow displayed consistent improvement, surging to VND1,665 billion in comparison to a mere VND162 billion during the same period in 2022.
During the first six months of 2023, Masan demonstrated resilience in its business performance, navigating through the challenging macroeconomic landscape. Notably, Masan achieved net revenue of VND37,315 billion during this period, reflecting a remarkable 3.6% surge from the VND36,023 billion achieved in the corresponding span of 2022. The operating profit of The CrownX ("TCX"), Masan's integrated retail consumer platform that encompasses WinCommerce ("WCM") and Masan Consumer Holdings ("MCH"), experienced remarkable year-year-year growth of 38.8%. This exceptional progress was underpinned by the robust performance of its consumer goods enterprise.
Held in high regard by top global institutions
In a recent development, J.P. Morgan, a globally renowned firm specializing in financial services, investment banking, and asset management, has provided a forward-looking projection for the growth prospects of Masan shares (HOSE: MSN). Precisely, J.P. Morgan's forecast indicates that the target price for MSN shares in the year 2024 is anticipated to be at VND102,000 per share. Furthermore, they anticipate average annual compound EPS growth of 36% during the period spanning from 2023 to 2025.
In their released report, J.P. Morgan underscored the following key point: "Vietnam stands out as the most captivating and extraordinary narrative of consumer growth within the Asian region." Furthermore, J.P. Morgan offered an optimistic perspective on Vietnamese consumer stocks over the next twelve months. According to their evaluation, the consumer retail market in Vietnam is poised for substantial growth, propelled by the nation's rapidly expanding economy, the burgeoning middle-class population, and the accelerating trend of urbanization. J.P. Morgan's prediction posits that Vietnam is on the brink of becoming a prominent focal point for consumption growth in the broader regional context.
As per J.P. Morgan's analysis, Masan shares have assumed a prominent role in representing Vietnam's alluring consumption narrative, owing to their prominent standing in a substantial and promising retail market. Masan's strategic capital allocation efforts, which prioritize key areas of consumption, retail, and the advancement of the existing consumer market, further bolster their position as a standout example of Vietnam's compelling consumption narrative.
Despite a demanding macroeconomic environment and sluggish domestic consumption, Masan managed to attain growth and secured its place within the esteemed "Top 50 Most Effective Companies in Vietnam" list, earning accolades from prominent global organizations. This achievement underscores the resilience of Masan's core consumer and retail enterprises, as well as the robust financial underpinning of this division.