Masan Group, along with its subsidiary companies, holds a prominent position as a diversified corporation, spearheading crucial sectors that greatly impact over 100 million Vietnamese. These sectors include retail, FMCG, chilled and branded processed meats, F&B chains, financial services, telecommunications, and high-tech industrial materials.
Recognizing its role and responsibility to the community and society, Masan remains dedicated to continually raising the bar for sustainable development standards. This is highly challenging for a group whose certain business lines, such as ore mining and processing, have direct impact on the environment, but Masan Group has made outstanding efforts to achieve sustainability.
Green values
In the retail sector, the WinMart/WinMart+ chain, comprising over 3,500 stores, actively contributes to environmental preservation efforts by promoting the adoption of biodegradable bags as a substitute for 100% plastic usage. They also strive to minimize or replace single-use plastic materials with eco-friendly alternatives. Furthermore, the implementation of customer incentive programs encourages the habit of reusable bag usage, promoting greener consumption practices during shopping activities.
Masan Consumer's consumer goods processing plants have made substantial investments in constructing state-of-the-art wastewater treatment systems in coordination with a Dutch partner. These advanced systems are implemented across their factories nationwide. The quality testing of all discharged wastewater consistently meets the highest standards in Vietnam, classified as Class A.
The WinMart/WinMart+ chain consistently upholds a 90% ratio of Vietnamese goods. This effectively serves as a bridge, fostering cooperation between domestic manufacturers and businesses to offer a wider array of high-quality products that align with the Vietnamese people's preference for locally made goods.
Masan consistently introduces innovative products in the consumer goods and branded meat sectors, ensuring they adhere to stringent hygiene, safety, and health standards. The MEATDeli meat processing complexes are accredited with the BRC – Global Standard for Food Safety, which holds significant international value within the food industry and serves as a crucial document for food exporters.
Meanwhile, green values are also strictly adhered to at the group's subsidiary Masan High-Tech Materials. The year 2020 marked the third year in a row that the mining company, widely known for its Nui Phao project, was recognized among the Top 50 Sustainable Companies in Vietnam.
As the world's leading processor and supplier of high-tech materials like volfram, fluorite, and bismuth, the company has invested heavily in environmental protection, from water treatment and conservation to waste treatment and reforestation.
At Nui Phao mine, Masan High-Tech Materials in 2020 managed to reuse some 7.7 million cubic meters of post-treatment water, equivalent to 75% of its water demand. All waste at the project site is segregated at source, and then transferred to a professional organization for treatment.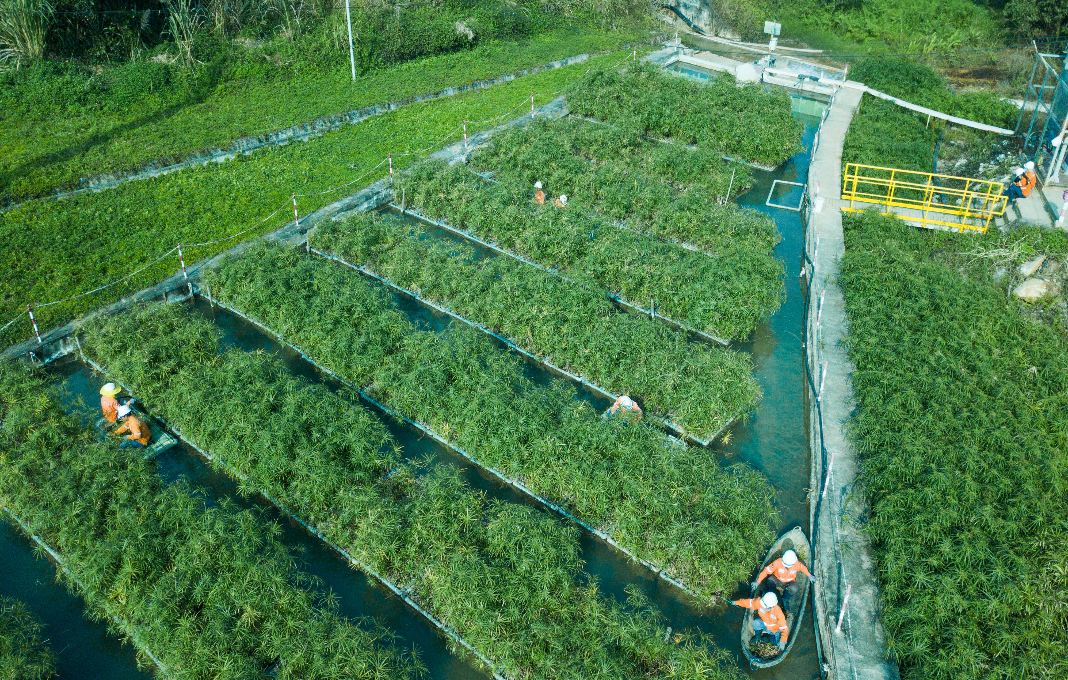 Masan High-Tech Materials has been actively involved in reforestation efforts since 2016 by planting trees on previously barren lands after mining activities. To date, the company has successfully greened approximately 58 hectares throughout their operational area. This project is an integral part of their carbon sequestration initiative, as they strive towards achieving carbon neutrality in the near future.
Robust corporate governance framework
In addition to prioritizing environmental protection initiatives, Masan Group and its subsidiary companies are committed to implementing corporate social responsibility (CSR) programs.
In October last year, for example, Masan Group donated VND1 billion to households affected by floods and storms in Ky Son District in Nghe An Province, and contributed VND5 billion to the "For the National Sea and Islands – For the Fatherland Frontline" fund to assist troops in safeguarding Vietnam's borders, seas and islands.
Recently, it has also collaborated with the HCMC Sponsoring Association for Poor Patients and other agencies to cover cataract operations for 1,000 impoverished people in Binh Thuan and Kien Giang provinces. It has also financed heart operation for 70 children.
Since 2021, according to a representative, Masan Group has donated over VND500 billion to finance community heathcare and societal well-being programs, as well as the fight against Covid-19.
Masan Group places great emphasis on social development, environmental protection, and corporate governance as key pillars alongside its business activities, said a representative, adding the greater the adoption of ESG standards, the more advantageous it becomes for businesses with long-term vision and significant intrinsic value.
Masan's integration of ESG principles into its strategic plan helps enhance its risk management practices. The emphasis on the G (Governance) factor is particularly valuable as it ensures the objective evaluation of governance processes and maintains independence in internal controls.
Owing to its commitment to green values and its sweeping ESG program, Masan Group has earned recognition in numerous esteemed rankings, including the Top 50 best-performing companies in Vietnam for the year 2023 by Forbes Vietnam, and a position in the top ten of Top 50 prestigious public companies published by Vietnam Report in 2023.