The first book street in the Mekong Delta was opened on November 19 in Van Mieu Park, Cao Lanh City, Dong Thap Province, attracting the participation of local students and parents at home and outside the southern province.
The book street, the fifth in the country, features 19 bookshops, offering a new rendezvous for book lovers in the region. It also consists of spaces for visitors to experience local culture, such as calligraphy performances, relishing cups of lotus tea, and traditional handicraft making.
Nguyen Phi Hung, a local high school student, was quoted by tuoitre.vn as saying: "I feel so proud that my hometown now has a book street with a wide selection of book titles. I'm a fan of self-help books. It's normally time-consuming for ordering books online, but things are getting more convenient now."
According to Vo Phan Thanh Minh, chairman of the People's Committee of Cao Lanh City, establishing a book street in the city center would pave the way for the province's plan to promote a reading culture over the years to come.
A teacher devoting his life to students
Over the past four decades, Ngo Hong Khiem, teacher and principal of Hong Bang Elementary School in Rach Gia City, Kien Giang Province, has taken time to act as an MC at restaurants around the city to earn some money to help poor students.
Graduating in 1982, Khiem began teaching in Rach Gia. Born into a poor family, he was well aware of the hardship facing needy students. However, given his modest salary, he could only buy some books, notebooks or pens for his beloved pupils.
In 1992, Khiem was appointed principal of Vinh Lac 1 Elementary School. At that time, the schoolyard was full of mud in the rainy season and dust in the dry season. The headmaster then asked for building materials from benefactors to cement the schoolyard for students, which was completed four years later.
Khiem told tuoitre.vn that he took time to act as an MC at wedding parties and banquets at restaurants around the town with a view to having some money to support his poor students. The kind teacher used the money to buy health insurance, rice, clothes, books, notebooks and stationery as scholarships for needy students to overcome difficulties and thus be able to continue their schooling.
A quiet drawing class in town
With compassion for those with hearing loss, Van Y, a 72-year-old artist in Go Vap District, HCMC, has opened a drawing class for such disabled people at his house in a small alley on Nguyen Kiem Street for five years now.
The drawing class opens at 8:30 a.m. on every Saturday. The painter's students are those with hearing impairment and mental retardation, the youngest of them is a 16-year-old boy, while the oldest is a woman in her seventies. They are supplied with brushes and paints by Van Y to create their paintings under the artist's guidance. After 11a.m., students will have lunch, take a nap and continue the afternoon class until 4 p.m. All the expenses come from 25% of the sales of students' paintings and the kind painter's own money.
Van Y told dantri.com.vn that he had almost no sponsorship, adding that sometimes he had to ask for meals for his students from some pagodas. He said students can earn 50% of the sales of their paintings. Apart from 25% for all expenses of the class, the remaining 25% is donated to some funds for the poor. From the exhibitions on students' paintings, hundreds of millions of dong have been donated to charitable activities.
The life of a nocturnal cake hawker
Tam Banh, who lives in Binh Thanh District, HCMC, has peddled various kinds of cakes at night to make a living over the past 30 years.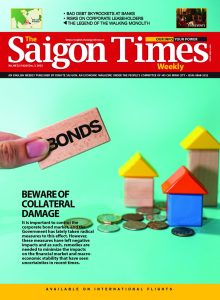 Tam Banh leaves her house in the evening, carrying with her a basket and a bucket full of different kinds of cakes such as da lợn cakes, phu thê cakes, vị sticky rice cakes, sweet sponge cakes, profiteroles, cookies, banana cakes and steamed sweet potatoes, cassava and taro. All the stuff weighs more than 50kg, even heavier than her own weight. She often sold off all the cakes in the early morning of the following day.
Tam Banh told thanhnien.vn that she began hawking cakes when she was a teenager. The cakes are made by her sisters and brothers, and she is responsible for selling them at night every day, rain or shine. Her clients are nocturnal strollers in the city's downtown areas and even overseas Vietnamese who want to taste again authentic cakes of the southern region. Some customers even phoned to ask where she was, just to ride their bikes to her peddling place to buy cakes to bring back to Hanoi or other northern localities as gifts for their loved ones.