Mobile banking often leads clients to using multiple convenient services, such as taking out a loan and registering for a bank card. This is where banks can generate new streams of revenue.
A competition for online depositors
In mid-June, Shinhan Bank Vietnam Ltd. launched the "Term deposit accounts with a double interest rate" program for the first month, with an annual interest rate of 10%. The program is exclusively for customers using the Mobile Banking SOL app. Customers who deposit a minimum of VND10 million with a term of six months or longer are entitled to a double interest rate in the first month.
Many other banks also have promotional programs for clients who deposit money online with attractive interest rates to spur their online and mobile banking services. Statistics show that deposit transactions on digital banking platforms or e-banking services can get interest rates 0.3-0.7 percentage point higher than over-the-counter levels.
For instance, the Vietnam Joint Stock Commercial Bank for Industry and Trade (VietinBank) offers its customers a savings rate which is 0.4 percentage point higher than normal if they deposit money using the VietinBank iPay app.
The interest rate for deposits made on the OCB OMNI app are 0.3 percentage point higher than the rate for in-person transactions at a bank branch or transaction office. In addition, customers depositing money for the first time or opening a savings account plus buying a life insurance policy at the Vietnam Technological and Commercial Joint Stock Bank (Techcombank) can get an interest rate 0.5 percentage point higher than normal. The Asia Commercial Joint Stock Bank (ACB) has the ACB One app and those using it can enjoy a bonus for eKYC (Electronic Know Your Customer) accounts and an interest rate 0.9 percentage point higher than the normal savings rate.
The attractive interest rates for online depositors help promote banks' digital platforms and e-banking services. Instead of spending big on advertisements of these mobile and online services, banks prefer offering higher interest rates to directly benefit customers, which in turn encourages them to use mobile apps.
Mobile apps make personal experience and interactions fast and convenient, so customers can review, compare and decide which to use. In other words, better interest rates for digital and mobile banking service users are seen as expenses of banks to expand their market share, and generate new demand for digital banking services.
Moreover, digital banking can help significantly cut operation and labor costs, which in turn allows banks to have funds for promotional programs and compete with fintech and e-wallet companies which have emerged as major competitors for online savings and lending.
In addition to attracting online depositors and other clients, banks have been stepping up online and mobile sales of other products.
Therefore, the demand for opening bank branches and transaction offices will not be as great as before.
Worries among customers persist
With the number of smartphone users surging in Vietnam, mobile banking apps can make it easy for banks to gain access to customers, compete with old-fashion banking institutions and increase their market share. However, banks that have not seriously embraced digital transformation will find it more challenging to compete.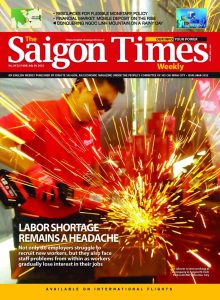 Banks that have developed digital banking and e-banking services can attract customers to switch from over-the-counter savings to online deposits and even compete for new customers, who might come from other banks. This might force small banks and those without online deposit services to raise their over-the-counter deposit rates to retain customers; hence, a deposit rate hike race.
Putting money into a savings account or taking out a loan via a mobile app is more convenient for clients in large cities as they do not want to spend time coming to banks and waiting to make transactions. They are target customers of digital banking platforms.
Customers in smaller cities or rural areas prefer in-person transactions with banks as they have more time and limited access to digital and mobile banking services.
Data security remains a pressing issue and online fraud is mushrooming. Stolen credit cards or hacked bank accounts cause worries among customers using online transactions. Hackers are active in the banking and finance sectors.