After consistent efforts and dedication, Japan has positioned itself as one of Vietnam's most devoted partners over the years.
Vietnam has actively pursued an open-door policy and embraced deep international integration since the beginning of Doi Moi, also known as the reform era, in 1996. The country's catchphrase is "Vietnam wants to be a friend and reliable partner with all nations in the international community, regardless of the political system". However, it was not until 1993 that foreign investors started planting their feet in the country, following U.S. President George H. W. Bush's approval for American companies to do business in Vietnam after lifting the embargo on December 14, 1992.
Shortly after the decision, international businesses started eyeing Vietnam and launching market research activities.
South Korean, Taiwanese and Chinese companies were among the first to join the Vietnamese market in 1993. Yet, Japanese investors were more cautious. Japan's efforts in Vietnam initially focused on social and political elements, not economic aspects. Given the Japanese occupation of Vietnam between 1940 and 1945 and its involvement in the country's famine of 1944-1945, there were still, more or less, worries about the anti-Japanese sentiment at the time. Therefore, philanthropy, cultural exchange and educational endeavors were among the first moves of Japan in the nation.
In Vietnam, a scientific seminar on the ancient town of Hoi An and a co-operation project by Showa Women's University (Showa is the era name of Emperor Hirohito, grandson of Emperor Meiji, or Meiji the Great) in 1992 were two of the Japanese stepping stones. Eventually, conferences on the potential for cooperation between Vietnam and Japan were held more frequently in Hanoi and HCMC, and professors and students from other Japanese universities and colleges visited Vietnam more often. For the newcomers, however, the effort remained a touch-and-go at first.
Since 1992, the Japan International Cooperation Agency, or JICA, has resumed providing official development assistance (ODA) to Vietnam with many support packages focusing on technical education and training. Cho Ray Hospital, originally constructed in 1974 by the Japanese, was the first project funded by ODA for its upgrade and expansion. In 1996, Japanese businesses decided to invest in the northern provinces such as Vinh Yen, now part of the current Vinh Phuc, before expanding southward to Binh Duong Province and HCMC.
Japan ranked second in terms of investment in Vietnam as of October 2021, with 4,765 ongoing projects worth US$63.94 billion. By November 2021, the country had 3,218 initiatives in HCMC with a total investment of US$7.42 billion. Honda, Yamaha, Mitsubishi, Isuzu, Kubota, Nikon, Canon, Panasonic and Ajinomoto, among others, are well-known Japanese brands that have entered the Vietnamese market.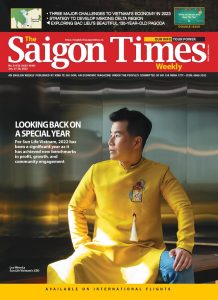 Japan has participated in a variety of regional- and international-standard projects in Vietnam, including the Nghi Son Refinery and Petrochemical Complex, the Nghi Son Thermal Power Plant, the Van Phong Thermal Power Plant, the Nhat Tan Bridge, also known as the Vietnam- Japan Friendship Bridge, the Noi Bai Airport International Terminal 2, the Hai Van Tunnel and the Can Tho Bridge.
In HCMC, Japan has engaged in many key construction projects, namely the Saigon River Tunnel, the Metro Line No. 1 between Ben Thanh and Suoi Tien, the Dong Tay highway, and the Aeon retail chain, among others. There are roughly 13,000 Japanese people living in the city, with some Japan-towns beginning to grow in the Thai Van Lung-Le Thanh Ton crossroad and Thao Dien Street.
The numbers speak for themselves. That said, Vietnam has become a desired location for Japanese investors. In turn, Japanese individuals, companies and organizations have gradually won the locals' hearts and minds.
Japan has established itself as one of Vietnam's most dedicated partners with constant efforts and commitments. In Vietnam, Japan topped the list of ODA initiatives, mainly for infrastructure development. Japan has contributed to Vietnam's capacity-building efforts by advancing high-tech innovations. Particularly, Japanese developers have invested in Vietnam and brought cutting-edge technology that sometimes has not been used in Japan.
From operation to maintenance procedures, it would seem that Japan does not seek to keep any commercial secrets. Senior Japanese engineers have trained their local peers on built-in technologies, construction techniques and machinery functions for the Can Tho Bridge and Nhat Tan Bridge projects. This is in addition to tunneling methods used in the Hai Van Tunnel, the Saigon River Tunnel and the construction of Metro line No. 1. Through this process, integrity, devotion and openness have been hallmarks, as Japanese colleagues must guarantee that their partners in Vietnam acquire a specific level
of competency. In general, Japan's projects are known for their strong commitments in terms of schedule and technical requirements. Similarly, Vietnam authorities may be assured of Japanese financing, product and personnel commitments when it comes to cooperation efforts among universities.
In Vietnam's economic and social elements, one of the principles Japanese firms follow is faithfulness. There have been hardly any reports of strikes or unrest at Japanese-invested enterprises in Vietnam.
Businesses have made considerable strides in enhancing employment welfare policies. Nissei Electric Company Limited in Linh Trung I Export Processing Zone, for example, leases roughly 9,500 square meters to build a US$4-million housing facility for workers and spends US$240,000 per year for maintenance. The initiatives have improved the living conditions of nearly 1,000 employees and their families by providing free housing, power and water service.
Risk, however, is an inherent part of life. In September 2007, an unexpected fall of the Can Tho Bridge's approach ramps in the Mekong Delta killed dozens of people and injured dozens more. Japanese constructors had taken responsibility. In addition to settling the accident, they provided financial assistance to the families of the deceased employees. The efforts have been acknowledged by local residents. Years later, Japanese ambassadors and consul generals at-tempted to visit the site to express condolences to the families of the employees killed in the accident. Engineers from Japan and Vietnam also went to Bo De Pagoda, located next to the bridge in My Hoa Commune, Binh Minh Township, Vinh Long Province, to pay their respects to the 55 people who died in the collapse.
The Japanese were not the first to arrive in Vietnam, but their contributions to the country's economic, cultural and educational growth appear to be at the top of the list. In addition to the momentum for socioeconomic development, the well-known Samurai warriors of Japan have been known for their kindness and faithfulness to the local communities.
Forty years ago, Vietnam-Japan diplomatic relations were established on September 21, 1973, and Japan has collaborated with Vietnam on many projects ever since. However, no constructions or streets in the nation have been named after any of Japan's renowned figures or events.
Previously, it was suggested that a street in the mountainous province of Lang Son be named after Ishao Tacano, a Japanese war journalist who perished in the 1979 northern border war. More recently, experts advised renaming the area in front of the HCMC Opera House as the Vietnam-Japan square to acknowledge Japanese contributions to the Metro Line No. 1 project. They also wanted to honor former Japanese Prime Minister Shinzo Abe, a close friend of Vietnam who worked tirelessly to im-prove ties between the two countries, by naming a beautiful boulevard in Hanoi after him. However, all opinions still remain suggestions.
Japan is one of Vietnam's most re-liable partners, if not the best, both now and in the future. That said, considering Japan's decades-long dedication and effort to the country, the Vietnamese may not fret about our companion. If so, we should watch ourselves.