With nearly three decades of operation in Vietnam, Nestlé Vietnam has been implementing many initiatives to improve human health and protect the planet through its commitments and sustainable development strategy. Recently, the company has continued to be honored as the Most Sustainable Business in Vietnam.
In December 2022, the Vietnam Chamber of Commerce and Industry (VCCI) and the Vietnam Business Council for Sustainable Development (VBCSD) organized a ceremony to announce sustainable businesses in Vietnam in 2022. Again, Nestlé Vietnam has been selected as the Most Sustainable Business in Vietnam in 2022 in the manufacturing sector.
This is the second consecutive year that Nestlé Vietnam has won the highest position in the prestigious ranking, and the fourth year in the Top 3 Most Sustainable Business. Aside from the highest award, the company has also been listed in the Top 5 businesses implementing circular economy and response to climate change.
The ranking is part of the Corporate Sustainability Index (CSI) Program held by VCCI, in coordination with the Ministry of Natural Resources and Environment, the Ministry of Labor, Invalids and Social Affairs, and the Vietnam General Confederation of Labor. To gain such accreditation, Nestlé Vietnam has met the CSI 2022 index with 130 indicators, including 68% criteria for legal compliance and 32% for sustainable business initiatives.
Earlier, the European Chamber of Commerce in Vietnam (EuroCham Vietnam) also voted Nestlé Vietnam as the Green Business 2022. In addition, Nestlé Vietnam was also recognized for the Environmental, Social and Governance (ESG), Community Engagement and CSR Initiatives granted by the American Chamber of Commerce in Vietnam (AmCham Vietnam) at the ESG Impact Awards 2022.
Efforts to reduce environmental impact
In addition to the commitment to long-term investment, Nestlé Vietnam joins hands with partners to create shared values for society, adopt corporate social responsibility and ensure development associated with environmental sustainability. Since 2020, Nestlé has set the target to achieve net zero emissions by 2050, that is similar to strong commitments to climate change response, looking forward to net zero emissions of Vietnam at the UN Climate Change Conference in Glasgow 2021.
According to Khuat Quang Hung, Corporate Affairs Director of Nestlé Vietnam, to obtain the net zero goal, Nestlé Vietnam not only carries out action plans to reduce negative impacts on the environment during its operations, but also contributes its part to protecting, renewing and restoring the environment through regenerative practices. Nestlé's environmental sustainability endeavor focuses on four main aspects, including climate action, sustainable packaging, sustainable sourcing, and caring for water.
Since 2015, all Nestlé Vietnam sites have achieved zero-waste-to-landfill target thanks to waste collection, sorting, reuse and recycling. Energy-efficiency solutions, the use of biomass energy and application of circular initiatives help the company reduce about 16,000 CO2 emissions per year and save over 180,000 cubic meters of water per annum in production. In addition, about 94% of the company's packaging is now designed for recycling. The company's packaging initiatives help to reduce some 2,000 tons of plastic waste per year.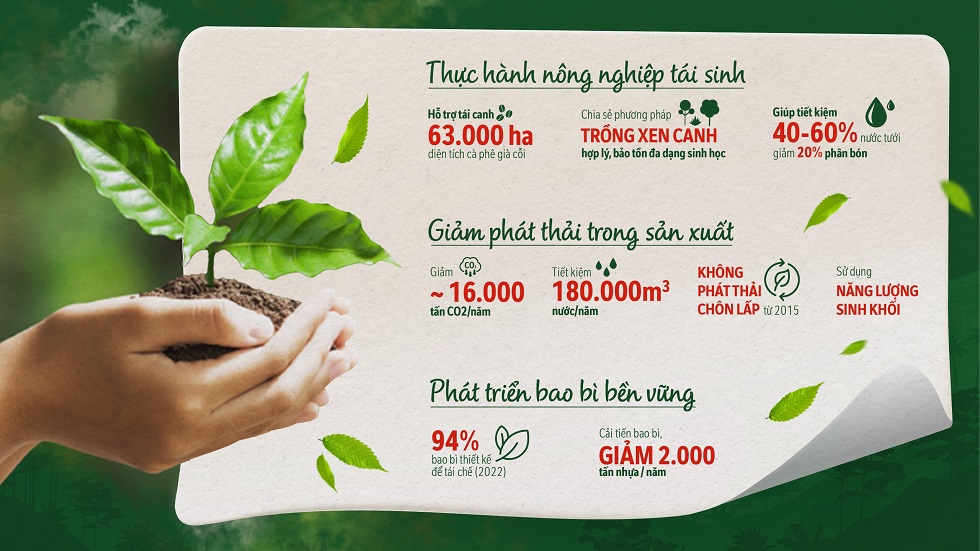 Joining hands with partners to reduce greenhouse gas emissions
It is worth noting that the difference in Nestlé Vietnam's effort for sustainable development is that the company not only reduces emissions in its production, but also shares experience and methods, and cooperates with relevant stakeholders in reducing greenhouse gas emissions.
Nearly two-thirds of greenhouse gas emissions of Nestlé worldwide come from raw materials of the food production sector and indirect activities of the company. Therefore, in the process to achieve the net zero goal, to reduce greenhouse gas emissions from its operations and agricultural input materials, one of the most important things carried out by Nestlé Vietnam is the application of the regenerative agriculture model through the NESCAFÉ Plan and multiparty cooperation initiatives.
Through the NESCAFÉ Plan initiated in 2011, Nestlé Vietnam boosts public-private partnership with the Western Highlands Agriculture and Forestry Science Institute (WASI), provinces' agriculture promotion centers, the Ministry of Agriculture and Rural Development, organizations and other partners.