To pursue sustainable development, Nestlé Vietnam has been transitioning to the circular economy model in all its processes, from product design and packaging to turning waste into new material in order to protect the environment and natural resources. This transition has been repeatedly asserted by the company's management, who consider sustainable development as corporate social responsibility (CSR).
Committed to circularity  
At the 2023 Sustainable Development Conference organized in HCMC on April 13, gathering sustainability experts and business leaders, Binu Jacob, general director of Nestlé Vietnam, stressed that environmental pollution and resource depletion are disrupting the natural regeneration cycle and causing climate change.
To address this problem, Binu Jacob said, it is imperative to transition from the linear economy model to the circular economy to protect natural resources and minimize environmental pollution. In this endeavor, enterprises should be the pioneer in transitioning to the circular economy to achieve sustainable development on one hand and meet consumers' demands on the other.
In fact, Nestlé Vietnam is among the pioneers in adapting to the circular economy with numerous initiatives to reduce emissions and protect natural resources. Its efforts have brought about positive results, according to Binu Jacob.
The company has redesigned its product packaging, replacing virgin plastic with other environmentally-friendly materials, which helped Nestlé Vietnam reduce plastic use by nearly 2,500 tons in two years from 2021 to 2022. Currently, some 94% of plastic packaging items are designed to be reused and recycled. In addition, the company has replaced single-use straw pipes with paper ones that meet the Forest Stewardship Council standards.
In production, applying the circular economy model has enabled all Nestlé Vietnam factories to achieve the "no landfill" goal since 2015 by collecting, segregating and reusing waste. For example, all coffee dregs have been used as biomass that helps cut gas consumption and emissions, while non-toxic mud is used in compost production, and slag from boilers is used for manufacturing unbaked bricks.
Nestlé Vietnam has also sought to rally support from consumers for the circular economy by launching communication campaigns to raise public awareness to change consumer behaviors. These include "Saying no to single-use plastic" and "Post-consumer recycled content" campaigns.
According to Binu Jacob, multi-partite cooperation is key to the success of the circular economy model. The bottled water company La Vie, a member of Nestlé, has been assisting other domestic companies to step up plastic bottle collection and recycling. Nestlé Vietnam and La Vie are also members of PRO Vietnam, an alliance grouping tens of fast-moving consumer goods manufacturers with an aim to collect and recycle packaging items for sustainable development.
Promoting regenerative agriculture
Nestlé Vietnam has also promoted low-carbon agriculture by introducing the regenerative agriculture model. "We have encouraged farmers to shift to the regenerative agriculture model," said the company's general director.
Regenerative agriculture refers to a conservation and rehabilitation approach to food and farming systems, focusing on topsoil regeneration, increasing biodiversity, improving the water cycle, increasing resilience to climate change, and strengthening the health and vitality of farm soil.
In Vietnam, regenerative agriculture has since 2011 been integrated into the NESCAFÉ Plan as a sustainable method. The regenerative agriculture practices that Nestlé Vietnam has introduced to coffee farmers in the Central Highlands include intercropping, using microbial organic fertilizer, saving on water, promoting bio-diversity, and improving soil quality.
To date, the regenerative agriculture campaign has helped over 21,000 households in the Central Highlands to apply the Common Code for the Coffee Community (4C) standards in farming and train numerous farmers on sustainable coffee farming. The company has also distributed 63.5 million disease-resistant, high-yield coffee seedlings that help farmers save on over 40% of the watering demand and 20% of fertilizer while productivity is still ensured, thus improving their profit margins.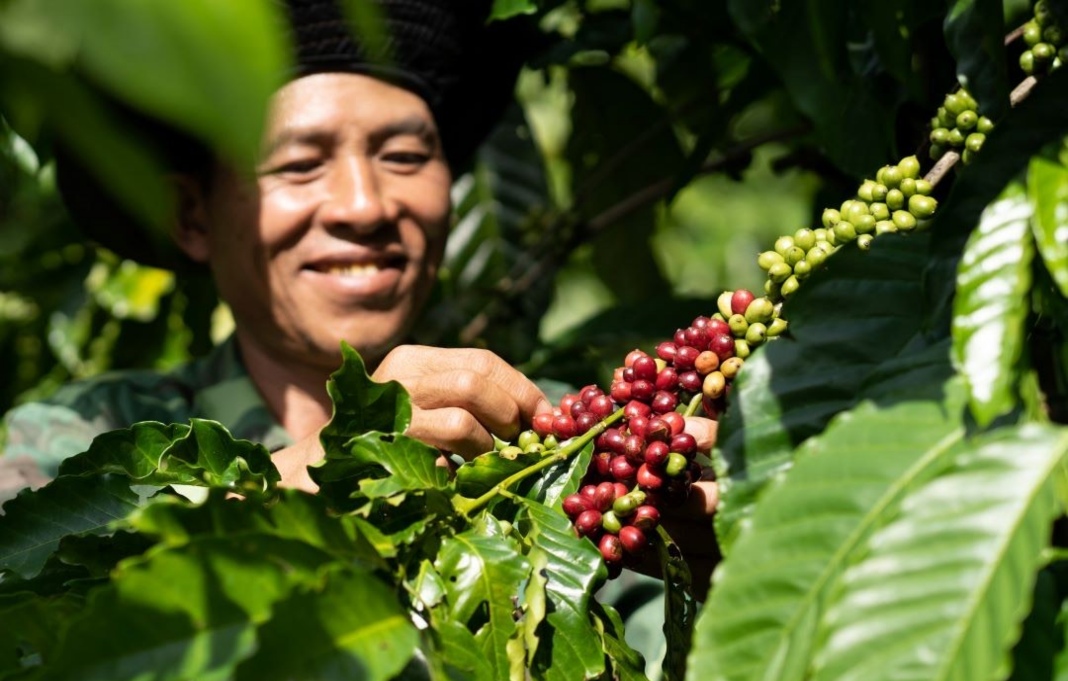 Other CSR activities
Since it established its presence in the country nearly three decades ago, Nestlé Vietnam has not only strongly expanded its business but also launched other CSR programs to support the community.
Nestlé Vietnam has organized training and internship programs to help upskill local students and graduates, readying them for jobs, either at the company as high-quality staff and managers or elsewhere in other businesses.
On the occasion of Workers' Month in May 2023, Nestlé Vietnam has collaborated with its partners to donate nutritional products to poor laborers. Specifically, under this program, some 125,000 products of Nestlé Vietnam Nestlé, including Milo milk, Maggi soy sauce, and NESCAFÉ coffee were handed out to workers in HCMC, Dong Nai, Hai Phong, and Hai Duong provinces.
Nestlé Vietnam has also promoted gender equality via the empowerment of women. At the company, women hold some 50% of senior managerial positions.
The company has also attended more women in its farmers' training programs. In the sustainable coffee production program under the NESCAFÉ Plan that has supported 260,000 farming households, up to 274 farming groups have been established, with 30% of group leaders being women.
Since its establishment in 1995, Neslé Vietnam has invested US$750 million in Vietnam, and is operating four factories in the country. It has been listed among the Top 3 Best Workplaces in Vietnam for five consecutive years from 2018 to 2022 under a survey conducted by Anphabe. The company currently employs over 2,300 people and creates nearly 10,000 indirect jobs.