In addition to a short-term swing trading strategy, investment funds and foreign investors have been building up their stakes in underrated companies while looking for opportunities to strike a deal on mergers and acquisitions (M&A) with those businesses said to have high growth potentials
Start with short-term swing trading
Dragon Capital on December 5 net bought 5.11 million STB shares of Sacombank, increasing the volume in their ownership to 99 million units, equivalent to some 5.25% of the bank's charter capital, making them the sole major shareholder here. Earlier, this investment group disclosed their sale of 2.3 million and 6.7 million STB shares on October 7 and 28, respectively. From October 6 to December 5, Dragon Capital net sold nearly 17.8 million STB shares.
Also, on December 5, this financial institution bought an additional three million GEX shares of GELEX Group JSC, thereby taking their ownership ratio from 5.68% to 6.03%. It is noteworthy that such a move occurred as the major shareholder, GEX Investment Company Limited, already registered to sell 80 million GEX shares or 9.39% of the total number in circulation.
Dragon Capital became a major shareholder of GELEX on December 1 after buying nearly 5.2 million GEX shares during the trading session on November 29, officially regaining its position as a major shareholder of GELEX. Statistics show that, between November 29 and December 5, Dragon Capital accumulated over 11 million GEX shares. Some other transactions may have yet to be made public, for their scale has not reached the threshold for information disclosure.
Having held KDH shares of Khang Dien House Trading and Investment JSC for about a month and seen them rise more than 54% from the bottom, VOF Investment Limited under VinaCapital has decided to sell the entire 10 million shares in their hands between December 12, 2022, and January 10, 2023. Previously, this fund bought a total of 10 million KDH shares in a put-through fashion between October 31 and November 8, with the average price ranging from VND19,500 to VND23,000 per share.
Similarly, after purchasing nearly one million DGC shares of Duc Giang Chemicals Group JSC on November 15, Dragon Capital sold more than one million units of this stock on November 28, cutting their stake to 4.89% and losing the title of a major shareholder here. This investment platform rushed to sell over 8.5 million DGC shares in the last five trading sessions of November as stock prices were on the way to recovery.
Besides, Dragon Capital net sold 760,000 DXG shares of Dat Xanh Group in three sessions – November 16, November 17, and November 21- bringing down their ownership ratio to 16.71%. Roughly around this time, the group net sold 1.3 million NLG shares of Nam Long Investment Corporation and reduced their ownership to 5.58%. Also, Dragon Capital's largest fund, Vietnam Enterprise Investments Limited (VEIL), has completely pulled out of its investment in Hai Phat Investment JSC by selling more than 26.5 million HPX shares on November 30.
Apparently, the market is weakening and going downhill, causing quite a few individuals to get stuck with no money left for bottom-fishing, with insiders and business leaders even constantly subject to forced selling, investment funds, and foreign investors with better governance and an abundance of cash continue to engage in the market actively.
In addition to a short-term swing trading strategy, investment funds and foreign investors have been building up their stakes in underrated companies while looking for opportunities to strike a deal on mergers and acquisitions (M&A) with those businesses said to have high growth potentials.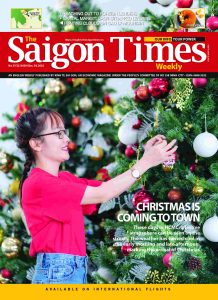 Enlarge ownership, envision M&A deals
Among them, Dragon Capital is considered the most active. Giving explanations on their frequent swing trading recently, an expert at Dragon Capital said there are stocks with long-term goals and others with shorter-term ones in their portfolio. Cyclical investments in the portfolio need to be weighed down at the end of the growth cycle. The group's frequent swing trading is ascribed to the need to alter its strategy when influencing factors exist.
According to Dragon Capital, they can seize a good opportunity when the market enters a new bull cycle with a good sum of cash available. "When the market meets all five criteria: (1) interest rates stop going up, (2) the exchange rate displays signs of stability, (3) liquidity does not deteriorate, (4) the Government mulls over solutions to support those organizations at risk of bankruptcy, (5) profit expectations weaken to establish the bottom, Dragon Capital will aggressively go ahead with our disbursements."
Specifically, Dragon Capital bought a total of 930,000 DCM shares of Ca Mau Petroleum Fertilizer JSC on November 30. With this, their ownership grew from more than 31.2 million shares (5.9%) to over 32.1 million shares (6.1%). Earlier, on November 24, this group of funds bought nearly 1.4 million PVS shares of PetroVietnam Technical Services Corporation, improving their ownership ratio from 4.93% to 5.23%, officially becoming a major shareholder here.
It is apparent that Dragon Capital has been highly active as a buyer since the second half of November, as the market was sinking to the bottom, acquiring a vast volume of millions or even tens of millions of units with a series of other stocks such as HDG, KBC, DPM, DCM, FRT, PVD, VHC, etc. This is also one of the important driving forces for the market while helping make domestic investors more optimistic about future prospects.
As per statistics, the VN-Index in the second week of December coped with intense profit-taking pressure right before the important resistance level of 1,100 points, with foreigners remaining as a bright spot as they net bought over VND4.33 trillion across the market during the five trading days of the week. Foreign cash flows marked the greatest net buying value at VIC and VHM under Vingroup, with more than VND500 billion in both cases. This is also the fifth week in a row foreign investors have been net buyers on all three exchanges of Vietnam's stock market.
Moreover, M&A will get more attention in the current period when the prices of quite a few stocks are tumbling. International Finance Corporation (IFC) has just announced the complete transfer of the entire 44.2 million GEG shares in their hands, equivalent to a 13.74% stake in Gia Lai Electricity JSC, during the session on December 7. Following this deal, IFC is no longer a shareholder of GEG.
The other party in this transaction is AVH Pte. Ltd. (Singapore) – another major shareholder of Gia Lai Electricity. On the same day, December 7, this organization also took over more than 1.9 million shares from Tran Tieu Phung, expanding their ownership in the power company to 35.1%, with approximately 113 million shares.
Previously, in mid-August, Nikkei reported that Japan's JERA Co., Inc., and JERA Asia would invest 15 billion yen (some US$112 million) in Gia Lai Electricity to capitalize on the burgeoning demand for power in Vietnam and promote efforts to cut down on carbon emissions. Specifically, JERA Asia is to acquire the capital contributions from IFC and the renewable energy fund Armstrong Asset Management to gain possession of a 35.1% stake in Gia Lai Electricity. Thus, this Japanese power industry giant has not yet proceeded with their investment in Gia Lai Electricity. That said, the possibility of AVH acting as an intermediary to amass GEG shares before they change hands to JERA should not be ruled out.
Meanwhile, at Sacombank, their STB shares have been net bought the most by foreign investors since mid-November until now. During the first five sessions of December alone, foreigners gathered a net of more than 31.7 million STB shares, worth nearly VND657 billion. Reportedly, Sacombank is looking to auction a 32.5% stake (currently used as collateral for their debt at VAMC) to foreign partners in 2023. The value of that debt is about VND10 trillion, equivalent to the ask price of some VND18,000-19,000 per share.