A tourism entrepreneur who perseveres with the green economy, two young men who travel across the country to plant trees and an expatriate who collects trash every day met last week at a restaurant nestled amongst a rice field in the central city of Hoi An, Quang Nam Province, discussing opportunities and challenges for green and sustainable tourism
Traveling to promote green values
The 'A little Vietnam' group has two young members: Hy Du Ky and Han Vietnam. Of course, those are their popular nicknames. Their real names are Vo Minh Tan and Dang Duc Tuan, respectively.
The young men have already had an impact on green tourism. During a visit to the Central Highlands province of Daklak, they got to know about the elephant rides offered to tourists and the negative consequences that the animals had to suffer with. The duo sought the help of various groups that love traveling and successfully proposed to the local government to gradually stop this form of harmful tourism in 2021.
After this successful initiative, Hy Du Ky and Han Vietnam realized that what the country requires is a healthy sustainable form of tourism – where tourists would not just enjoy landscapes and cultures but the tourist destinations would also benefit with lasting value.
They struck upon the idea of traveling across Vietnam, promoting the message, "If you love Vietnam, love the environment, please!"
This year, they traveled across 63 provinces and cities within 100 days to plant trees at the destinations that they visited. About 500 trees have been planted with expectations that they will provide some livelihood for the locals in the future.
Initially, they met with reactions and doubts from locals. But the support and wishes from local authorities and people, especially the younger generation, saw them through. This gave the two young men strong motivation to continue their journey.
The 'A little Vietnam' group ended their meaningful trip on April 15, covering a distance of 8,000 kilometers. In a delightful coincidence, no sooner did they finish their 100-day journey of planting trees, Hoi An City hosted the event "Vietnam's impressions through heritage areas" to share and promote green tourism, and the duo gladly joined in.
They found the event very special as the organizers created a green atmosphere for the photo exhibition. Moreover, the interest of local authorities and businesses in developing green tourism inspired the two young men.
So, what is a green tour? Hy Du Ky and Han Vietnam, both, say that everyone serving the guests has to be on board—travel companies, managers and staff members alike. "All must really think green, live green so that every tourist can feel deeply and support green tourism!" they say.
About their future plans, the group will continue to plant trees on the road under construction, linking Mang Den Town (Kontum Province) to Quang Ngai Province, to raise awareness about green tourism. In addition, they will grow Mimosa as well as plum, apricot, and cherry trees in a commune in Kon Tum Province apart from partly joining the afforestation project in Tay Giang District, Quang Nam Province, with the desire to change people's livelihoods and bring value to the locality.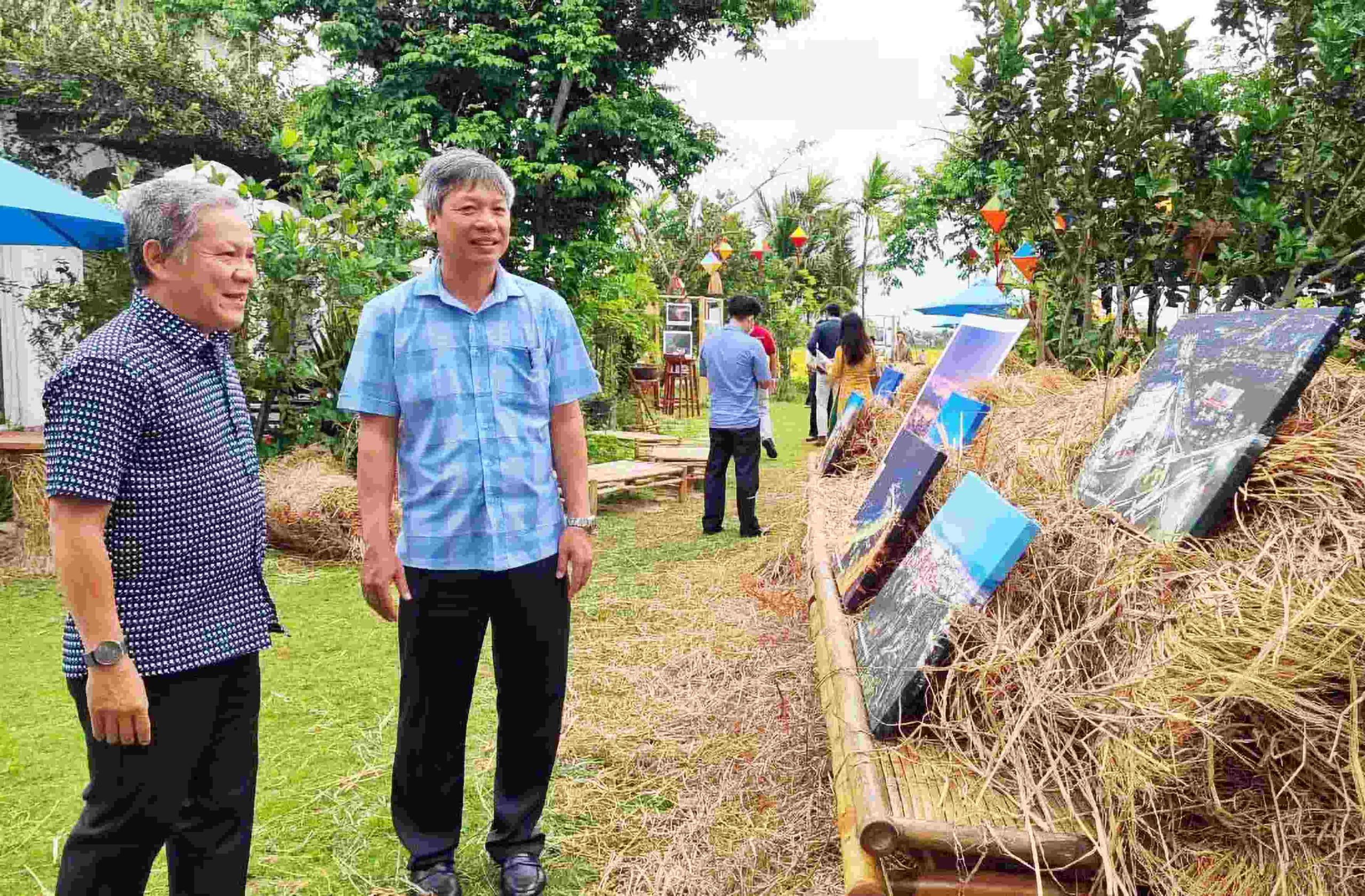 Sustainable development is not a short-term issue
Five years ago, Andrew J. Smith and his wife traveled to Vietnam and immediately fell in love with this country. Now, he considers it his second home.
Smith thinks he must be responsible for the second home that he loves by contributing something to the community here in Danang City.
Initially, he realized that there were many empty lots owned by people who live elsewhere in the city and don't visit them often. Maybe people even live in a different city and are unaware about the amount of trash that is dumped on their property.
So, one thing the couple did was to pick up the trash and help make their neighborhood more beautiful and healthy. Observing this, more locals and expats—neighbors and friends—responded to the meaningful activity. Local papers also featured the good deeds done by the couple.
Since then, the Smiths and many community groups have run a wide range of activities to protect the environment, going beyond just picking up trash.
"I cannot represent all foreigners in Vietnam, but I believe that all of my friends want to contribute to green tourism and your economy here," Smith said.
In his viewpoint, sustainable development is not a short-term issue. It does not come from an idea from a foreigner. It must come from local people who play the main role to create a green community.
Therefore, he wishes to share its values with everyone in order to develop the green model in the future. The activities also act as a learning experience for those who are interested in green tourism in Vietnam.
"I will not only share the views of foreigners about green tourism, but will also share about culture and language exchange so that all can jointly develop green tourism effectively," Smith said.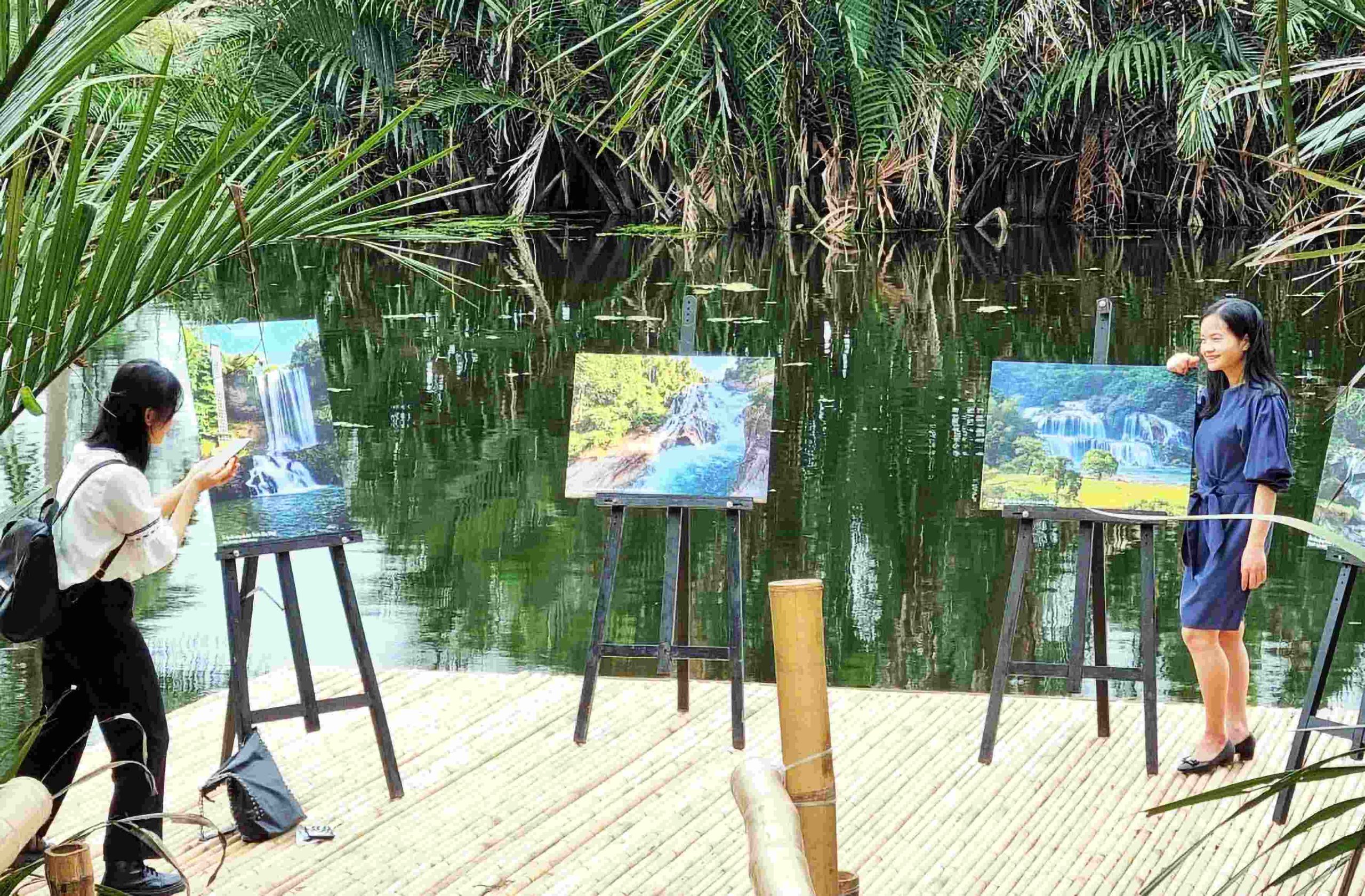 Challenges and opportunities for businesses
Phan Xuan Thanh is the chairman of the Quang Nam Tourism Association and has been consistent with green tourism and the circular economy for more than 20 years in his business activities.
Thanh said he has many years of experience working with a wide range of guests from various markets. At first, he and his associates did not know what exactly "green" was. However, when he started working, through the attitude and feedback from visitors, the entrepreneur and his partners understood more about the value of green tourism.
"Based on the needs of tourists, we realize that these are the values that need to be done," said Thanh, adding that green tourism growth needs clear goals and particular models. For example, through his restaurant The Field, Thanh wants to create a "qualified model that touches the emotions of visitors."
"Quang Nam's advantage is that it has a heritage resource and a precious natural resource. It is necessary to realize how to rely on such values to develop green tourism. The second advantage is about people. The locals in Quang Nam, in general, and Hoi An, in particular, have many years of experience in the tourism business. They have been supported by various organizations to improve the way to do tourism in a sustainable way. So, it is now convenient to help them do green tourism with support of the local government," Thanh said.
On the other hand, he also pointed towards some challenges when doing green tourism. First, it must be a long-term commitment to have a balance of sustainability and finance. Business people want to get revenues as soon as possible. At that time, they cannot ensure the sustainability. Another challenge is the cultural characteristics of Hoi An people. Each of them sees themselves as a star. It is difficult to connect the stars for a bigger goal, Thanh said.
According to Thanh, solving these challenges is not difficult because green development starts from human values. Businesses, together with locals and authorities, create tourism products associated with preserving cultural values, creating a foundation for people to protect craft villages, heritage values and green tourism. And this has to be done every day.