For the jewelry producer PNJ, corporate social responsibility (CSR) activities are not something impulsive. Rather, community programs have been incorporated in the company's business strategies since day one, around 35 years ago. When it comes to PNJ's CSR values, the numbers speak volumes.
Throughout 35 years of business development, PNJ has set impressive milestones elevating the country's jewelry industry and has also been an ardent supporter of the community, especially underprivileged people.
In the past five years alone, PNJ has contributed nearly VND6,000 billion to the State budget, and – no less surprisingly – has lent a helping hand to over one million people across the country to help them overcome difficulties. "PNJ people are always there at the right place at the right time when they are needed," said a top executive of the company.
Zero-dong minimarts
The jewelry maker early this year collaborated with the HCMC chapter of the Vietnam Fatherland Front Committee and some other organizations to launch special shops known as zero-dong minimarts, offering essential goods free of charge to people in need during the 2023 Lunar New Year. 
Over VND11 billion was spent on this program, with most coming from PNJ's budget, to offer free items to nearly 20,000 poor people across the country.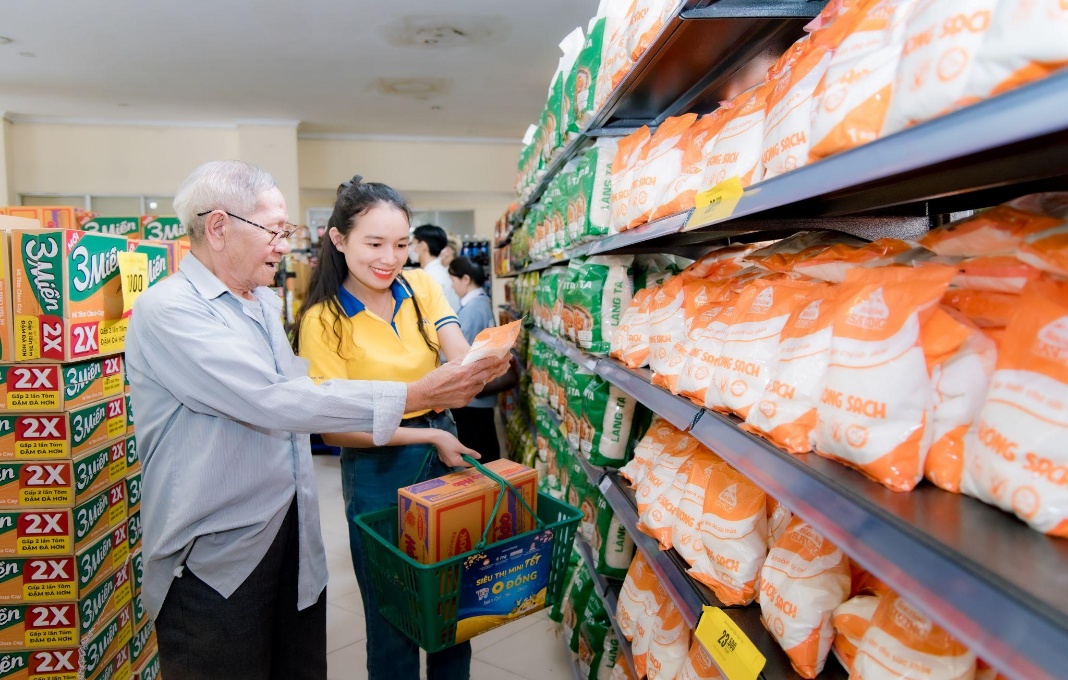 In fact, the zero-dong minimart project was first launched in 2021 at the peak of the Covid-19 pandemic, and owing to the far-reaching effects on the community, PNJ has maintained this program to date. The program has become the focal activity of HCMC to support hundreds of thousands of poor people.
In 2021, PNJ operated the zero-dong minimarts between June and September when millions of people in HCMC were placed on lockdown to contain the outbreak. Under such circumstances, numerous people, especially low-income earners, struggled with a critical shortage of essential products like rice and veggies.
With the zero-dong minimarts, PNJ managed to cater to over 142,000 people, including poor workers, students, patients, and frontline workers, with a total budget of nearly VND70 billion, mostly contributed by PNJ alongside a number of benefactors.
During this program in 2021, PNJ opened up to 54 provisional zero-dong minimarts plus two online ones in Hanoi and HCMC to promptly support all needy people. The company also organized 45 trips to donate gifts to the poor in 11 localities across the country, including Northern, Central Highlands, and Mekong Delta provinces.
The program's success was repeated in 2022, though at a smaller scale as the pandemic subsided. Specifically, PNJ and other benefactors spent VND12 billion to run 32 zero-dong minimarts in many cities and provinces, providing essential supplies to 30,000 people, each with a value of VND400,000.
Commenting on the company's efforts to call on other benefactors to join in such community programs, Le Tri Thong, vice board chairman and general director of the company, said: "At PNJ, when operating CSR programs, we manage to go beyond normal charity activities by proactively spreading the community spirit…, creating a network for individuals and organizations sharing the common vision to develop CSR programs that have lasting impacts and strategic significance for the community."
Other prominent social commitments
Apart from zero-dong minimarts as a signature CSR program of the company, PNJ has committed to numerous other social endeavors to help disadvantaged people overcome the harsh impact of the pandemic and economic uncertainties.
"Mái ấm niềm tin" with an aim to improve housing conditions for the poor is one of such social commitments. Between 2015 and 2022, PNJ Charity donated nearly 500 houses to poor households, with funding coming from the company's employee donations.
Meanwhile, another significant program is the "Improve Awareness of Children with Autism" program jointly executed by PNJ and the Vietnam National Fund for Children. In the past five years, PNJ has set aside VND10 billion to provide special care and medical checks for 4,000 autistic children at 82 centers, alongside improving knowledge on autism for 10,000 parents.
PNJ has also made generous donations to other agencies to take care of disadvantaged people. These include VND300 million worth of medical equipment donated to Military Hospital 175, VND100 million to women suffering from breast cancer, VND400 million to support poor female workers, and nearly VND1 billion in scholarships to high-performing students of difficult family backgrounds in Soc Trang Province.
It is noteworthy that during the pandemic and its aftermath, the company and other accompanying agencies have spent VND5.5 billion to assist migrant pregnant women stranded in HCMC to help cover their medical expenses when giving birth.
At PNJ, said CEO Le Tri Thong, all social activities are aligned to the company's philosophy of sustainable development, "integrating interests and benefits of customers and the community to the company's interests."
PNJ is currently the No.1 jewelry retailer in Asia with staggering annual growth. Its brand equity as announced by Brand Finance hit US$428.43 million in 2023, rising by 17% against 2022 and a steep 44% against 2020.