Sufficient power supply not only plays a strategic role in national defense and security, but also serves as the pivotal input for socio-economic development. Therefore, power outages can lead to an economic crisis.
A lesson from China
Two years ago, the blackouts in China not only devastated the world's second biggest economy but also threatened to disrupt the global supply chains and exerted inflationary pressure on many other countries. At the time, many factories in China, seen as the workshop of the world, had to cut working hours and scale down output, or even shut down due to power shortages, while residential quarters also suffered regular power outages.
The key reason behind the blackouts in China was the steep rise of coal price, prompting coal-fired power plants to reduce output to avoid losses as their power price was capped. China also set the target to cut CO2 emissions by 2030 and improve energy efficiency, which further exerted pressure on domestic coal mining, while coal imports plunged, especially from Australia due to geopolitical tensions.
The problem was aggravated by a falling and unstable supply of renewable energy. For example, hydropower suppliers in China had to grapple with droughts, which hit the high pitch in the summer of 2022 due to prolonged hot spells that caused water flows into reservoirs to dwindle.
Conversely, the power demand was increasing due to the post-pandemic economic recovery and higher consumption by the people for air-conditioning to deal with hot spells. Furthermore, the power demand also increased due to the technological revolution and digital transformation in all sectors.
Meanwhile, the development of new power generation projects was slower than expected.
The power crunch in China two years ago was the alarm for Vietnam over a similar crisis, as the two countries share similarities in terms of geography, impacts of climate change, and economic structures. Many experts had voiced concerns over a probable power shortage in Vietnam, which is taking place now.
As such, the power crunch in Vietnam stems from similar reasons in China like the demand outpacing the supply, prolonged El Nino that has caused droughts and dwindling water flow into hydropower reservoirs, inadequate investment in the power sector due to low power prices, and the monopoly in power distribution and transmission. The most critical shortage has been seen in northern Vietnam lately due to the surging demand and the undersupply.
Impacts on economy
The power crunch in Vietnam will continue into the future if suitable policies on attracting investment and power-source diversification are not introduced.
It should be noted that Vietnam has set the target of net-zero emissions by 2050 to contribute to the global movement against climate change, which will result in a lower proportion of coal-fired power as shown in the 8th Power Development Plan. This trend will adversely affect power supply in the future and create pressure on other alternative power sources.
Power supply not only plays a strategic role in national defense and security, but also serves as the pivotal input for socio-economic development. Therefore, a power crunch can lead to an economic crisis.
The reality in these days has argued for this point when the power undersupply has brought many factories to their knees as they had to suspend operations, affecting the fulfillment of orders for delivery to partners. It is worrisome that power is insufficient even during the economic slowdown that has forced many enterprises to scale down operations, so the power shortage will become more critical when the economy bounces back.
Enterprises are bearing the brunt of losses due to a sequence of mishaps, from damages caused by the pandemic, the lack of manpower in the wake of the pandemic, and the shortage of new orders for production since late last year to difficult access to capital and now power outages. As their resources are wearing thin and their capacity to cope with challenges is depleted, it is feared that many of them will have to exit the market.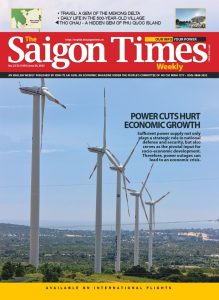 The power crunch, from a wider perspective, is just a highlighted point in a bleak picture. Other infrastructure bottlenecks, from works like roads, bridges, seaports and airports to water supply and drainage, telecom and other logistic facilities, have not been adequately developed to meet the demand for economic growth. HCMC has seen its economic growth decelerate in recent years, and the question is whether inadequate infrastructure is behind such stagnancy. This should be food for thought.
One of the solutions that has been recommended lately to attract more investment into the power industry is to raise the power tariff, which has been a measure taken by China. However, this is not an easy option, as a higher power price will have negative impacts on other industries because it will push up the input cost for enterprises, while the inflationary pressure is still there to be addressed, let alone other negative social impacts.
But if power outages recur year after year, enterprises cannot proactively plan their business and production and thus their output will fall, which will affect the supply chain for foreign trade and the domestic market, resulting in a lack of commodities and price spikes during certain periods.
In late 2018, experts with the World Bank in Vietnam warned against challenges that could hinder the sustainable development of Vietnam's energy sector. This institution therefore recommended measures focusing on alternative energy sources and mechanisms to attract investment into the power industry. Five years on, such challenges have come upon the power industry, while solutions are still nowhere to be found.