Several cities and provinces have built pilot plans to restart domestic tours. This effort has brought mixed reactions among insiders given that strict lockdowns are still in place in some provinces and accompanying services remain disrupted at the moment.
A fortnight ago, a group of tour guides and staff members of a travel firm in District 1, HCMC, returned to the company's office and spent the night there. Their stay at the office meant that at dawn in the following morning they could without a hitch lead a delegation of tourists to the outlying district of Can Gio.
The group could have arrived at the office a little bit earlier than the departure time on the following Sunday morning to welcome guests. However, that might pose a great risk because of the mobility restrictions still in force in this city. Moreover, members of the group also wanted to meet at the office earlier to discuss things after a long time of staying at home.
Like their counterparts working in the tourism industry, all of them have had to stop working or shift to working from home over the past three months due to the latest Covid-19 wave in the city. Therefore, although the company would serve only a small group of guests among the total of 200 travelers taking the tour of Can Gio, they were very eager to resume operation soon.
HCMC restarts
On Sunday, September 19, the tourism sector in HCMC provided the first tour after a long "hiatus." Attending the tour were more than 100 travelers who are frontline healthcare workers coming to the city from other provinces to help fight the raging pandemic. Also taking part were over 100 guests who are frontliners who are residing in HCMC.
The decision to restart tour programs came as a surprise to the majority of travel companies in HCMC although they had many times heard of plans to resume economic activities as well as pilot schemes for the return of some tourism services in the green zones of Can Gio and Cu Chi districts.
"The decision caught us by surprise," said the CEO of a travel firm that took part in the first attempt. "Restaurants and resorts are still closed. So, we were somewhat worried about how to provide the best services."
The CEO's firm was responsible for a small group of the guests. Meanwhile, Saigontourist Group and its subsidiary Saigontourist Travel Service were assigned to the main jobs needed for the tour.
The careful preparations resulted in the satisfaction of more than 200 special travelers after the full-day visit. The first successful tour was also an inspiring prelude to the city's plans to resume tourism activities although the number of Covid-19 infections here is still the highest in Vietnam.
Information from the HCMC Department of Tourism shows that this agency has worked out a three-phase plan to resume municipal tourism. During the first phase, from September 16 to October 30, accommodation services will be allowed.
In the second phase, from October 31, 2021 to January 15, 2022, outdoor tourist sites will be reopened, and tour services permitted to provide "closed tours" for travelers with a green vaccine card. The tourism sector will be fully reopened in the third phase.
Each phase has to meet criteria for safety and anti-Covid-19 fight. Among them are the staff of service providers and travelers have to be fully vaccinated, ensure 5K and take coronavirus tests.
The HCMC Steering Committee for Covid-19 Prevention and Control has promulgated a set of criteria for safety evaluation of tourism in green zones, which are applicable to entities in the hospitality industry, such as hotels, travel services and tourist sites.
Tourism insiders have highly regarded these moves, considering them positive for the market. They are closely monitoring the city's reopening plans and the safety criteria so that work can be resumed.
"If allowed, we'll first restart tours of two green zones, Can Gio and Cu Chi districts," said Nguyen Ngoc An, deputy director of Fiditour, a travel service. He added that preparations are also made for other safe destinations, such as Ba Ria-Vung Tau, Nha Trang and Hoi An.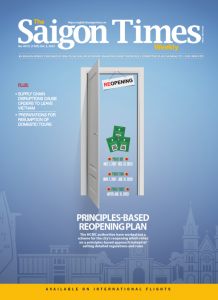 "Closed tours" allowed in some localities
Together with HCMC, several other localities have come up with schemes for tourism resumption. The initial efforts are focused on domestic tours of tourist sites within a province, which will be followed by plans to receive travelers from safe domestic places and then international visitors.
Ba Ria-Vung Tau Province has given the green light to four resorts, including Ho Tram Strip, Melia Ho Tram, Binh Chau Hot Spring (in Xuyen Moc District) and Six Senses Con Dao (on Con Dao Island) on a pilot scheme in line with the "closed tour" model.
To pay a visit to these four resorts, tourists must have a Covid-19 negative test result and be fully immunized with the second dose administered at least 14 days prior to the departure date.
Tourists will also have to take test while staying at their accommodation sites. During their stays, they are not allowed to leave the premises.
On Con Dao Island, resorts are to welcome domestic guests from chartered flights. Meanwhile, in Xuyen Moc District, guests will arrive on buses arranged by hotels, also in line with the "closed tour" model.
In Khanh Hoa Province, the first tours are for residents in the province who want to visit provincial destinations. The program will be next expanded to welcome guests from safe localities and then to international visitors with a green card.
Similar to Ba Ria-Vung Tau, Khanh Hoa is to receive domestic travelers who have been given two jabs of Covid-19 vaccine or those with one shot and a negative test result. Travelers are expected to restrict mobility inside the hotel or resort. Visitors outside Khanh Hoa have to arrive in package tours organized by travel services.
Convenient mobility necessary for resumption
The CEOs of several travel companies say they are ready for a comeback. However, they say they do not expect the resumption to be possible and stable any time soon if mobility in HCMC and other localities remains restricted the way it is now.
The dangerous Delta variant during this outbreak has prompted local authorities to take stringent measures, such as compulsory quarantine for arrivals from other provinces and regular testing. If tourism activities are allowed without the easing of some circulation and testing regulations, the tourism sector will still face difficulty.
The "bubble tour" model which requires limited mobility and regular testing is to ensure safety and comply with pandemic prevention. However, they are also market hurdles. Costs will be high while tourists cannot be comfortable if they have to comply with health regulations all the time throughout their trips.
"If the whole company is mobilized again to receive only a small number of travelers, very few will be able to do it," said the CEO of a travel firm. "Only when the people are allowed to move around freely and services are available again can tourism work normally."
According to Nguyen Huu Y Yen, general director of Saigontourist Travel Service, loosened restrictions of travelers' mobility and the reopening of service providers will allow the hospitality industry to start operating again. Such a reopening also needs cooperation among localities without which a large market is impossible.
"Travelers meeting safety requirements, such as those with full vaccination or recovering from the pandemic, should be given free mobility," said Mr. Yen, adding that he has kept an eye on plans offered by local authorities. However, he said a detailed business plan for his company may not be disclosed at this moment when interprovincial circulation remains impossible.