Alongside efficient business operations, Prudential Vietnam Assurance has invested significantly into social activities to contribute to the sustainable development of the community and a healthier and more prosperous life for Vietnamese people, focusing on three key pillars: Education, Safety and Health.
Maintaining a focus on the real needs of the communities, corporate social responsibility (CSR) programs of Prudential Vietnam Assurance Private Ltd. (Prudential Vietnam) prioritize children and vulnerable people. 
Financial literacy education
Education has always been a key pillar of Prudential Vietnam's CSR agenda. The major mission of education projects funded by Prudential is to provide Vietnam's young generations with necessary knowledge and skills that they need for their future. 
In 2020 and 2021, Prudential collaborated with Junior Achievement Vietnam to implement the Cha-Ching financial literacy and responsibility program in Hanoi City and Hung Yen Province to instill financial habits and promote financial responsibility among children.
The program helps children learn about the fundamental money management concepts of Earn, Save, Spend and Donate.
With the endorsement of the Ministry of Education and Training, in the last two academic years, the program helped some 20,000 students at more than 100 primary schools improve money management skills through training by 700 certified teachers.
The program has had a strong educational impact on Vietnamese students. The Cha-Ching Curriculum is evaluated as a school-appropriate curriculum that enables easy access and implementation to support the growing and critical need for financial literacy education in Vietnam. 
Through a variety of hands-on activities designed to support differentiated learning styles, students can learn money basics and recognize the significance of money management in making informed life-decisions.
Road safety for students
In addition to financial literacy, Prudential has pushed for stronger road safety measures for students in Vietnam.
The company joined hands with the Asia Injury Prevention Foundation to implement the Safe Steps Kids – Road Safety program in Daklak and Bac Giang provinces in the 2020-2021 school year to mitigate the risks students experience every single day by providing them with safe equipment and proper road traffic education.
As helmet-wearing rates are as low as 23%, students in these two provinces face life-threatening risks, including brain injury, as they travel on the roads.
The Safe Steps Kids – Road Safety program comprises four main components, including comprehensive road safety education for students, provision of high-quality helmets for students and teachers, school zone modifications to improve road safety conditions around school areas, and implementation of communication campaigns to raise public awareness.
The program will be expanded to Hoa Binh and Quang Ngai provinces in the 2021-2022 school year. It is expected to benefit up to 5,600 elementary students and some 230 teachers in total.
In addition, an extensive communication campaign will reach out to more than a million people with easy-to-understand educational messages on road safety.
Support for the fight against Covid-19 
In terms of Healthcare, Prudential has rolled out various initiatives to improve the health and prosperity of the community. 
Since October 2020, the company has installed numerous "rice ATMs", which are rice dispensers to help vulnerable communities overcome hunger during the Covid-19 pandemic. Many employees of Prudential have donated their own money to the program, enabling the aid to reach out to more needy people. 
As of November 2021, the "Rice ATMs – Share Love" program of Prudential Vietnam has delivered 220 tons of rice to some 13,000 underprivileged households, who had limited access to food due to social distancing and natural disasters, in 10 cities and provinces hit the hardest by Covid-19 as well as flooding and landslides.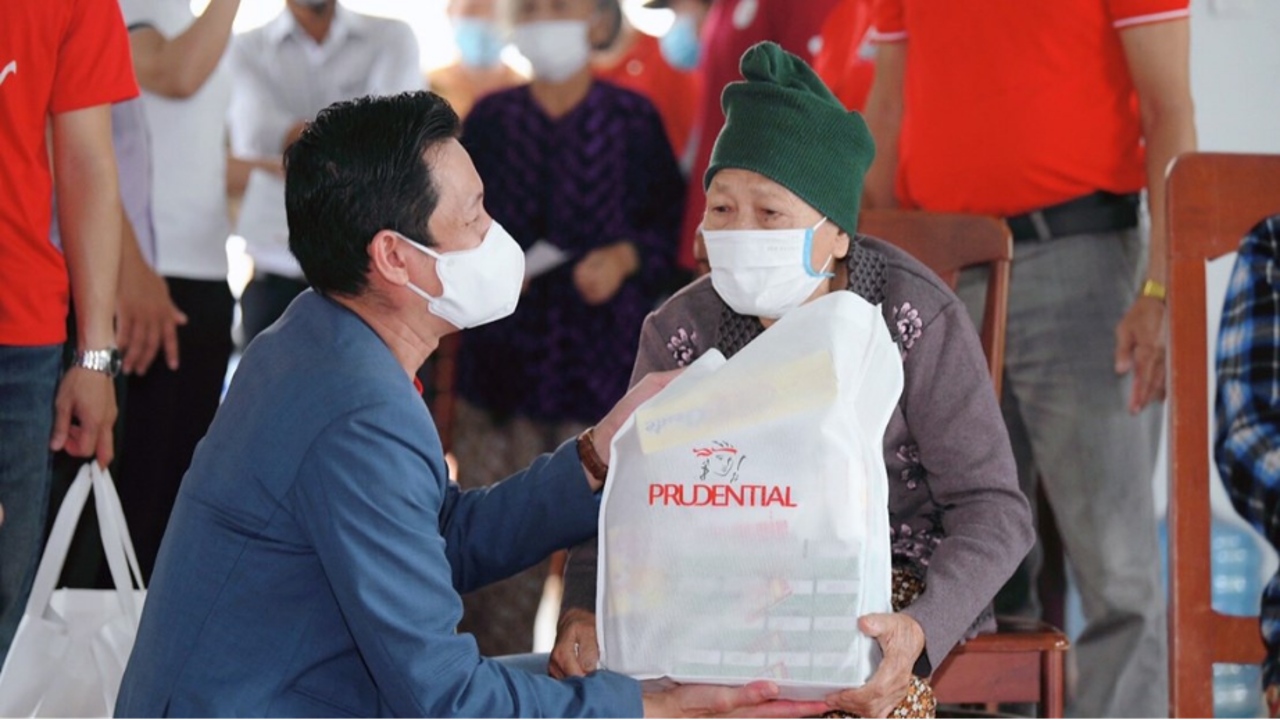 In addition, Prudential Vietnam has joined hands with partners to provide urgent relief for the frontline forces and people affected by Covid-19, contributing to the entire country's fight against the pandemic.
Since the pandemic broke out early last year, Prudential has spent some VND17.5 billion on community-based programs related to Covid-19 infection prevention and control. These programs have been implemented at 79 hospitals, quarantine centers and medical facilities in 23 cities and provinces across the country. 
Moreover, in an effort to contribute to a greener, cleaner and healthier living environment for the communities where they operate, prior to the Lunar New Year, more than 260 volunteers of Prudential Vietnam, including leaders, employees of the company and their families, helped upgrade the green spaces in the Saigon Zoo and Botanic Garden in HCMC and Thu Le Park in Hanoi.
The activity was part of the CSR Day of Prudential Vietnam, which aimed to strengthen the connection among the Prudential staff and contribute to environmental protection, especially in big cities like HCMC and Hanoi. 
During the event, the volunteers planted 220 trees, installed 25 waste bins, set up 28 soap containers in WC areas, repainted deteriorated statues, maps and rest areas, and placed new benches across the parks.
"As an insurer, Prudential always puts our people and community first. All of our CSR activities are implemented with the motto 'No one is left behind'. This applies to our efforts in providing financial literacy and ensuring safety and healthcare for children across Vietnam, to emergency response to natural disasters and pandemic," said Phuong Tien Minh, Chief Executive Officer of Prudential Vietnam.
"We always try our best to support the community so that everyone will receive timely and practical support. In the coming years, Prudential is committed to continuing CSR programs that help develop a sustainable community following the three key pillars: Education, Safety and Health, creating more stable living conditions and a more secure future for Vietnamese people," he added.