Prudential Vietnam Assurance Private Limited (Prudential Vietnam) officially published its full year 2022 Financial Statements today. These re-affirm its long-term customer-centric business strategy has resulted in excellent business outcomes as follows:
Total assets value of VND161,750 billion, up 9.2 percent; in which the investment capital in the local economy reached VND143,821 billion, up by 11 percent.
Net revenue from insurance activities achieved VND30,557 billion, up by 8.1 percent.
New business APE reached VND6,977 billion, up by 25.7 percent.
Solvency margin maintained at over 160 percent
Mr. Phuong Tien Minh, CEO of Prudential Vietnam Assurance Private Ltd., emphasized: "2020-2021 is the time when we transformed both our workforce and our operating system. Until 2022, we were able to accelerate our development in both scale and quality. We have delivered exceptional results that exceeded our expectations, especially in the customer metrics such as Net Promoter Score (NPS) at every touchpoint."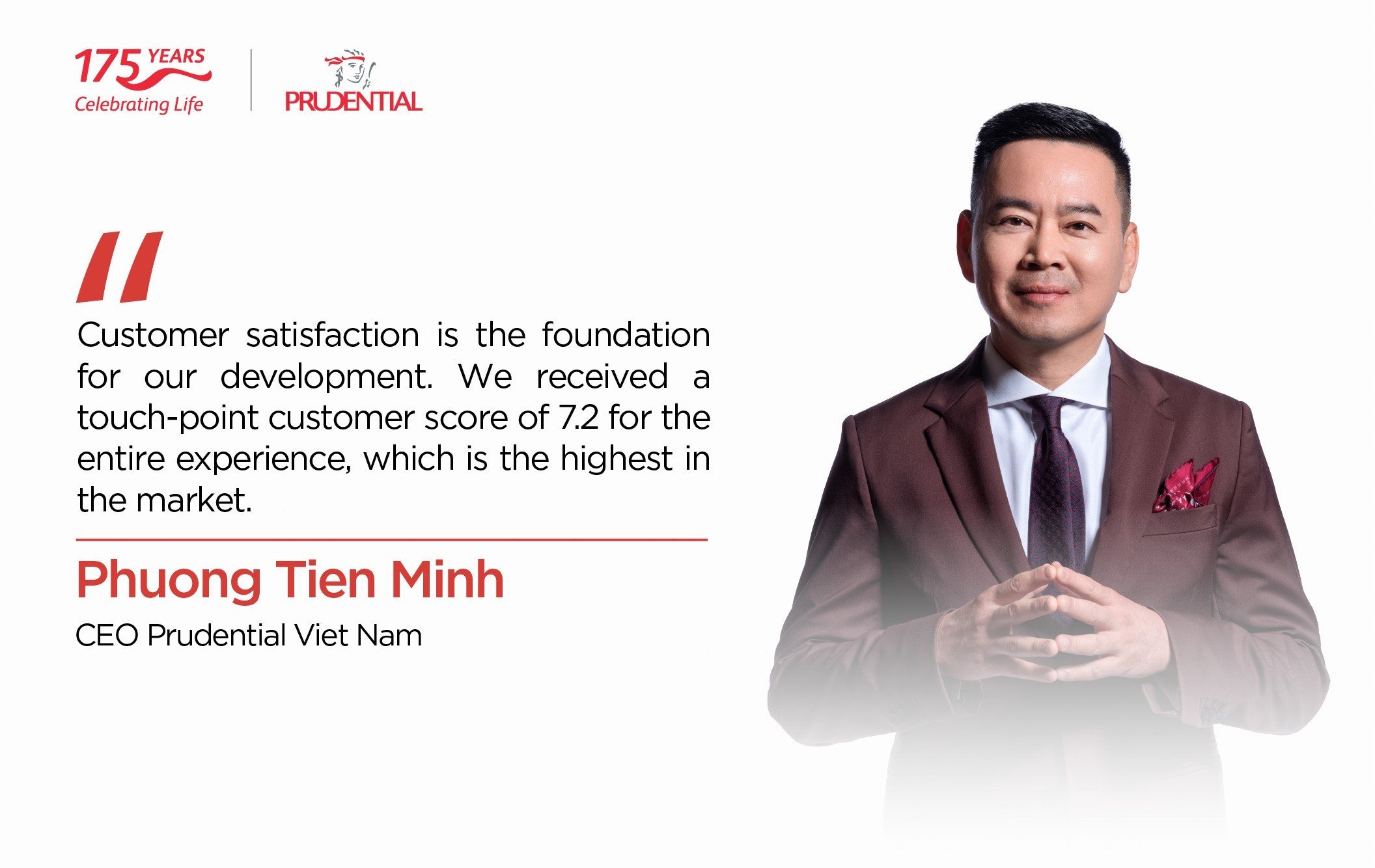 Customer satisfaction is the foundation for our development
"By continuously improving the customer experience, Prudential has been creating and delivering an outstanding end-to-end customer experience as demonstrated by the latest benchmarking of Net Promoter Score result for 2022. Specifically, at the point of making a claim, we received a touch-point customer score of  7.2 for the entire experience. This was the highest in the market which scored an average of 6.7 points," Mr. Phuong Tien Minh shared.
Prudential fulfilled its commitment of paying out nearly VND9,600 billion of insurance benefits, up by 11 percent. Prudential in 2022 accounted for a quarter of the total industry claims payouts. Included in this amount, more than VND1,600 billion was paid for more than 150,000 cases of death or total and permanent disability, critical illness, and medical care. This is an increase of 35 percent.
Prudential's bancassurance channel played a critical role in making health and financial insurance accessible to more urban customers via its partnerships. In 2022, the number of claims and the claim payouts for customers via bancassurance increased by 64 percent and 69 percent, respectively, showing the growing protection needs of the urban customer segment.
In addition to Agency and Bancassurance channel, Prudential diversified its distribution channels to offer customers comprehensive solutions through "just a click" via e-commerce platforms.
Last year, Prudential Vietnam was the leader in bite-sized product solutions to serve varying and arising needs of urban customers with reasonable premiums fee and premium monthly subscription option, such as PRU-Modern and PRU-EASY365. PRU-Modern also reached the TOP 10 Trusted Vietnam Products – Services 2022 (Banking – Finance – Insurance) voted by The Vietnam Economic Times, in only four months following its launch.
Prudential continuously improved the quality of its salesforce through regular training programs of applying digital solutions to customer experience, customer care, and sales management. In particular, the PRUForce application was developed to help its salesforce throughout their journey to achieve progress in their career path and achieve the MDRT qualification through engaging better with customers. By the end of 2022, the application had been provided to 25,000 registered agents, with monthly active users of 10,700 agents.
By constantly improving the capacity of elite consultants, the percentage of elite consultants winning the MDRT title (*) has increased every year. The total number of MDRTs at Prudential Vietnam was 1,974 out of which 75% of the MDRT's in 2022  were also maintained in 2023.
Continuous contribution to community development
In 2022, aside from fulfilling its commitment to its customers, Prudential continued to devote itself to long-term community projects, especially in the fields of education, safety, and social issues. The "Independent Seniority" event was held for the second year, "Safe Steps Road Safety Kids" in the third year and "Cha-Ching Financial Education Program" in its fourth year. Prudential also carried out emergency relief activities, supporting 12 provinces to overcome natural disasters and epidemics. From 2011 to 2022, Prudential invested over VND243 billion in community projects. Prudential's efforts contributing to the sustainability of the community were recognized by many prestigious organizations:
2022 marks the 4th time in a row that Prudential was awarded the "International Life Insurer of the Year" by the Insurance Asia Awards.
Top 10 Sustainable Enterprises in Trade and Services sector according to CSI 100, for the 6th time in a row.
Top 5 Companies with Good Practices in Doing Responsible Business and Promoting Children Rights, according to CSI 100.
In 2022 to support efforts towards clean energy transition the Just Energy Transition Partnership (JETP)  was launched between the government of Vietnam and the United Kingdom. Prudential was honoured to have two official members joining the working group that discussed the development of mechanisms and policies for private enterprises, seeking to work  towards a net-zero economy.
"We successfully completed our 2022 journey on a high note. In 2023, we will continue to promote quality growth as a way of  celebrating the 175th anniversary of Prudential Group – 100 years in Asia, and 24 years of serving and protecting 2.1 million Vietnamese customers," Mr. Phuong Tien Minh proudly shared.
(*) MDRT (short for Million Dollar Round Table) is an association founded in 1927 for outstanding financial and insurance consultants, recognized globally and reviewed on the criteria of business results and specific income.