On October 24, the Prime Minister issued a decision recognizing two sites in the northern coastal province of Quang Ninh as special national heritage sites: the Van Don port in Van Don District and the Tra Co communal house in Mong Cai City.
According to the Quang Ninh People's Committee, the Tra Co communal house holds immense historical, cultural, architectural, and artistic significance in Vietnam. It is a site steeped in rich history and cultural importance, showcasing the architectural and artistic values of the Red River Delta region.
The Van Don port, on the other hand, played a pivotal role as a major trading center for Vietnam from the mid-12th century to the late 18th century.
With the recent designation of these two sites as special national relics, Quang Ninh Province now boasts a total of eight such special national heritage sites, according to the Thanh Nien news site.
Cat beauty pageant draws over 100 feline contestants in HCMC
More than 100 cats hailing from Vietnam and other countries graced the Coral Jubilee Cat Show, a prestigious cat beauty competition hosted by the Vietnamese Cat Association on October 28 and 29 in District 7, HCMC.
The WCF (World Cat Federation) Coral Jubilee Cat Show 2023 was organized with the intention of bringing together cat enthusiasts and breeders, providing them with a platform to connect and share their experiences in cat care and breeding.
Ninety teams proudly showcased approximately 100 cats, representing a diverse array of breeds, during the two-day competition. Among these participants, 60 were domestic cats, while the remaining feline contestants hailed from various corners of the world, according to reports from VnExpress.
Nguyen Xuan Son, chairman of the Vietnamese Cat Association, said the evaluation of these beautiful cats was carried out based on precise standards, including criteria related to their head, body, and fur. Moreover, contestants who exhibited friendly attitudes and positive interactions with others received high scores. The panel of judges featured esteemed individuals from Europe, including leaders from the World Cat Federation.
A hearing-impaired teacher of English
Tran Viet Dung was born in 1992 in Thai Binh Province. He caught meningitis when he was 11 months old, and he was detected to lose his left ear's hearing ability when he was nine years old.
In 2010, after high school graduation, Dung passed the entrance exam to the faculty of economics of the Foreign Trade University in Hanoi. Finishing the first year, he registered to study international finance aside from economics at this school. In 2012, hoping to improve his English skill, he attended and passed the entrance exam to the faculty of English at the University of Languages & International Studies in Hanoi. He then had to tutor some students at home to afford his studies of three university diplomas in the capital city.
In 2015, Dung earned the economics diploma, and he registered to study economic law in addition to the two remaining majors. In 2017, with four university diplomas in hand, and 8.0 IELTS score and 990 TOEIC score after nearly seven years of great effort, he went to HCMC to work at a finance company and teach English at a center in the evening.
In 2017, Dung, the young man with one ear's hearing loss, quit the job at the finance company to open his own English classes in HCMC, attracting a large number of students, dantri.com.vn reported.
Disabled woman makes paintings by foot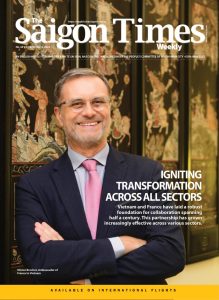 Nguyen Thi Hoa, 31, was born into a poor family in Binh Chieu Ward, Thu Duc City (HCMC). Because of her congenital disability, she could not go to school like other peers. Her younger sister, Nguyen Thi Phuong, 22, taught her how to read and write and how to use a smartphone, and helped her in personal hygiene. She could therefore have many friends thanks to the social media.
Hoa began to fall in love with painting when she was 11 years old. Unable to draw with her hands and fingers, she managed to hold pencils and brushes with her feet and toes to practice drawing. She also learned painting from YouTube and other Internet channels.
Hoa told thanhnien.vn that she did not know how many drawings she had made over the past 20 years, adding that it took her 3-4 days to finish a painting. She presented most of her works to her friends and neighbors, and sold some as her livelihood, mainly through social media.