Five years ago, Sean Driscoll, a Canadian, came to Vietnam as a tourist. He fell in love with Saigon, HCMC, and went on to stay in the city and got a job as an English teacher. Like other people in the city, he has been through a tough time following the Covid-19 pandemic. Driscoll spoke to The Saigon Times about his love for the city, his profession and his hopes for 2022. Excerpts:
The Saigon Times: When did you come to Vietnam? Why do you choose to stay here?
Sean Driscoll: I came to Vietnam five years ago. I travelled through the country. I went to Hanoi, the Central and the South as well. When I came to Saigon, I fell in love with the city. It was so busy, chaotic, with something always happening. When I started working, I lived in District 7 and found a job there. The job paid well and had good hours, so I decided to stay.
You mentioned your first job in District 7 and its advantages. Were those the reasons you stayed in Vietnam?
– Initially what made me stay in Vietnam was the weather, the food and the people. The people here are so friendly and very kind. I felt so welcome everywhere I went. When I came to District 7, I found it very open and natural. That's why I stayed in that area. Overall, Vietnam is amazing.
The fourth wave of Covid-19 has caused adverse impacts internationally and in Vietnam. Many sectors had to cut jobs and incomes. How did you deal with this in your work?
– It changed a lot. When we experienced the fourth wave in May last year, we went from in-class to online teaching. I find that education needs to be in person. You have to adapt to so many things, different parts of your lessons, your classroom, changing from in-person to online. To really help students focus and offer them great learning experiences was a big challenge compared to in class. I had to combine technology and my lessons to offer a more independent work environment for the students. Honestly, it gave us the opportunity to excel and also challenged students who are already struggling to keep up with their classmates.
You lived through the social distancing period in Saigon. How did it affect you?
During social distancing, especially during the seven months of strict lockdowns, it was very difficult. I struggled a little bit with my mental health. Waking up every morning for me was really difficult because I kept thinking that today is the same, tomorrow will be the same, and the next day will be the same as well. Developing a routine was a good habit. It really helped me get out of that rut and look forward to the future, and the freedom that we are experiencing here today.
I try to emphasise this with my students as well because I know they are going through something very similar. I try to start each class with a mental health check, to find common ground with students, to discover activities that they can do indoors because a lot of times we are just sitting around. That is not what Saigon is about. That is not why I chose the city, I chose it to be able to move, be active. One positive part of the lockdown time is that I got to meet my neighbors, and we shared food, time and experiences. It was really wonderful to have that engagement that wasn't there before the lockdown.
During the social distancing, a lot of English teachers received a pay cut. How did you get through this?
–  It wasn't as hard because when you are stuck inside your house, you do not spend as much money. You are able to manage your finances. You find things that don't cost a lot of money such as playing video games and exercising. Cooking is one thing I really got into. Cooking my own food was much cheaper than ordering food everyday. I started cooking and exercising. I started to tutor my family in my house as well. I didn't get any pay for it, but I did get meals everyday. So, I tried to subsidize my income from different sources.
Now that social distancing is over, life in Vietnam is starting a "new normal." How do you feel about this beginning stage of a "new normal" in Saigon?
– I have mixed feelings. I think that there are many precautions in place such as checking in to places. I worry about the hectic nature of Saigon. People need to follow the 5K distancing rules of the Government, the vaccine passport should continue and everyone in the country should get vaccinated, so it will be safe.
The context of English teaching has changed a lot during the pandemic. What differences have you noticed between teaching online and teaching in class?
– I have noticed many differences. It is almost like night and day. I find that in the classroom, students are more responsible, and they are much more responsive toward questions and activities. For online classes, you have to push them, and you have to engage them in many different ways because they are not in the classroom so you cannot monitor them closely. Online has its positives, as students can do research, do things on their own and with their families as well. In classrooms, they have to work in pairs. They get to work in a small group, and they get to work at their own pace. Those are the things you cannot do online. So, I think online has its positives, but I cannot wait to get back to in-class teaching.
Saigon needs people who are tech-savvy. Most of them have computer access, most of them spend time online. I think a lot of kids can relate to online learning more easily than others.
– I think you are right. But I think students need socialization, and online learning does not have that socialization aspect that a classroom has. When you are stuck in a room with 30 other people, you definitely develop closer bonds, better socialization skills compared to having 29 other people on your screen where only one person talks at one time. In the classroom, you have five different groups where five different people are talking at the same time. You get so much more done, so much quicker.
I think online learning really helps with standardized testing because it definitely allows students to start and finish assignments, whereas in class, it can get a little mixed up. With online class, you begin it, you end it, you submit it and give feedback. It is much more standardized, which maybe an advantage in the future for things such as IELTS testing.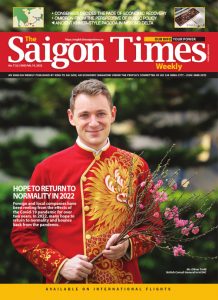 Have you had any breakthrough moments during that period of time? Have you been able to really reach students?
– The breakthrough moment for me was when parents began to join my lessons. I had a mother standing behind the camera, hiding. I invited her to attend the classes. After that, the engagement with the students really went up. I had mothers, fathers, brothers, sisters, and sometimes even entire families attending. That was really interesting and it brought out the role of education and the role of parents in a child's education. Sometimes, I had students singing while doing their work. At other times, you could hear brothers and sisters yelling at the back. I would say: 'Come on, let's bring your brother and sister out here as well'. Those are really unforgettable, light moments. Sometimes when you have one activity, you have 30 students try to talk at one time. Although it was chaotic, it was beautiful to see. Engagement with students online is a really difficult thing. But when I got to engage, it really made my heart full.
2022 is the Year of the Tiger. What are your hopes for the New Year?
This year, I think Vietnam will open up. Saigon and Vietnam will become flourishing tourist destinations again. For myself, personally, I want to experience many different parts of Vietnam, different cultures, and different types of people. I think this year is going to be a learning experience for me, but I am excited, optimistic and ready for a new adventure in 2022.