The shift towards circularity has been emerging as a prevalent trend in many countries and territories, including Vietnam, as it brings benefits to the environment, the economy, and society. However, many experts believe that Vietnam as a whole, and authorities and the business community in particular, still encounter numerous challenges on the journey towards a circular economy.
Circular economy is a global trend
As economic growth continues, consumption of resources in many countries and territories has been on the rise, leading to resource depletion and adverse effects on the quality of life. Therefore, the majority of countries worldwide have been shifting to the circular economy model, adopting sustainable production methods, restoring and renewing resources, and cutting back on resource extraction and waste discharged into the environment.
In the book titled "Circular Economy-Pioneering Models," released on September 21, Dr. Nguyen Hoa Cuong, deputy head of the Central Institute for Economic Management (CIEM), said that governments in numerous countries and regions worldwide have taken decisive steps to embrace the circular economy model, given its importance and urgency.
For example, Europe has taken various measures to facilitate the transition, promote material circularity, and control the product life cycle. Those countries have developed monitoring frameworks on waste management and circular economy indicators. In Sweden, there are not only general measures on waste recycling but also sector-specific policies promoting circular economy models in different industries such as plastics, manufacturing, construction, and consumption.
Meanwhile, China has enacted the Circular Economy Promotion Law, which could be seen as a key strategy for socio-economic development, efficient resource utilization, natural environmental protection, and sustainability. Its five-year plan indicates that China has paid stronger attention to resource efficiency and recycling in heavy industries. Moreover, this country has also introduced management plans to enhance environmental quality and optimize environmental remediation.
Whether circular economy models are successful depends on the participation of businesses in different sectors. David Riddle, CEO of Tan Hiep Phat Beverage Group, co-author of the book "Circular Economy – Pioneering Models," said that many large corporations, especially multinational ones worldwide, are actively transitioning from traditional linear economy models to sustainable circular economy ones. This shift is considered highly beneficial for both society and the companies themselves.
Shifting to circularity is not a walk in the park
It is important to know that a circular economy is a systemic approach to economic development designed to benefit businesses, society, and the environment. The transition to a circular economy requires the active participation and close coordination of various entities and stakeholders in society. Therefore, along with favorable factors, Vietnam is also confronted with many challenges related to the institutional capacity, infrastructure, science, technology, operational mechanisms, and the market.
David Riddle said at a seminar during the book launch ceremony: "Transitioning to a circular economy is no easy task. Even developed economies like Singapore have to reconsider how to protect their natural environment and resources effectively while pursuing sustainable development."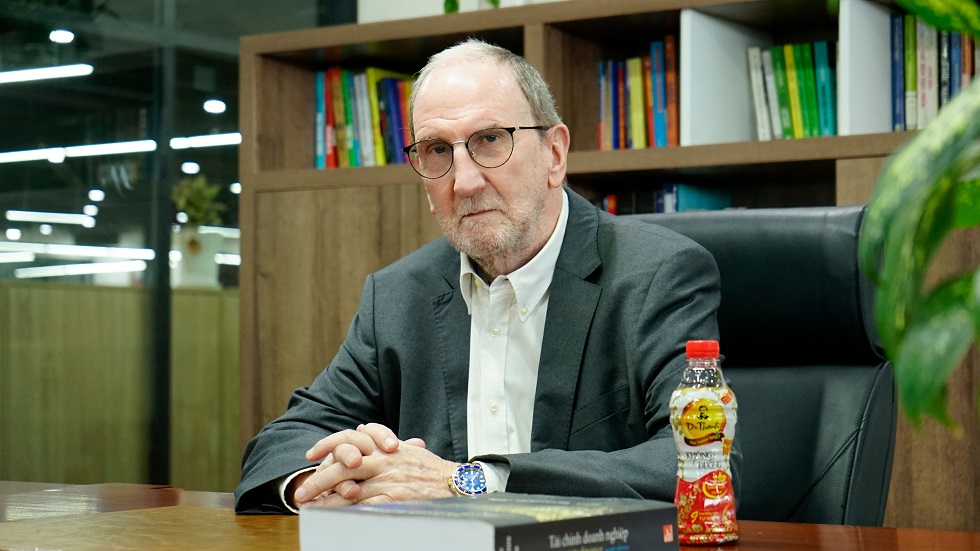 However, he emphasized that circular economy models not only help businesses protect the environment but also gain financial benefits. Speaking at the seminar, he provided some suggestions for collaboration among related entities.
One of the most important initiatives is raising public awareness of the necessity of sustainable development and circular economies. It may take a lot of time and require a change of mindset across different generations.
Another approach is creating motivation for recycling. For example, Hong Kong has imposed a levy on all types of plastic bags to discourage consumers from excessively using plastics.
"Let's think about the potential of recycled plastics as a new raw material for a successful industry in the near future. It would solidify Vietnam's greenization and generate hundreds of thousands, potentially even millions, of new jobs in the country. It would be great if Vietnam had technology to effectively use recycled plastic," David Riddle emphasized.
However, it is hard to transition to a circular economy without an adequate infrastructure system on a large scale. That explains why collaboration is crucial in this circumstance. Tan Hiep Phat Beverage Group believes that it is time for businesses to actively engage in greenization. Specifically, businesses need clear regulations on waste collection, segregation, recycling, and paying the waste management fee for disposable items.
Echoing David's view, Dr. Nguyen Si Dung, former deputy head of the National Assembly Office, emphasized that "incentive reversal" might pose a huge challenge for economic growth. For example, if students pass down textbooks to the younger generations, then the demand for new textbooks could not increase. For that reason, textbooks should be single-used, otherwise, it would be hard to sell new textbooks.
"If we want a circular economy, all policies must get rid of that 'incentive reversal.' The important thing is how to make recycled products, which belong to the circular economy, more profitable."
Transition to a circular economy requires huge effort
Given the importance of sustainable development and long-term social benefits, many enterprises have embraced lots of challenges to apply circular economy models. Their constant efforts have paid off with positive business results.
A typical example in the beverage production industry is Tan Hiep Phat Beverage Group, which has been transforming its business model and developing a circular economy with a 3R strategy (Reduce, Reuse, Recycle) since 2013.
Ten years ago, the maker of many popular drinks in Vietnam implemented a project to reduce the weight of each bottle by nearly 20%. Additionally, thanks to its adequate investment in aseptic technology, the group could also optimize production activities and reduce electricity and water consumption.
Five years later, Tan Hiep Phat Beverage Group managed to make its bottles even lighter, resulting in a reduction of 34,000 tons of plastic waste. In the subsequent four years, the group successfully cut down on 44,000 more tons of plastic waste during its production processes. This means it eliminated a total of 78,000 tons of plastic waste over a nine-year period.
The group has also applied many other measures to facilitate the transition to a circular economy model, such as recycling and reusing shrink wraps and plastic bags to create multi-use bags for packaging materials, as well as replacing cardboard boxes with shrink wrap made from recycled plastic.
Since 2021, Tan Hiep Phat Beverage Group has been operating a plastic recycling line, mainly to produce plastic pellets from plastic waste. The group is expected to supply these pellets to other businesses looking to use recycled materials in their production processes.