Fifty-three wildlife species have been successfully released back into the wild at Vu Quang National Park. The released animals include seven rhesus monkeys, 15 pig-tailed macaques, one stump-tailed macaque, 23 tortoises, one Asian water monitor, and six Indian pythons.
These endangered and rare animals were previously received by Vu Quang National Park in the central province of Ha Tinh from various organizations and individuals for rescue and care before their ultimate return to their natural habitats. The protection and preservation of these precious creatures are of paramount importance, as highlighted by the Lao Dong news site (laodong.vn).
The national park has been actively involved in wildlife conservation efforts throughout the year. So far, approximately 300 wildlife species have been received, cared for, and successfully released back into their native habitats. Vu Quang National Park is currently home to an impressive array of biodiversity, boasting 94 species of mammals, 315 bird species, 58 reptile species, 31 amphibian species, 88 fish species, 316 butterfly species, 73 ant species, and 28 spider species.
Among this diverse wildlife, 46 mammal species, 21 bird species, 20 reptile species, two amphibian species, and one bony fish species are recognized and listed in both the IUCN Red List (2017) and Vietnam's Red Data Book.
A Muslim community in HCMC
For over half a century, approximately 3,000 followers of Islam, predominantly Cham people, have preserved their unique customs and traditions in Alley 157, Duong Ba Trac Street, District 8, HCMC.
Haji Kim So, the head of the management board of the Cham community, told the VnExpress news site (vnexpress.net) that the majority of residents in this neighborhood migrated from Chau Doc, An Giang Province, and settled down in HCMC during the 1960s.
At the heart of this community stands the Jamiul Anwar Mosque, serving as a gathering place for the Cham community's religious practices five times a day. While men are welcome to participate in religious ceremonies within the mosque's sanctuary, women are allowed only during the fasting month of Ramadan.
Traditional attire is still highly valued in this community, both for daily outings and attending ceremonies. Women, in particular, consistently have head coverings, regardless of whether they are at home or outside.
An elderly who revives antique radios
Pham Bao Toan, a 76-year-old resident of Haiphong City, has devoted nearly his entire life to fixing countless antique radios. His passion for this craft ignited at the young age of 14 when he was still a student.
In the early 1960s, Toan began experimenting with collecting batteries and thin sheets of metal from aircraft shot down during the war. He combined these with other necessary materials to construct semiconductor radios. In 1975, he started working as a mechanic, helping numerous people repair their radios.
Despite reaching the age of 76, an age at which most of his peers have retired, Toan continues to dedicate himself tirelessly to his craft. "After over 60 years devoted to this job, I can easily identify the issues of vintage radios with just a brief description from customers," Toan told the VnExpress news site (vnexpress.net).
The interest in collecting vintage radios has been steadily rising, leading to an increasing number of people visiting his repair shop. On average, Toan receives two or three antique radios for repair each day.
Thriving without both arms
Le Gia Truong, 23, who lives in the north central province of Nghe An and used to be a freelancer, would never forget the saddest day of his life in May last year: he got a fatal electric shock when he was working.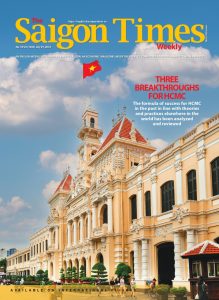 Being transferred to Vietnam-Cuba Dong Hoi Hospital in Quang Binh Province and then to Le Huu Trac National Burn Hospital in Hanoi, Truong's life was saved but his both arms were amputated.
To a young man like Truong, the loss of both arms was terrible. However, the good care and big support from his parents, his elder sister and his younger brother helped him accept his fate and continue living his life in the love of his family. He tried his best to do as many daily activities as possible by himself to ease the dependence on the assistance of his parents.
In June this year, Truong opened a small fashion shop near his house, selling men's clothing with the help of his younger brother. The story about Truong's accident and his effort to thrive in life has gone viral on social media these days, thanhnien.vn reported.