Every time I try to look back on the trips I took with my family, I feel worse and worse for a city that has been robbed of its pristine, tranquil charm, and once represented the essence of the northwest uplands of Vietnam—Sapa.
We would usually travel for around two days after the Tet holiday to enjoy the place minus the crowds. The first time I went there, my dad tried to warn me about the nausea I would encounter when we traveled along winding passes. I threw up a lot more than I expected. I always wanted to spend my vacations at the beach, playing in the sand and getting suntan, but my parents chose a peculiar destination at that time, against my wishes. However, what I observed there will forever be etched in my memory.
The small, quiet and poetic town located in the northwest uplands of Vietnam is well-known for its fine, rugged scenery and rich cultural diversity. At first, most people think of the destination as a rural area with nothing to offer. However, visitors are left amazed, as all four seasons appear before their eyes, making it the perfect getaway. Due to its landscape and its people, Sapa has always been the one place I would recommend when anyone asks me for the perfect year-round destination to visit.
I remember my first visit there. After a foggy drive, we finally arrived at the hotel. Exhausted, we rested for the night. We woke up the following day to a magical phenomenon that I would never dream of seeing in Hanoi. Waves of clouds splashed onto our room window, and every part of the landscape, the sky, trees and sights hid and appeared continuously. I tried to rub my eyes multiple times, as I thought I might have been dreaming. Rice terraces hugged the mountains, scattered all over the town. For a person like me, who always loves to bask under the sun, the crisp mountain winds made me shiver, but gradually felt cozy and soothing.
The town boasts multiple cultures and languages from the ethnic minorities such as Hmong, Tay, Nung and Dao. They are the ones that shape Sapa; women and men wear colorful clothes with exquisite patterns and locally made jewelry. The town's street market is always busy with sellers, selling traditional clothes, food and delicacies.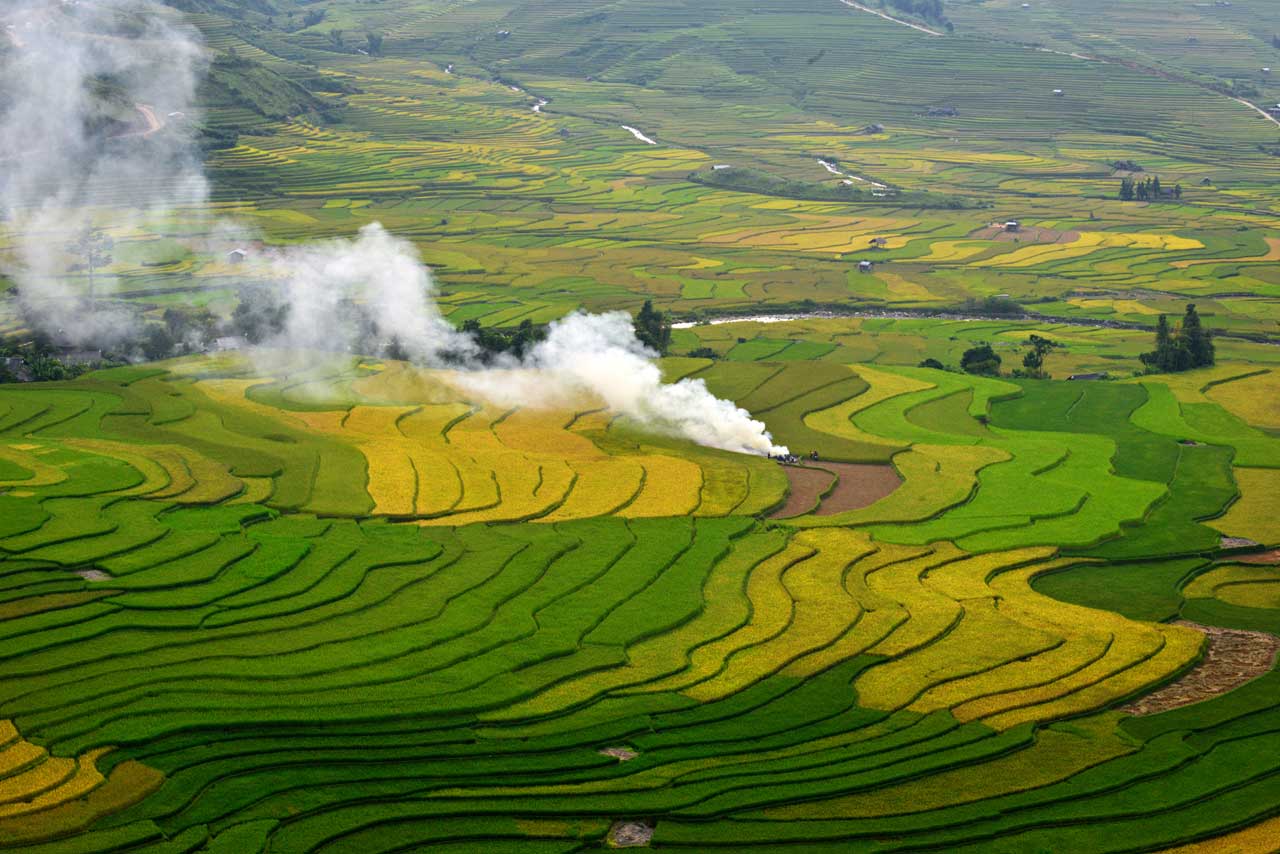 Sapa soon turned into one of my favorite destinations, and our family ended up visiting the town more often. After that visit, never in my wildest dreams did I imagine that a place like that could transform so dramatically; but sadly, besides the increasing number of tourists, the town has also been a victim of ample damage. What astounded me was that Sapa looked like a construction site rather than the astonishing image it ever was: hotels at every corner of the town, competing for the view; construction sites taking up tons of space, releasing dust into the once pure and fresh air; and people littering right onto the streets, giving off a foul stench, especially during the rains.
Street vendors could not even make it to work because of garbage strewn on the sidewalks, leaving them with no choice but to switch to another location, making it harder to earn a living.
The hardest thing to accept here is how human actions can so profoundly impact the environment and entirely change a place like Sapa. Although they know they are responsible for the damage to the environment, humans still refuse to mend their ways, which is why global environmental issues are not resolved yet. Moreover, the consequences of our actions have gotten worse in time.
Yes, I too, am responsible for hurting the Earth. However, seeing the destruction, as in the case of Sapa, I have vowed not to engage in any further mindlessness. The authorities and the public, too, need to consider critical solutions to revive the town. Companies investing in hotels and attractions need appropriate construction plans and settlement agreements, keeping in mind environmental conservation. Moreover, bans or fines are essential to reduce littering. The city can also organize workshops and celebrate an "environment day" to incorporate educational content into these programs and organize these events on a weekly/monthly basis so the message of protecting the scenery of Sapa can change visitor behaviors when they visit the town.
Every disaster or fatal event that has ever happened is a consequence of our actions. If we keep in mind the importance of the environment and spend a part of our effort and care to conserve it, we can fix our mistakes and make areas such as Sapa great again, before it's too late.