Corporate bond market risks are emerging as warned by authorities. Tan Hoang Minh Group and Van Thinh Phat Holdings Group Corporation are among the cases in point.
Bond redemptions urged
The price of shares of VKC Holdings Joint Stock Company (VKC), formerly known as Vinh Khanh Cable Plastic Corporation, had dropped steadily before it hit VND2,500 in the trading session on October 10 as the firm could not pay off its bonds.
According to the bond redemption plan, September 9 was the due date for the payment of the VCKH2123001 bonds issued on December 9, 2021. However, VKC postponed the payment due to the violations of former leaders in financial management and the bond lot issue.
VKC used Binh Thuan stone and ownership certificates of properties in An Giang Province under Certificate BR626016 as collateral for the bond lot, which consists of 2,000 bonds worth VND100 million each.
The issue brought VKC total proceeds of VND200 billion with the original purpose of using the money to fund a buyback of an 85% stake in Louis Land Joint Stock Company from Tocco Company Limited, at a fixed coupon of 12% per annum, due on June 9, 2023.
According to the Vietnam Bond Market Association, companies had made earlier-than-planned bond redemptions worth over VND142 trillion in the year to September, up 67% year-on-year. The figure in September alone reached over VND28.8 billion, nearly tripling the same period last year. The companies include Hoang Anh Gia Lai Joint Stock Company, Gelex Group JSC, Yamagata Corporation, An Phat Finance Joint Stock Company, Techcom Securities Joint Stock Company, Orient Commercial Joint Stock Bank, and subsidiaries of Trung Nam Group.
In early October, firms continued to buy callable bonds. On October 3, Refrigeration Electrical Engineering Corporation recalled VND250 billion in redeemable bonds, while VIX Securities Joint Stock Company announced it would buy back 2,000 VIXH2124001 callable bonds worth VND200 billion the next day. Earlier, VIX bought back VND300 billion worth of callable bonds. This showed that VIX had repurchased all of its three-year bonds after issuing them in 2021. Meanwhile, Ho Chi Minh City Infrastructure Investment JSC is expected to redeem its bonds worth VND2.8 trillion from July 2022 to February 2023.
Avoiding legal risks
There were several reasons for the recent early redemptions of corporate bonds.
First, many financially healthy companies found ways to buy back their bonds amid the surging interest rates as the bonds mainly carry floating interest rates.
Second, many enterprises issued bonds to raise funds for new investment projects, but these projects had not been unable to proceed or had been delayed due to the current economic climate and difficult access to bank loans. Thus, they decided to suspend their projects or return money to bondholders.
Third, Government Decree 65/2022 on trading bonds via private placement and obligations of issuers requires debt-issuing organizations to make refunds to buyers if they violate their debt sale plan, use proceeds from bond sales for any purposes other than intended, or break laws. In addition, they must disclose information on solvency, audited financial statements, and audited plans to use proceeds from bond sales for intended purposes before and after a bond sale.
As the corporate bond market has expanded rapidly over the years, many companies have been found to breach regulations. However, the recent clampdown on bond sale violations might have forced issuing companies to redeem their bonds before maturity to avoid legal risks.
However, not all enterprises could do so. It is tough to search for funding at the moment as the stock market is falling, and access to bank loans is becoming harder while bond sale and trading are under tight control. Still, attention may be centered on the bond market when credit tightening pushes businesses into difficulties.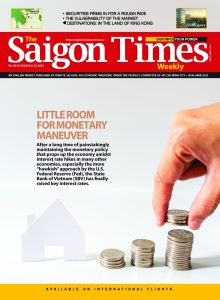 Debt payment pressure on the bond market has eased thanks to the early redemptions in the first nine months of over VND142 billion worth of bonds. However, the Ministry of Finance said in a report sent to the Government in late July that the total value of bonds that fall due this year is some VND144.5 trillion. The number is projected to skyrocket to VND271.4 trillion in 2023 and VND329.5 trillion tin 2024.
This means the combined value of corporate bonds set to fall due in the next two years will amount to VND745.4 trillion. Debt repayment pressure will continue to rise in 2023-2024, making the demand for refinancing more urgent than ever. Meanwhile, it is hard to seek new funding due to the reasons mentioned above. Bondholders should be cautious about imminent corporate bond market risks.
Data from FiinGroup and the Hanoi Stock Exchange showed that real estate bonds due in late 2022 would total around VND37 trillion, with 84% of them issued by unlisted companies. The financial health of real estate businesses continues to be a matter of concern as the housing market is struggling with rising interest rates, slow sales, and new legal restrictions on property speculation.