HCMC – More than 200 local and foreign blood donors joined a blood drive held by the Saigon Times Group in coordination with the Blood Transfusion and Hematology Hospital in HCMC this morning, October 1. 
The Saigon Times Blood Donation Day 2022 took place at the Saigon Times Group's headquarters, 35 Nam Ky Khoi Nghia Street, Nguyen Thai Binh Ward, District 1, HCMC.
Foreign diplomats, staff of businesses, government officials and Saigon Times employees attended this meaningful event organized to mark the 31st anniversary of The Saigon Times Weekly and the 27th anniversary of The Saigon Times (online edition) and sponsored by ATM Online Vietnam Company Limited, the online food delivery startup Baemin operated by Woowa Brothers Vietnam, and Breadtalk.
More than 217 units of blood were collected at the event, according to the Blood Transfusion and Hematology Hospital.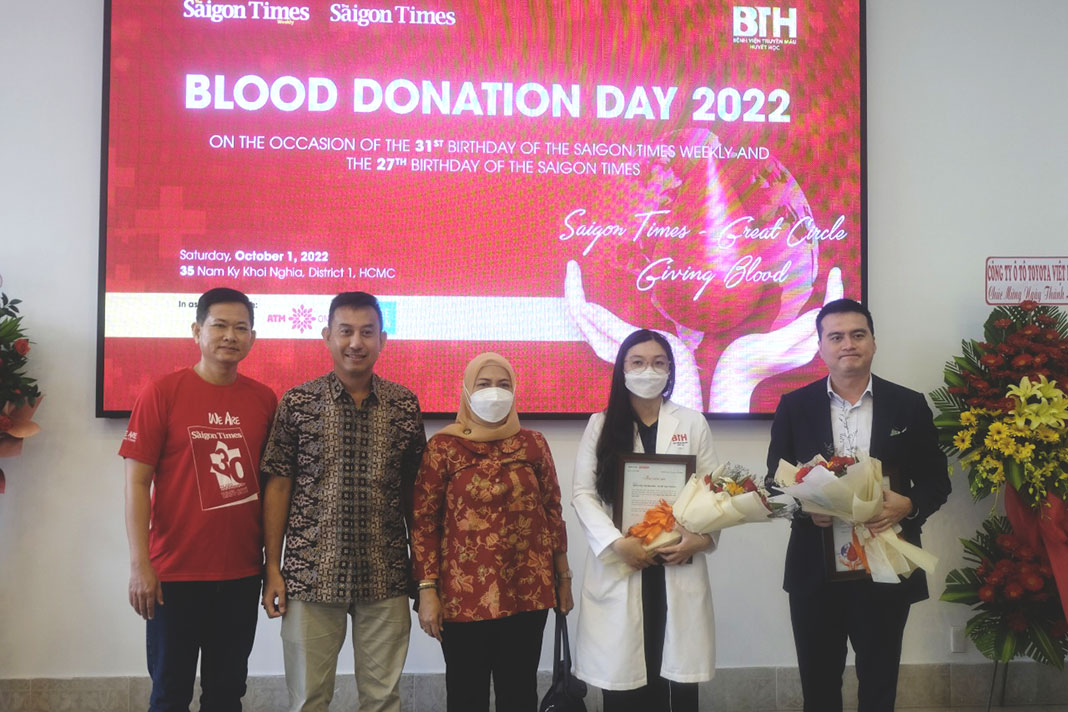 Agustaviano Sofjan, consul general of the Republic of Indonesia in HCMC, said, "Blood donation is noble work for the community." This was his first blood donation since he took office in HCMC, he noted.
He said it is always good to help each other and that the world is currently in the Covid-19 recovery stage and the pandemic is not yet over. "No one is safe until everyone is safe," he stressed.
The event strengthens our bond with one another and with society as a whole, encouraging people to do something responsible for the community, according to Hoang Anh Phuong, PR manager of ATM Online Vietnam Company Limited, a sponsor of the blood drive.
"It is an excellent chance for our employees to engage with each other and also a way to give back to society," added Phuong.