HCMC – The Saigon Times Group, in coordination with the HCMC Journalists Association and local authorities in districts 5 and 8, presented 34 scholarships this morning, November 12, to poor students and those who lost a parent or were orphaned due to Covid-19.
The presentation of the scholarships is under the Saigon Times – Great Circle program, an initiative of the Saigon Times Group to support those who were on the frontlines in the fight against the Covid-19 pandemic and those who were affected by the disease.
This time around, each of the 34 school children got a VND2-million scholarship sponsored by the Vietnam Bank of Agriculture and Rural Development (Agribank) and a gift funded by donations from employees of the Saigon Times Group.
Next week the Saigon Times Group will give 40 more Agribank-sponsored scholarships to underprivileged students in District 1 and the island district of Can Gio.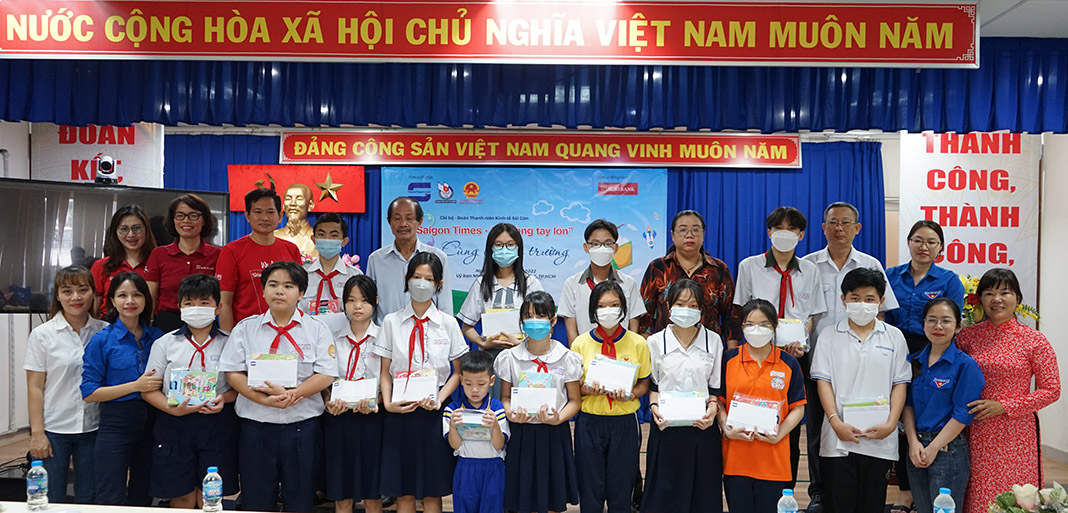 Being one of the scholarship recipients in District 8, Lam Tuyet Nhi, a ninth grader at Chanh Hung Junior High School, said that she is living with her aunt because her father died of Covid in late July last year while her mother was unemployed and got away from home early this year. Hence, all her tuition fees and daily expenses have been covered by her aunt. Nhi added that she would give the scholarship money to her aunt so as to cover her tuition fees.
Vu Nguyen Tuong Vy, a school child of Bui Minh Truc Primary School in District 8, lost her father to the pandemic last year. Her mother died in 2016. The six-year-old girl is living with her grandma, who is old and cannot afford tuition fees and daily expenses for her two kids.
Duong Tan Loc, vice chairman of the Vietnam Fatherland Front Committee of District 8, said 361 children in the district lost a parent to Covid-19 and eight others were orphaned by the disease.
In the year to date, the district authorities have raised funds from State employees and generous donors to ensure that each of these children can receive at least VND1 million a month, Loc said.
Speaking at the scholarship award ceremony, Pham Huu Chuong, deputy editor-in-chief of the Saigon Times Group, said: "I hope the scholarships would be a good motivation for the students to study harder. The scholarships also demonstrated the great care that businesses like Agribank give to the education cause."
Nguyen Duc Lieu, deputy director at Agribank's Bank Branch No. 8, said the bank will continue to team up with competent agencies in the areas where it operates to fulfill the bank's corporate social responsibility and continue to give back to the community in the years to come.